🇨🇦 Clínicas de Rugby Subacuático en Canadá (22 de Enero) y USA (19 de Febrero) – 2011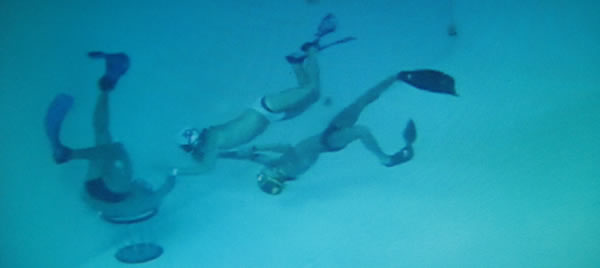 A todos los jugadores de Rugby Subacuático de habla hispana de USA y Canadá, se les invita a dos Clínicas de esta modalidad, la 1ra Clínica de Rugby Subacuático de 2011 en Canadá, a realizarse el día sábado 22 de Enero en Brantford, Ontario (Canadá) y la 1ra Clínica de Rugby Subacuático de 2011 en USA, el sábado 19 de Febrero en East Haven, Connecticut. Ambos eventos contarán con la participación de destacados jugadores y entrenadores de ambos países y Colombianos radicados en Norteamérica. A continuación reproducimos al información en inglés, enviada por nuestro amigo Rolexi Pinzón.
LIBERATION DAY – CANADÁ
Underwater rugby –  Sat., 22 Jan.,  2011,  3:30 – 7pm
A clinic and potluck tournament hosted by the Liberation UWR Group
Wayne Gretzky Sport Centre,  254 North Park St., Brantford, ON   (85km west of Toronto)
Organizer –  Tom Elliott    905-648-1560
Instructors –  César Flores,  Adolfo Gonzales, Victor Salazar
Fee –  $15, pay at the clinic.
To help us plan,  please let us know ahead of time that you are coming.
Pool depth 4.75M,  temperature 28C,  2 playing areas
Beginners welcome.  Potluck games, and possibly a game for beginners, women, and Canada vs. Colombia.
Homes to stay at (crash) may be available.
The invitation to the First 2011 UW Rugby Clinic has arrived!… – USA
UW Rugby Clinic organized by East Haven Underwater Rugby
Again this is the perfect excuse to meet and enjoy this amazing sport. Lets learn and improve our game and why not plan for future events..We hope to see all of you guys at this event… New Jersey Hammerheads, Quincy UW Rugby, East Haven UW Rugby, Liberation Canada, and all other players from Florida, South Carolina, Texas, Pennsilvania, DC, Etc..
Date:
Saturday February 19, 2011
Time:
10:00am to 7:00pm
Place:
East Haven Town Pool
East Haven, Connecticut
Address:
200 Tyler Street
East Haven, CT 06512
Cost:
$30 per player (pool and snacks)
We will stop at 2:00pm to go out for lunch (not included) and return to the water at 4:00pm.
Please reply this email if you are interested in attending, (individual or team) So we can plan in advance
For more info contact:
Jose Bedoya
elianaduque@yahoo.com
Rolexi Pinzon
rolpin30@hotmail.com