🇭🇳 Results – 6th International Freediving Annual Competition Caribbean Cup 2018 – Roatan, Honduras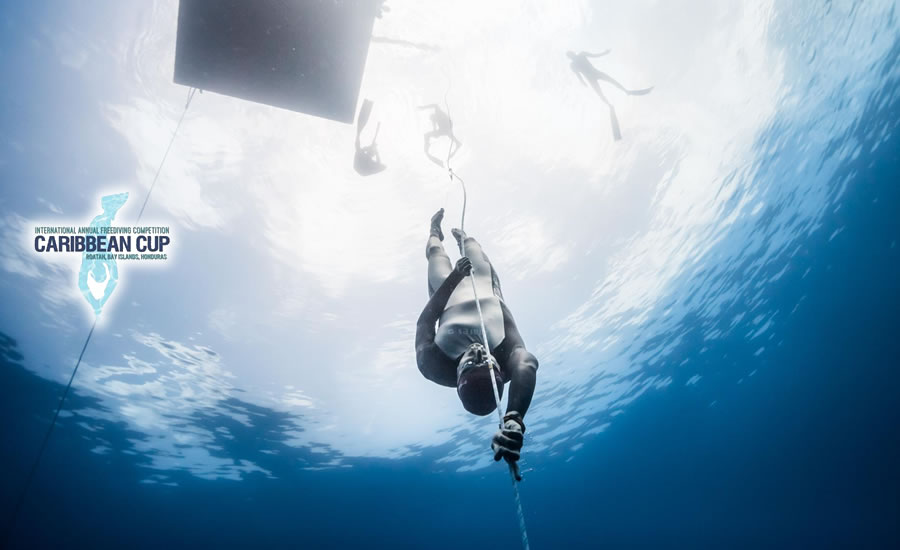 (Sportalsub.net / Caribbean Cup) – Leer en Español
Sixth Annual International Freediving Competition Caribbean Cup 2018.
Roatan, Bay Island, Honduras.
May 17th – 25th 2018
RESULTS
Day 1
Day 2
Day 3
Day 4
Day 5
Day 6
Located in the Caribbean Sea, Roatan is surrounded by crystal clear waters that are calm and warm making this island one of the best venues for freediving in the world.
Part of the Mesoamerican Barrier Reef, the second largest reef system in the world, you can discover a great diversity of marine life and underwater walls that drop-off to hundreds of meters only a few swim strokes away from white sand beaches.
The first 5 editions of the Caribbean Cup (2013 – 2017) also the Roatan 2017 AIDA World Championship (attended by 96 athletes from 28 countries) organized by Roatan Freediving School & Training Center , were held in a warm atmosphere, with great conditions and the organization was able to satisfy the needs of all athletes, staff , spectators and sponsors.
Free Immersion (FIM), Constant Weight with Fins (CWT), and Constant Weight Without Fins (CNF) are the three disciplines in which athletes try to reach greater depths while holding their breath.
Water temperature (at surface/100 meters depth) 27-29 ºC
No current
Great visibility (30 – 40m)
Boat transfer to dive site from the shore (3 minutes)
Experienced safety free divers
Conterballast-system integrated on platform.
High resolution deep sonar device
Complete first aid kit, automated defibrillator, emergency and recovery oxygen on platform. Emergency evacuation boat on site. Dive site at 15 minutes from emergency clinic and hyperbaric chamber WR status competition – open all levels of freedivers
Training available all year round
More information will be available soon in web site: www.roatanfreediving.com
http://roatanfreediving.com/caribbean-cup-2018/
Facebook: https://www.facebook.com/caribbeancupfreediving/
Photo; Kalindi Wijsmuller
Design: Damian Scalfaro