🇪🇸 Madrid Underwater Rugby International Open 2016. Spain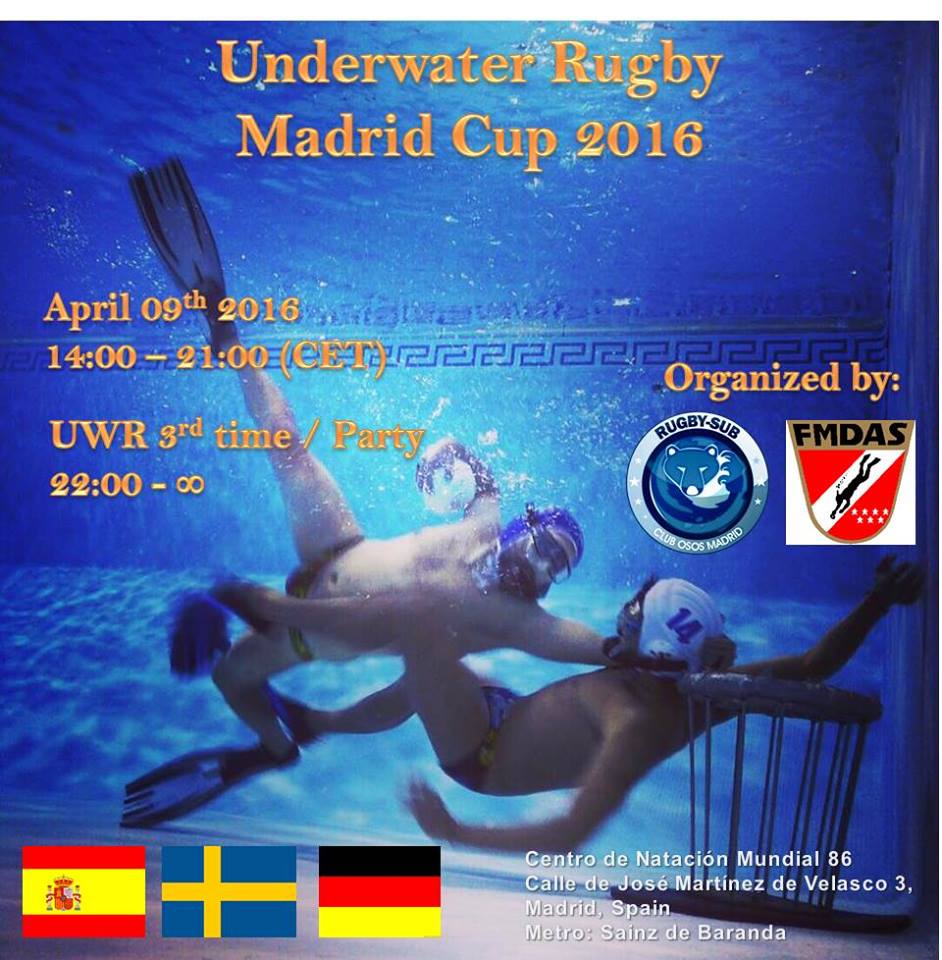 (Sportalsub.net / Club Osos) – Leer en Español
Club Osos Madrid Rugby Sub proudly invites you to the UWR Madrid Open 2016. The tournament will take place in Madrid, 9th/04/16, at Centro de Natación Mundial 86 (also known as M – 86).
Pool:
The competition will be held in a 25,00 m. long, 16,00 m. wide and depth 5,15 m. indoor pool.
Playground will be reduced by means of temporary lanes to 16 m. long, 12 m. wide.
Participants:
The Cup will be played in female and male category.
Minimum number of female and male teams to carry out the Championship is 5 by category.

Playing Schedule:
The main game schedule will be from 14:00 – 20:00, with the possibility of extending it until 21:00, all depending on the number of participants. Game time is approximately 12 min. ineffective (depends on number of teams), and a minimum of 4 games per team is guaranteed. The final game schedule will be sent out by e-mail to the contact person for each team.
Rules:
UWR rules of CMAS will be applied.
Lodging.
There are a lot of places close to Madrid downtown with special prices from 13 to 50€ and so on, you can find them using the conventional webpages of: www.booking.com, www.hostalworld.com, www.airbnb.com
Dinner and Fiesta!
A tournament fiesta will take place to celebrate the UWR tournament spirit. Participants may be asked in advance to confirm their assistance.
The tournament is performed during a local fairy weekend, so is an ideal time to visit Madrid and its nightlife.
Entry Fee and Payment:
The interested teams have to send a comfirmation email before 15/02/2016 to ososrugbysub@gmail.com.
After this date the terms of payment will be as following:
Total fee per Team: 150 EUR
To be paid before 15/02/2015
Entry prepay fee per team: 50 EUR
Entry fee for solo players: 25 EUR
After the prepayment, the final 100€ can either be transfer to our account or handed in the same day of event.
CONTACT:
Club Osos Madrid Rugby Sub
Email : ososrugbysub@gmail.com
Tournament Officers:
Alexis López – Padilla / Victor Donoso / Luis Laguna
Phone: +34684122957 / +34669697607
More info:
Facebook Osos Madrid – Facebook Event´s – Web Osos Madrid
Send by: Alexis Lopez Padilla