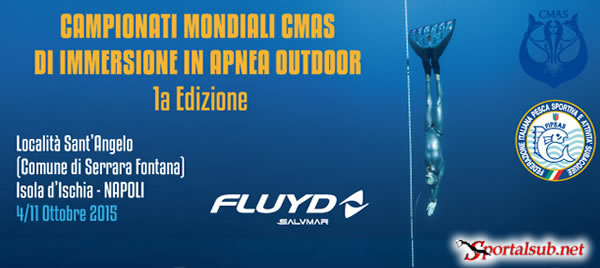 (Sportalsub.net / CMAS / FIPSAS) – Español
CMAS has entrusted to the Italian Sport Fishing and Underwater Activities Federation (hereafter FIPSAS) the organisation of the 1st edition of the Outdoor Apnea World Championships. The Championships was staged with the supervision of CMAS on the Island of Ischia, in the locality of Sant'Angelo (Municipality of Serrara Fontana), from 4 to 10 October 2015.
The Championships shall be comprised of four specialities: Constant Weight with Monofin (CWT), Constant Weight with Fins (CWT BP), Constant Weight without Fins (CNF) and Jump Blue (JB). The Constant Weight with Fins (CWT BP) event will be considered as valid for the official medals table, but will be experimental in nature. Only the Final stage will take place for each of the planned specialities, including the Jump Blue event.
RESULTS (select tabs)
MEDALS
JB
CNF
CWT BP
CWT
More info: CMAS / FIPSAS / Facebook / Twitter