🇧🇶 BonAbyss2023 – Freediving Variable Weight World Record by Alexey Molchanov from Russia 🇷🇺 in Bonaire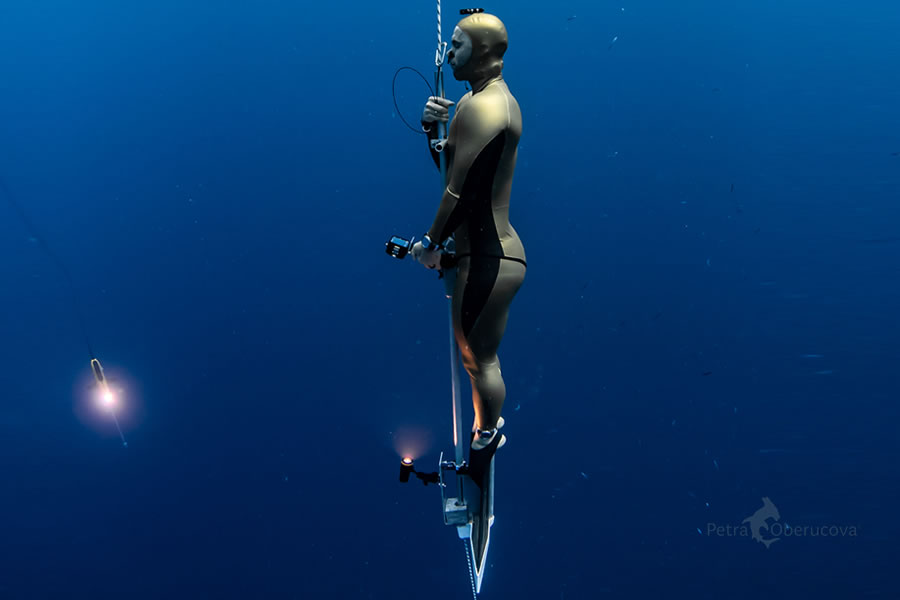 (Sportalsub.net / Blue Classroom by Carlos Coste)
Leer En Español
Freediving Variable Weight World Record by Alexey Molchanov
Bonaire, a small island in the Dutch Caribbean, has established itself as a world-class freediving destination after hosting BonAbyss 2023, aninternational event that featured Alexey Molchanov, the top freediving athlete in the world, and other freediving athletes from different countries.
The event, organized by the Blue Classroom Freediving Center from March 24th to 28th, was a massive success, with multiple worlds and national records broken. The highlight of the event was undoubtedly Alexey Molchanov's incredible display of human endurance and determination. On Saturday, March 25th, he broke the Variable Weight (VWT) World Record by descending to a depth of -153 meters. Just two days later, on Tuesday, March 28th, he surpassed his record, diving to an even more impressive depth of -156 meters. 
The world record had the endorsement and judges of the International Association for the Development of Apnea (AIDA).
"It's basically just exploring a new discipline which I've never done before," said Molchanov of his record-breaking dive. "I'm really happy with how it was. It was a challenge, much bigger pressure than I'm used to, and the body position was a challenge as well. And now it's gonna be a season of other disciplines, it's tradition to me."
"The success of the event and the athlete's record-breaking dives highlight the incredible capabilities of the human body and the power of dedication and perseverance," said Carlos Coste of Blue Classroom Freediving Center. "We are thrilled to have hosted such an amazing event and extend our deepest gratitude to all those who offered their time, dedication, and expertise to ensure the athletes' safety during their record attempts."
Other freediving athletes also achieved notable results during the event. Eric Van Riet Paap set a new Variable Weight (VWT) National Record for the Netherlands with a dive of -93 meters, while Brandon Best set a new VWT National Record for the USA with a dive of -52 meters. Petra Oberucova from Slovakia accomplished her first competitive experience ever, setting a new VWT National Record for her country by diving to a depth of -43 meters.
BonAbyss2023 was made possible thanks to the support of its sponsors, including Tourism Corporation Bonaire, STINAPA, STCB, WhatSup Bonaire, Dive Friends, DivOcean, Plaza Beach & Dive Resort, Budget Marine, and others. The organizers are already looking forward to BonAbyss2024 and are excited to welcome the world's top freediving athletes to the stunning underwater environment of Bonaire.
Photos By @petra_del_mar
Best Regards
Carlos Coste
Blue Classroom Freediving Center to Host BonAbyss2023, Featuring World Record Attempt by Alexey Molchanov
Blue Classroom Freediving Center is thrilled to announce the BonAbyss2023 event, taking place on the Dutch Caribbean island of Bonaire from March 24th to 29th. The event will feature a world record attempt by the renowned International freediver, Alexey Molchanov, in the Variable Weight discipline, with a targeted depth range of 151-160 meters.
Molchanov, nicknamed "The Machine," is world's top freediving athlete and has been braking world records in freediving since 2008. He currently holds the Freediving World Record in the dive with monofin (CWT) discipline at 131 meters.
In his attempt at BonAbyss2023, Molchanov will be trying to surpass the standing Variable Weight (VWT) record of 150 meters, held by freediver Walid Boudhiaf from January 2021.
Bonaire's crystal-clear waters and thriving marine life make it the perfect location for this world-class freediving event. Blue Classroom Freediving Center, led by 12-time world record champion and founder Carlos Coste, is honored to be organizing the event in collaboration with Tourism Corporation Bonaire, STINAPA, STCB and other local supporters. Carlos Coste was the World Record in Variable Weight (VWT) with 140 meters from 2006 to 2009 and 135 meters from 2004 to 2005. See World Records History
"We are excited to welcome Alexey Molchanov and other accomplished freedivers to the stunning underwater environment of Bonaire," said Carlos Coste. "We are confident that the combination of our team's experience in organizing world record events and competitions, and Bonaire's breathtaking natural beauty, will create the perfect conditions for a successful record attempt."
The safety of the athletes and the environment is of utmost importance, and the organizers have implemented a number of safety measures. In addition to Molchanov's record attempt, members of the Dutch Freediving Association will also be attempting National Records in the deep blue bay of Kralendijk.
For more information on BonAbyss2023 and updates on the event, follow along on social media with the hashtag #BonAbyss2023 and the updates by Sportalsub.net
More info:
Official Websites: Blue Classroom – AIDA International
Instagram Accounts: Alexey Molchanov – Carlos Coste