🇦🇺 How Many Australians Are in the NBA?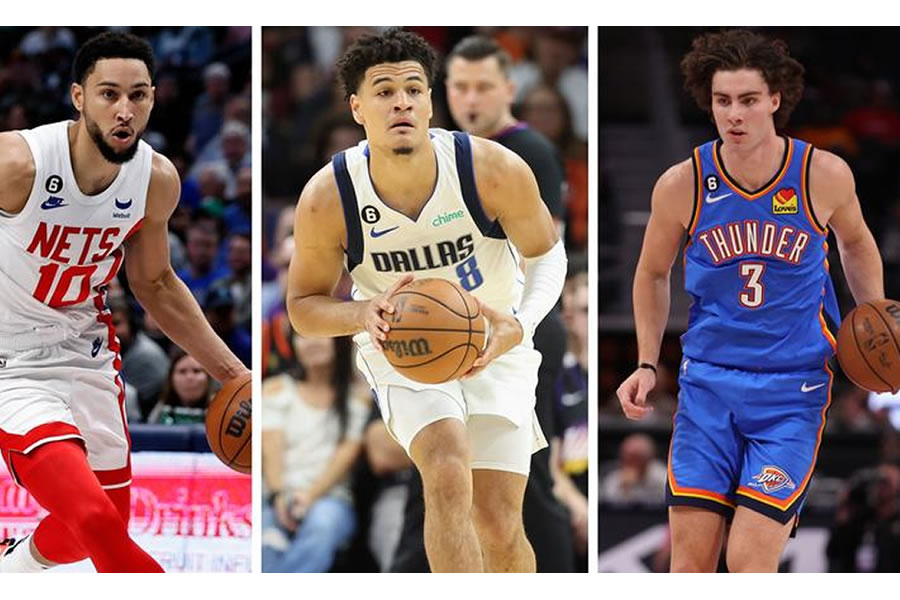 The popularity of basketball in Australia has been on an upward trajectory for years now. Not only are there more than a million active players of the sport across Australia, but there is also increasing interest in the professional side of the game, too. When it comes to basketball, there's no denying that the premier league of the record is the American National Basketball Association. It's no surprise that the sport's home country hosts its most prestigious league, but the NBA is far from an Americans-only domain.
On the contrary, there is an incredible amount of international diversity in the NBA, with more than 40 countries represented on active rosters. That totals about 120 players — and some of those players are Australians who've made the jump to play professional basketball in the US. To start the 2022-23 season, there was a record number of Australians in the league — ten of them, to be exact.
Who are these ten players? Let's look at some of the most notable names when it comes to Aussies playing in the NBA today.
Ben Simmons
After earning three trips to the All-Star game and notching Rookie of the Year back in 2018, it's safe to say Simmons is one of the most-watched players from Australia. Although he turned down an offer to represent Australia in the olympics. Currently a point guard with the Brooklyn Nets powering through another strong season after bouncing back from off-season surgery, Simmons regularly puts up excellent numbers and contributes to the winning ways of the Nets—possibly putting them in playoff position again.
Dyson Daniels
Speaking of Rookies of the Year, Dyson Daniels continues to make a compelling case for himself with truly elite defence and ball-handling skills. A point guard for the New Orleans Pelicans, Daniels shone in pre-season games with excellent shot-blocking and agility. Despite a highly competitive division, the Pelicans could be contenders this season, too, and Daniels is a key contributor to the team's overall strength.
Patty Mills
Locked up for the Nets as a point guard for at least two more seasons thanks to a fresh contract, Patty Mills is a 3-point shooting machine who always seems to hit his mark. With a crowded roster, the number of playing minutes he'll end the season with remains up for debate, but it's clear that this Aussie player continues to earn the pride of the home crowd with his laser-like accuracy and confidence.
Matisse Thybulle
A shooting guard for the Philadelphia 76ers and hailing from Sydney, Thybulle makes a big impact on defence even though he often does not earn many playing minutes per game. With fans and sports media clamouring to see more of his power and defensive prowess on the court, the Sixers might have no choice but to give in and start fielding him more often. Their quick hands and rapid reflexes make him one of the league's most effective players at steals and deflections.
Joe Ingles
Currently a small forward for the Milwaukee Bucks, Ingles has made a name for himself over more than half a dozen seasons. In fact, Ingles owns the all-time 3-point record for the Utah Jazz, with whom he played eight seasons. Injuries have kept this ageing player on the sideline for many games this season, but his experience on the court and power when he's healthy to ensure his value remains high.
Matthew Dellavedova
A point/shooting guard for the Sacramento Kings, Dellavedova was a part of the Championship-winning Cleveland Cavaliers in 2016. Since then, he's moved between teams, played briefly again in Australia, and most recently signed with the Kings to aid in their push to earn their own set of championship rings.
Josh Giddey
Giddey was a stunner in his opening season as a young point guard for the Oklahoma City Thunder. He became the youngest player in the league's history to record a triple-double game performance. Injury cut that season short, but he looks set to have a dominant presence on the team going forward as he continues to hone his skills and gain more experience.
Jock Landale
A centre for the Phoenix Suns after a stint with the Spurs and some time in Australian professional basketball, Landale has found a solid place on the team with both long-distance shooting and rapid, tactical field goals. Currently a backup player behind the team's primary centre, Landale should easily earn more minutes as his game develops.
Josh Green
A shooting guard for the Dallas Mavericks, Josh Green has had a slow start to his NBA career due to injury and heavy competition for minutes on the roster. However, the Mavs resigned him because of his improving ability to grab passes and make effective three-point shots.
Jack White
A small forward for the Denver Nuggets, White currently plays on a two-way contract to develop his skills as a player in the G-League. It may be a season or two before he sees a full-time assignment to the Nuggets, but in the meantime, he's proving himself to be a potential force for scoring and rebounds.
What the Future Holds
With the storylines of the season still unfolding, it's hard to say yet who will have the best year among the current class of Australian players. However, one thing seems certain: the country's presence as a significant portion of the NBA's international player base seems set to remain strong. In the coming years, we may see even more Aussie athletes cross over into professional American basketball — giving us all even more reason to follow the excitement and competition.
Sources:
https://7news.com.au/sport/basketball/aussies-in-the-nba-ben-simmons-the-headline-act-but-josh-giddey-and-next-generation-are-ready-to-fire-c-8567605
https://www.nba.com/news/nba-rosters-international-players-2022-23