🇷🇸 Serbian Freediver Branko Petrovic sets a New Guinness Record in Static Apnea in Dubai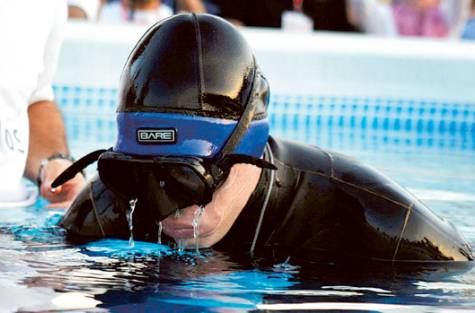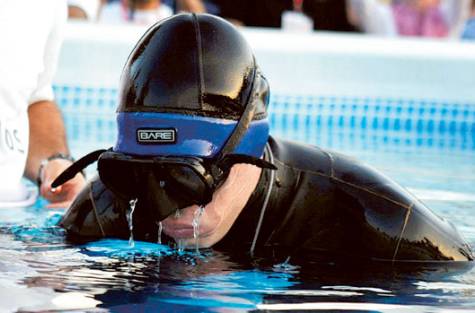 Image Credit: Arshad Ali/Gulf News
(Sportalsub.net / Branko Petrovic / Gulf News)
Dubai: Branko Petrovic put Dubai in the Guinness World Record books when his new time of 11.54 minutes for the longest breath-hold under water was ratified by the Guinness World Records on Friday.
Watched by a host of dignitaries, including Dr Ahmad Sa'ad Al Sharif, General Secretary, Dubai Sports Council, Petrovic attempted a new world record for holding his breath under water at a special pool at Skydive Dubai on the sidelines of the Spearo Extreme Sports Expo.
Petrovic had already bettered the old time of 11.35 minutes on October 7, and on Friday the Serbian was aiming to better this mark at the same venue.
Petrovic withdrew on the first instance after finding the water in the specially set-up pool to be too cold.
He re-entered the pool after putting on a second swimsuit, after which he remained under water for about two minutes in order to adapt to the conditions.
In his first attempt, Petrovic equalled the world record of 11.35 minutes that stood in the name of Frenchman Stephane Mifsud since 2009. After a 30-minute break, Petrovic indicated that he was willing to have a second try at breaking the record.
But on the second attempt, the Serb champion managed 10.54 minutes, after which he decided to give up paving the way for the ratification of his own time of 11.54 minutes that he had set at the same venue on October 7.
"The new record of 11.54 minutes set on October 7 now stands as the world record for the longest breath-hold under water," Pravin Patel, adjudicator from the London office of the Guinness World Record, confirmed to Gulf News.
"As per Guinness regulations, a person is allowed a certain time frame as well as the flexibility of going ahead with his feat under ideal conditions. In this case, he needed a quiet atmosphere while he recollected his senses and remained under water. So, taking into consideration all these parameters, we ratify his time of 11.54 minutes set on October 7 as the new world record," he added.
After his feat, Petrovic received a cheque for Dh120,000 – Dh10,000 for every minute of the record as promised by Mohammad Al Khayat, CEO, Kemos Group of Companies, in the presence of Zarir Saifudden, owner and editor-in-chief, Spearo Freediving magazine, the organisers of the event.
Though a bit disappointed at not having bettered his own time on Friday, Petrovic was pleased that the new mark will be associated with Dubai. "It was important for me to set the new world record here in the Gulf region as free-diving has its roots right here due to the extensive diving for pearls over so many centuries. It is like a dream come true for me today, and to do it in Dubai is like paying back the city that has made me fall in love with it," Petrovic said.
The Serb free-diver had become a world champion and world record holder by keeping his breath underwater for 9.32 minutes in September 2011. Subsequently, he achieved a best time of 10.23 minutes during the Submania Cup in Croatia in November 2013, till Mifsud took over with a time of 11.35 minutes set in 2009.
By: Alaric Gomes Senior Reporter
More info: Gulf News / Branko Petrovic Facebook / The Spearo Expo 2014