🇺🇸 What Is Wakesurfing And What Do You Need To Get Started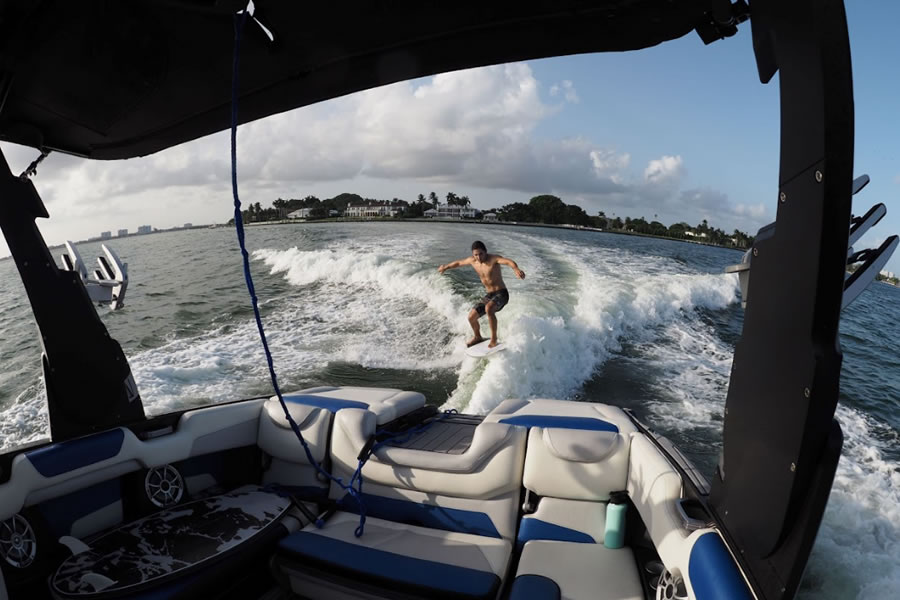 Wakesurfing is among the best summer activities. This sport is also an ideal activity for every season so long as you have the right wetsuit. Since wakesurfing is like a combination of wakeboarding and surfing, it results in the most fun activity done behind a boat. If you're among individuals who want to try this sport, continue reading to learn what it is and what you need to get started.
What Is Wakesurfing?
Wakesurfing is a water sport that requires the rider to trail behind a boat. Wakesurfing is almost similar to wakeboarding but differs in several ways. When wakesurfing, the rider isn't attached to the rope, unlike when wakeboarding. Also, during the wakesurfing sport, the rider surfs on the waves created by the boat.
Wakesurfing is becoming more popular by the day. What's believed to be started by a daredevil goofing couple has become an excellent watersport that provides a balance between wakeboarding and surfing. Currently, most watersport enthusiasts are participating in this activity, which is more exciting than it looks.
What Do You Need To Start Wakesurfing?
Besides a boat, there are other things necessary for wakesurfing. You'll need a swimsuit, wakesurfing rope, life jacket, and wakesurf board. Fortunately, wakesurf equipment and boards can be purchased online. All you need is to know the perfect size, order, and get them delivered to your doorstep.
Boat
It's important to mention that not all boats are ideal for wakesurfing. For example, a boat with an outboard engine (an engine mounted externally at the back) isn't the best for wakesurfing. Since the rider must stay close to the boat to ride the wake successfully, an outboard boat can be dangerous, especially since its blades aren't concealed. Wakesurfing with such boats is highly discouraged.
Swimsuit
Before participating in any watersport, it's vital to be in protective gear. Therefore, you should invest in a fitting and comfortable swimsuit. Though you might be tempted to showcase your summer body, you should consider the dangers of spending a prolonged period in water. 
With that in mind, covering most body parts is vital, especially since you can quickly get chilly and cold. You should also remember that you must wear a life jacket over the swimsuit; hence, you need a swimsuit that can accommodate this requirement.
Life Jacket
A life jacket is essential when wakesurfing. It helps you stay afloat while protecting you when you fall. Nevertheless, the jacket must be fitting and of high quality, for you to enjoy its protection. Ensure to research approved life jackets and select one that can accommodate your size and weight.
Rope
Though the rider isn't attached to the rope when wakesurfing, they need it when getting up on the wake. For this reason, a rope can't be expelled from the list of what you need to start wakesurfing. 
Remember that not every type of rope can be used to wakesurf. A wakesurfing rope should be specific to the sport and not cause nasty burns to your hands. Shorter ropes are ideal for newbies, while longer ones offer the perfect room for wakesurfing tricks.
Board
Choosing the right board is the key to learning wakesurfing quickly and having more fun. However, the perfect wakesurfing board differs for newbies and pros.
The wakesurfing board for a beginner should concentrate more on stability and comfort instead of speed and design. According to experts, wakesurf boards with large surface areas and stable three-fin setups are ideal for beginners since such boards provide a stable platform to learn the sport's basics.
Another vital aspect of a beginner wakesurf board is its construction and ability to float. These boards should be made with materials that are less likely to float. A board with less buoyancy is likely to sink and move at a lower speed, which promotes stability. Once you master the basics, you can go for advanced-level boards with more buoyancy and speed.
Conclusion
While it's a fun watersport, wakesurfing requires practice, patience, and the right gear. Not all boats are ideal for this watersport since some can threaten the surfer's well-being. Therefore, ensuring you have the right gear and tools before stepping onto the board and into the water is vital. 
It's also important to emphasize training. Adequate training is the key to safe wakesurfing. As a beginner, you should concentrate more on learning the basics instead of tricks and moves. Once you understand the basics, becoming better will be easy. Take one step at a time, and you'll get there eventually.