🇺🇸 Kevin Hays of the USA solves 10 Rubik's cubes in apnea surpassing his world record in Spain + Video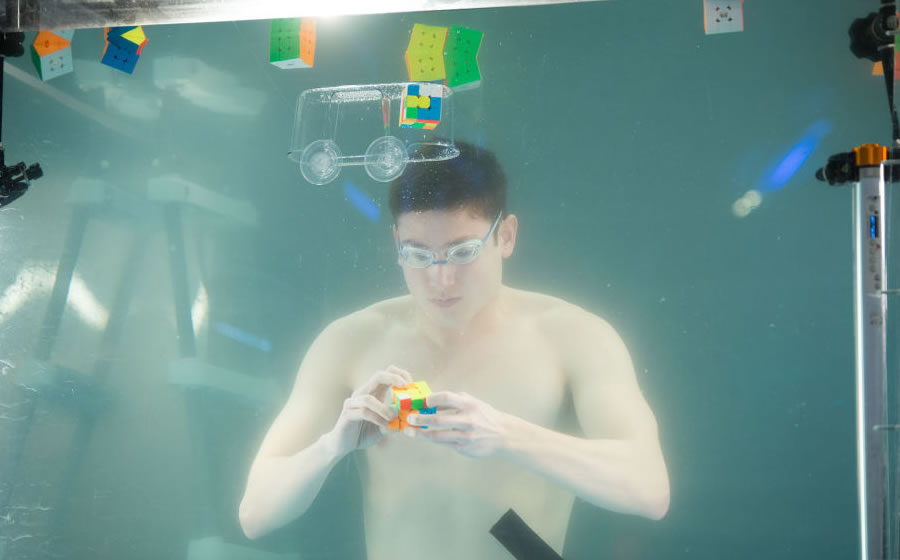 (Sportalsub.net / El Hormiguero / Kevin Hays)
Leer en Español
Although apnea or freediving as a sport has its modalities and events well defined and regulated by world organizations such as AIDA and CMAS, there are many daily activities or games that can be performed underwater and where the human being tests their physical abilities, not only to hold your breath, but also mental or mathematical, such as solving a Rubik's cube.
On Monday, November 11, 2019, Kevin Hays, a 25-year-old American man who has been practicing this curious discipline for 10 years, managed to overcome his own world record (which was in 8 cubes in 2015), by solving 10 cubes submerged underwater in a time of 2 minutes with 12 seconds, in the renowned TV Show "El Hormiguero" of Antena 3 in Spain.
VIDEO RECORD 10 CUBES
Full note and original video on the Antena 3 website:
Kevin Hays resuelve 10 cubos de Rubik en apnea superando su récord mundial en 'El Hormiguero 3.0'
You can see his previous records on the Kevin Hays channel on YouTube and access his social networks.
VIDEO PREVIOUS RECORD 8 CUBES (2015)
It is obviously a somewhat different record for those who are familiar with freediving as a sport, but that is still interesting and fun for those who live this lifestyle "BeUnderwater." Would you dare to solve at least one Rubik cube in apnea?