🇪🇸 Spain Champion of 29th CMAS Spearfishing World Championship Peru 2014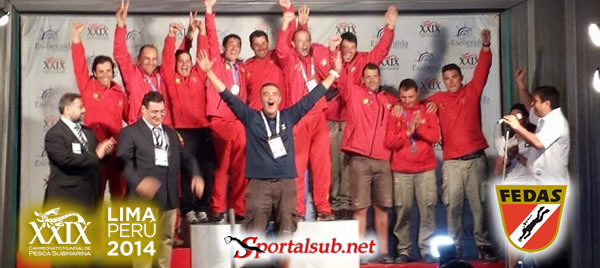 (Sportalsub.net / CMAS / FEDEPASA / FEDAS )
Spain Team wins the XXIX edition of CMAS Spearfishing World Championship in Lima, Peru.
Individual Classification (Top Ten):
Xavier Blanco (Spain)
Samuel Tomas (Spain)
Santiago Lopez (Spain)
Concetto Felice (Italy)
Pedro Domiguez (Portugal)
Jody Lot (Portugal)
Daniel Gospic (Croatia)
Andrii Lagutin (Ukraine)
Stjepko Kesic (Croatia)
Radoslav Jakupovic (Croatia)
 Complete Individual Classification
Team Classification:
Spain
Portugal
Croatia
Italy
Chile
Greece
Tahiti
Brasil
Bulgary
Perú
Ukraine
New Zealand
Russia
Turkey
Argentina
USA
Finland
Australia
México
San Marin0
Colombia
Font: FEDAS
Miguel Soto from Chile trophy for  biggest fish:  Parrotfish 4,269 Kgs
Font: FEDESUB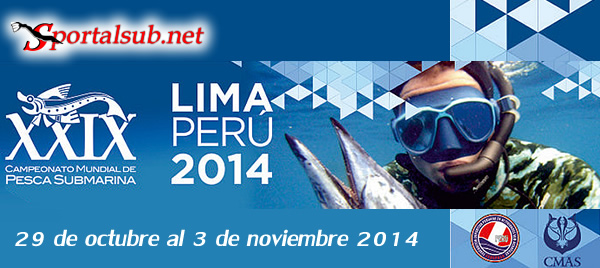 The President of the CMAS Spear Fishing Commission, confirms that the XXIX World Championship of Spear Fishing it will be held in Peru. The date programmed it will be from 28th October, through 02nd November 2014.
The central place will the City of Lima (Hotel Atton San Isidro). And the Competition zones would be in areas of Pucusana and Sta Maria, about 40Km south of Lima.
Official Site of World Championship of Spearfishing: http://www.fedepasa.org/mundial/
Antonio Cruz
President of the Spear Fishing Commission
More info: CMAS