🇪🇬 Egyptian Diver Ahmed Gabr breaks Record Guiness for deepest Scuba Dive at more than 1,000 feet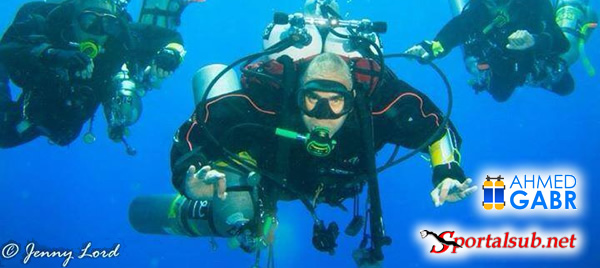 (Sportalsub.net / Ahmed Gabr / Record Guiness)
Ahmed, a 41-year-old Egyptian, has broken  on september 19th the record guiness for the deepest SCUBA dive, plunging an astonishing 332.35 m (1,090 ft 4.5 in) in the Red Sea off the coast of Dahab, Egypt.
Ahmed's amazing dive broke the previous mark of 318.25 m (1,044 ft) by South African Nuno Gomes in 2005, also off the coast of Dahab.
In order to make the record dive, numerous precautions and preparations needed to be taken to ensure Ahmed's safety and success. The special forces officer in the Egyptian Army has spent 17 years as a diving instructor and used the last four training for the attempt. He submitted his original application of intent to Guinness World Records more than a year before his dive.
When the day finally came, Ahmed needed approximately 12 minutes to reach his record depth, which was measured with a specially tagged rope that accompanied him. But, to ensure safe passage back to the surface, it required nearly 15 hours to have Ahmed return back for air after breaking the record, due to the various risks of the water pressure at such depths.
Assisting Guinness World Records adjudicator Talal Omar in making the official measurements were three independent expert witnesses: Vice Dean of Engineering for the Cairo campus of the Arab Academy for Science, Technology and Maritime Transport, professor Ayman Wanas; Professional Association of Diving Instructors course director Mustafa Alsayyad; and Technical Diving International instructor/trainer Ahmed S. Hussein.
After diving further underwater than any person ever, and resurfacing with a smile on his face, Ahmed proved that not only can someone survive – they can earn a spot in history sure to never be forgotten.
More info: Guiness World Record / Ahmed Gabr