🇳🇴 Molde UVK from Norway Champion of the European Underwater Rugby League 2014-2015 Season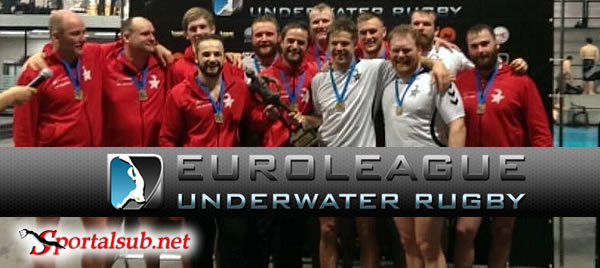 (Sportalsub.net / EUWRL)
The Norwegian club Molde UVK was titled Champion for the 3rd time in the 3rd season of Euroleague Underwater Rugby, which ended last Saturday March 14, when the final round was played in Copenhagen, Denmark. Molde won a total of 15 points with 5 wins, 1 loss and 56 goals scored, with only 4 goals conceded in 6 games. The second place was the UWRC Betta Russia with 12 points, while third place went to Flipper Denmark with 11 points.
The first round was held in November in Stockholm (Sweden) for the second consecutive year, while the February 7, 2015 the second round for the first time in Oslo (Norway) was played.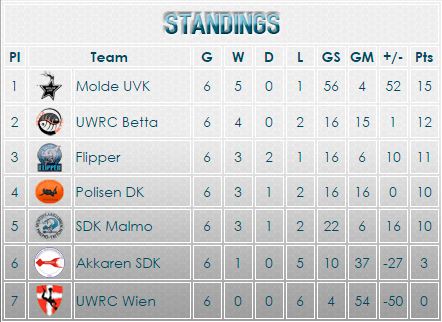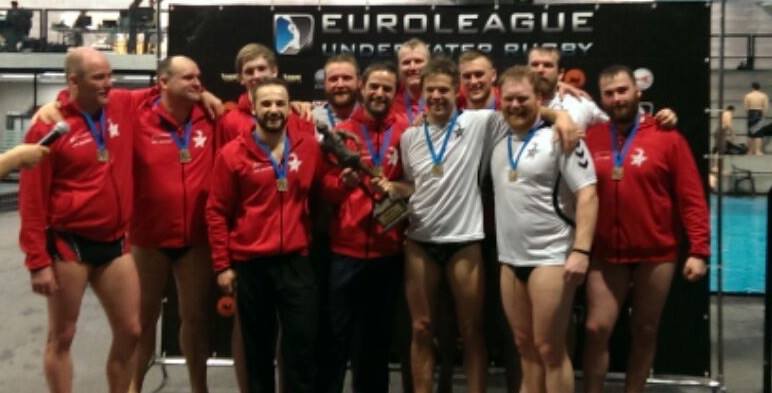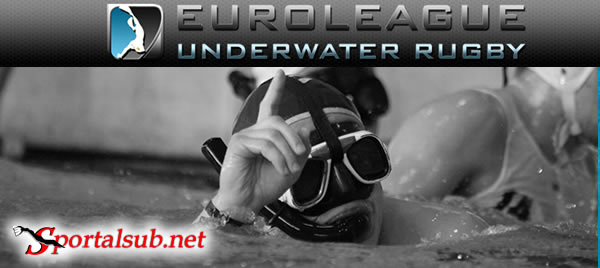 (Sportalsub.net / EUWRL)
The Schedule of the 3rd season of Euroleague approved. The competitions will take place at three capitals of Europe. First round of the Euroleague will be held in Stockholm, second year consecutive. In February 2015 Euroleague for the first time will be held in Oslo. The final round will be traditionally held in Copenhagen.
Results and standings – 7.2.15 Round 2, Oslo (Norway)
SDK Malmo – Akkaren SDK 3-2
Molde UVK – UWRC Betta 10-2
Polisen DK – Flipper UWRC 2-2
UWRC Wien – UWRC Betta 0-3
Molde UVK – Flipper UWRC 0-1
Polisen DK – Malmo SDK 2-1
Akkaren SDK – UWRC Wien 5-2
Results and standings – 26.10.14 Round 1, Stockholm (Sweden)
| | | | | |
| --- | --- | --- | --- | --- |
| № | Dark | Score | Bright | Video |
26.10.13 Round 1, Stockholm (Sweden)

1

Polisen DK

1-9 (0-4)
Molde UVK

2

Flipper UWR Club
7-1 (3-1)

UWRC Wien

3

SDK Malmo

2-0 (0-0)

UWRC Betta

4

Akkaren SDK

1-3 (0-2)

Polisen DK

5

Molde UVK

17-0 (6-0)

UWRC Wien

6
Flipper UWR Club
0-0 (0-0)

SDK Malmo

7

Akkaren SDK

1-6 (0-1)

UWRC Betta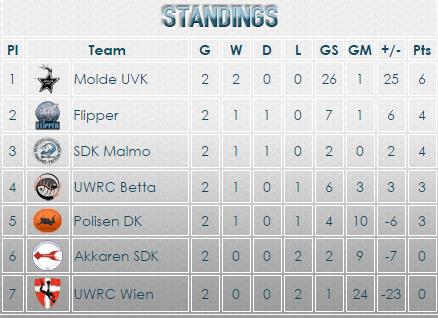 Teams
Schedule
№

Time

Dark

Bright

01.11.14 Round 1, Stockholm (Sweden)

1

10-00

Polisen DK

Molde UVK

2

11-30

Flipper UWR Club

TSVO Wien

3

13-00

SDK Malmo

UWRC Betta

4

15-00

Akkaren SDK

Polisen DK

5

16-30

Molde UVK

TSVO Wien

6

18-00

Flipper UWR Club

SDK Malmo

7

19-30

Akkaren SDK

UWRC Betta
7.02.15 Rounnd 2, Oslo (Norway)

8

10-00

SDK Malmo

Akkaren SDK

9

11-30

Molde UVK

UWRC Betta

10

13-00

Polisen DK

Flipper UWR Club

11

15-00

TSVO Wien

UWRC Betta

12

16-30

Molde UVK

Flipper UWR Club

13

18-00

Polisen DK

SDK Malmo

14

19-30

TSVO Wien

Akkaren SDK
14.03.15 Rounnd 3, Copenhagen (Denmark)

15

10-00

Polisen DK

TSVO Wien

16

11-30

Molde UVK

Akkaren SDK

17

13-00

Flipper UWR Club

UWRC Betta

18

15-00

TSVO Wien

SDK Malmo

19

16-30

Polisen DK

UWRC Betta

20
18-00
Flipper UWR Club

Akkaren SDK

21

19-30

Molde UVK

SDK Malmo
EUWRL Official Website: http://www.euwrl.com/
Youtube http://www.youtube.com/user/UWRC
Twitter https://twitter.com/euwrl
Facebook  https://www.facebook.com/euwrl