🇪🇸 Results & Video 3rd Round CMAS Finswimming World Cup 2015 Barcelona, Spain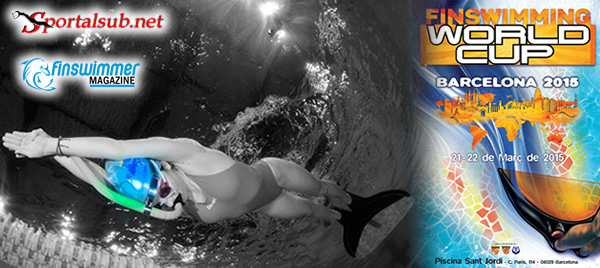 (Sportalsub.net / CMAS/FEDAS/FECDAs/ Finswimmer) – Leer en Español
Official Results (CMAS)
Day 1 Results – Day 2 Results – Club Points
Spanish Television Video Report
Results by Finswimmer Magazine / Finswimming World Cup Barcelona
1st Session Saturday Morning
50 Apnea Female Junior – 50 Apnea Male Junior
50 Apnea Female Senior – 50 Apnea Male Senior
800 Surface Female Junior – 800 surface Male Junior
800 Surface Female Senior– 800 surface Male Senior
2nd Session Saturday Afternoon
50 Bifins Female Junior – 50 Bifins Male Junior
50 Bifins Female Senior – 50 Bifins Male Senior
200 Surface Female Junior – 200 Surface Male Junior
200 Surface Female Senior – 200 Surface Male Senior
100 Inmersion Female Junior – 100 Inmersion Male Junior
100 Inmersion Female Senior – 100 Inmersion Male Senior
3rd Session Sunday Morning
100 Bifins Female Junior – 100 Bifins Male Junior
100 Bifins Female Senior – 100 Bifins Male Senior
100 Surface Female Junior – 100 Surface Male Junior
100 Surface Female Senior – 100 Surface Male Senior
400 Surface Female Junior – 400 Surface Male Junior
400 Surface Female Senior – 400 Surface Male Senior 
4th Session Sunday Afternoon
50 Surface Female Junior – 50 Surface Male Junior
50 Surface Female Senior – 50 Surface Male Senior
200 Bifins Female Junior – 200 Bifins Male Junior
200 Bifins Female Senior – 200 Bifins Male Senior
4 x 100 Surface Female Junior – 4 x 100 Surface Male Junior
4 x 100 Surface Female Senior – 4 x 100 Surface Male Senior 
The finswimming world cup will be held in Barcelona, Spain, on 21st and 22nd of March 2015. This international competition is one of the most important tests of the finswimming calendar worldwide in which are going to participate swimmers from the five continents and of over 30 countries.
RECORD!! 534 Athletes, 86 Clubs, 21 Countries subscribed to Barcelona World Cup! The Biggest Finswimming Event Ever! Find complete list here:http://tinyurl.com/lowp5qh.
#Finswimming shooting session Head to #BcnWorldCup #monofin #topspeed pic.twitter.com/WWSIpcUKlm

— Barcelona World Cup (@BcnWorldCup) febrero 11, 2015
A great event organized by the FECDAS, Catalan Federation of Underwater Activities and supported by various public entities such as the Generalitat de Catalunya, Barcelona Provincial Council and the City of Barcelona. The Finswimming World Cup of Barcelona has also secured support from several private companies both of technical equipment (Rocketfins, Binfins, Waterway, Finis among others …)
And of tourism (hotelnights.com among others).
It's the first time that Barcelona hosts an important event of this sport, even not well known in Spain, but with high growth prospects. Finswimming is a very spectacular sport, whose main attraction is the high speeds that can be achieved thanks to the help of a monofin. In fact, the top speeds reach 13 km per hour, compared to a top speed in swimming 8.6 km per hour. The monofin is the main instrument of this sport and allows the swimmer to achieve these speeds thanks to the boost that allows to obtain. Finswimming is defined as the Formula 1 of watersports, the fastest among all sports practiced in the water. Do not miss it on 21st and 22nd March 2015: Finswimming World Cup of Barcelona!
X CMAS Finswimming Worldcup 3rd Round.
Barcelona, Spain – 2015, the 21st and 22nd of March
More info: CMAS / Facebook Page