🇨🇴 Paula Aguirre from Colombia New World Record Junior in 50 SF Finswimming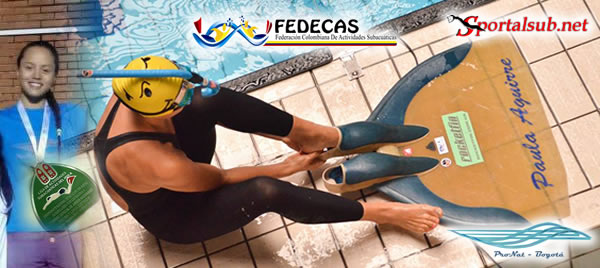 (Sportalsub.net / FEDECAS / Pronat)
From 26 to 31 March 2015 is performed in the cities of Neiva and Yaguará in Huila, the Finswimming National Championships for Clubs by categories (A, B, C and D) and I Special Tournament Pre-Games Long Distance of Colombian Underwater Activities Federation FEDECAS. Championship organized by the League of Underwater Activities of Huilaand qualifier for the National Games and World Championship 2015 finswimming Yantai China 2015 .
New World Record Junior Female 50 SF
The young girl finswimmer Paula Alejandra Aguirre Joya from Club Pronat Bogotá made in 50 surface Junior B category a time of 17.86, winning gold medal with National Record and Panamerican Record, beating previous record made by her teammate Alix Victoria Perez with time of 17.92 in 2012 and the World Record Junior of 17.97 recorded by Ksenia Belomestinova of Estonia in 2013. Paula also achieved the mark "A" required by FEDECAS to participate in the World Championships finswimming China Yantai 2015.
Source: FEDECAS