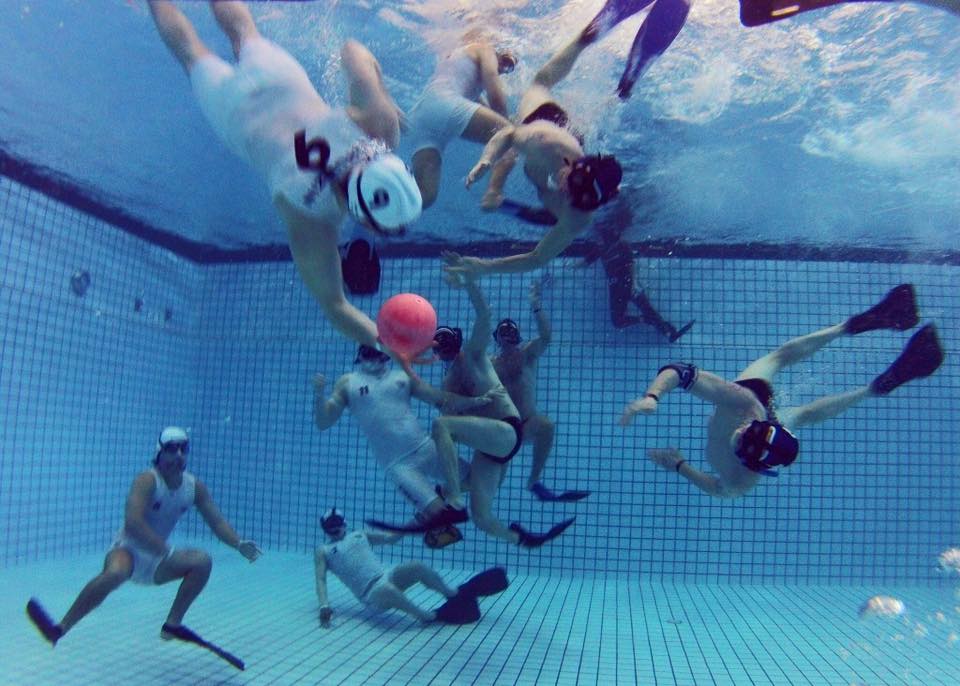 (Sportalsub.net / EUWRL) – Leer en Español
European Underwater Rugby League aeason 2015/16. Euroleague was held in three rounds at Hameenlinna (Finland), Molde (Norway) and Copenhagen (Denmark). Each round washeld at 2 game days, at saturday and sunday.
Euroleague has 6 game days from October till April, 9 teams, 36 games and 200 players from 12 countries.
Molde UV from Norway won 4th season of Euroleague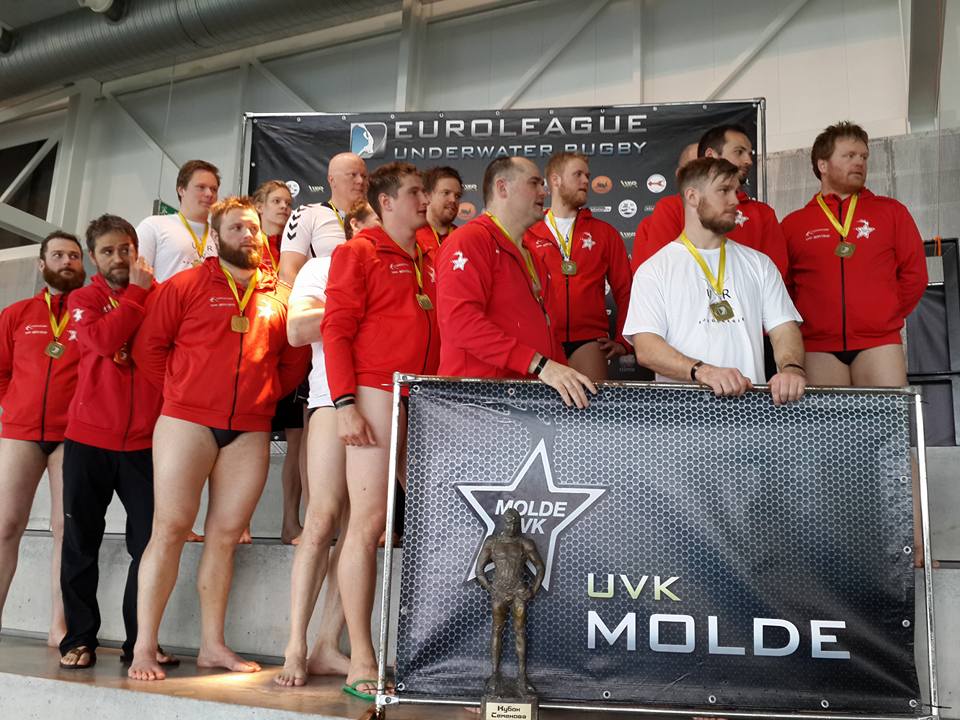 Final Positions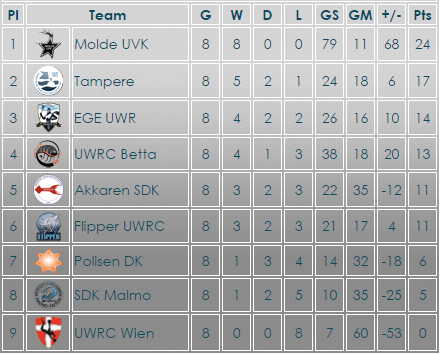 Round 3
Results Round 3, Copenhaguen (Dinamarca)
Saturday 23th, Sunday 24th April 2016
| | | | | |
| --- | --- | --- | --- | --- |
| | Tampere | 5-1 | UWRC Wien | |
| | Flipper UWR Club | 3-2 | EGE UWR | |
| | Akkaren SDK | 6-3 | Polisen DK | |
| | Molde UVK | 3-0 | Flipper UWR Club | |
| | UWRC Betta | 3-4 | EGE UWR | |
| | Tampere | 2-2 | Akkaren SDK | |
| | UWRC Wien | 1-3 | Polisen DK | |
| | SDK Malmo Triton | 2-2 | Akkaren SDK | |
| | Molde UVK | 16-2 | UWRC Wien | |
| | Tampere | 1-1 | EGE UWR | |
| | SDK Malmo Triton | 1-1 | Polisen DK | |
| | Molde UVK | 7-0 | UWRC Betta | |
Round 2
Results Round 2, Molde (Norway)
Saturday 6, Sunday 7. February 2016
| | | | | |
| --- | --- | --- | --- | --- |
| |  SDK Malmo Triton |  1-3 | EGE UWR | |
| |  Flipper UWR Club | 2-3 | Akkaren SDK | |
| |  UWRC Betta |  0-1 | Tampere | |
| |  Polisen DK |  0-0 | EGE UWR | |
| |  Flipper UWR Club | 6-1 | UWRC Wien |   |
| |  Molde UVK | 15-3 | Akkaren SDK | |
| | Tampere | 3-1 | DK Malmo Triton | |
| | UWRC Wien |  0-10 | EGE UWR | |
| | UWRC Betta |  6-1 | Akkaren SDK | |
| | Tampere | 6-1 | Polisen DK | |
| |  Molde UVK | 9-0 | SDK Malmo Triton | |
| |  UWRC Betta | 1-1 | Flipper UWR Club | |
Round 1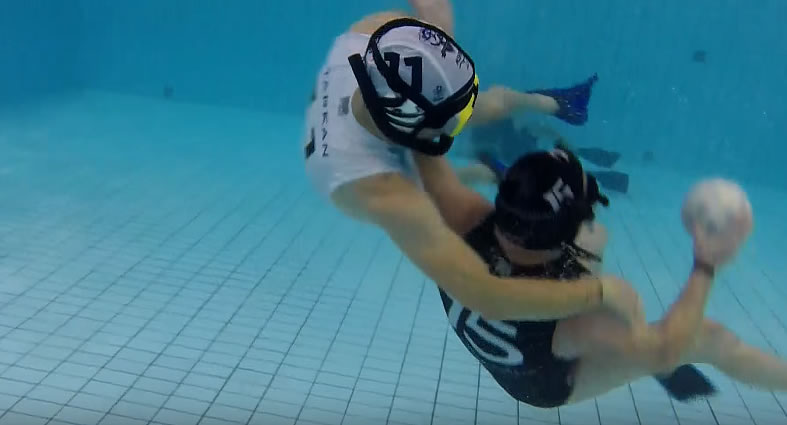 Results Round 1, Hameenlinna (Finland)
Saturday, October 31 – Sunday, November 1

| | | | | |
| --- | --- | --- | --- | --- |
|   |  Flipper UWR Club |  1-5 |  Tampereen |   |
|   |  UWRC Betta | 13-1 |  UWRC Wien |   |
|   |  Molde UVK |  7-1 |  EGE UWR |   |
|   |   Flipper UWR Club |  7-1 |  SDK Malmo Triton |   |
|   |  UWRC Betta | 6-1 | Polisen DK |   |
| |  Molde UVK | 11-1 | Tampereen |   |
| |  Akkaren SDK | 5-0 | UWRC Wien | |
|   |  Flipper UWR Club |  1-1 | Polisen DK |   |
| |  SDK Malmo Triton |  2-1 | UWRC Wien | |
| |  Akkaren SDK | 1-5 | EGE UWR |   |
| |  Molde UVK | 11-1 | Polisen DK | |
| |  UWRC Betta | 9-2 | SDK Malmo Triton | |
Standings after 2nd Round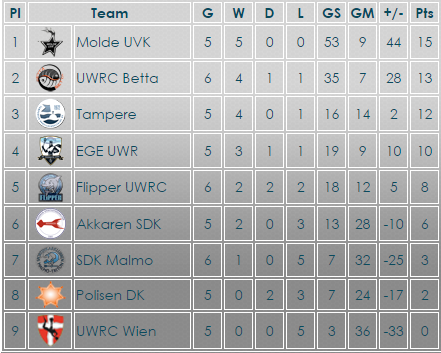 LIVESTREAM FULL VIDEOS | YOUTUBE HIGHLITHS VIDEOS 
TEAMS
EUWRL Official Website: http://www.euwrl.com/
Youtube http://www.youtube.com/user/UWRC
Twitter https://twitter.com/euwrl
Facebook  https://www.facebook.com/euwrl