🇧🇸 Final Results Vertical Blue 2016. Freediving International Competition In Bahamas with New World Records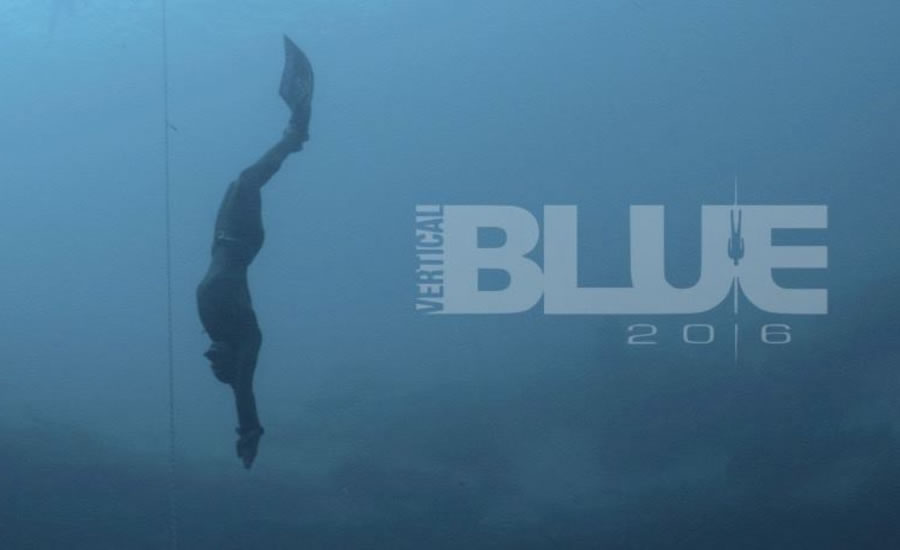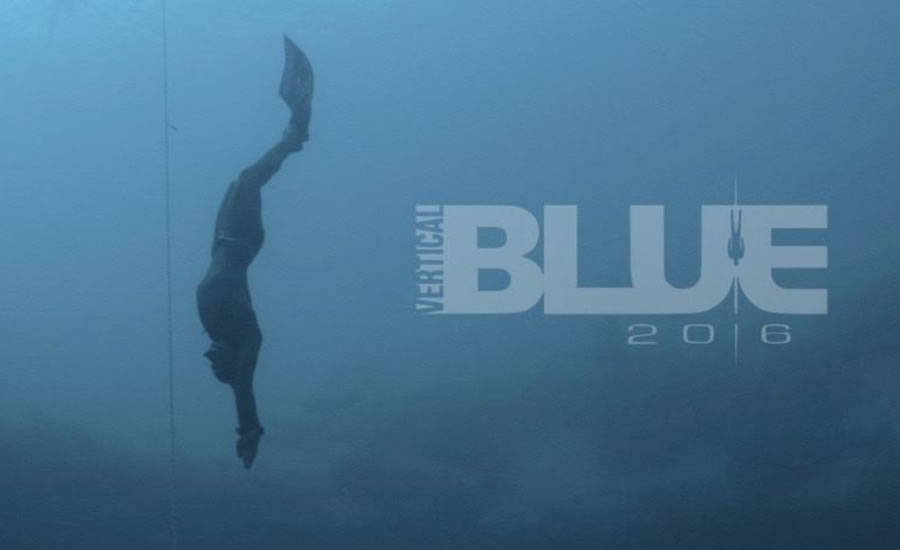 (Sportalsub.net / Vertical Blue) – Leer en Español
Men Winners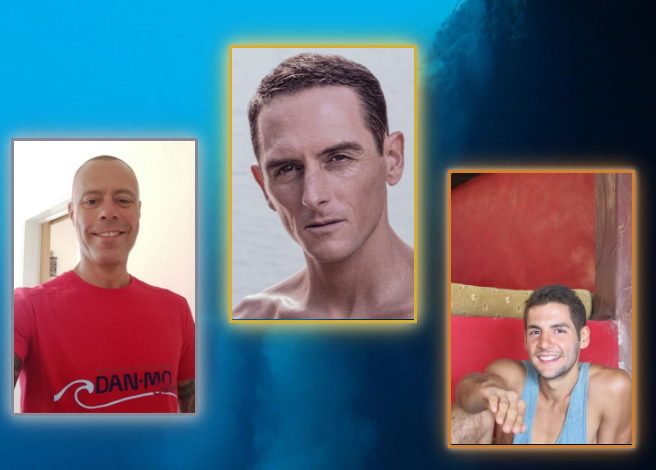 1.
 William Trubridge – New Zealand – 300 pts
2.
 Stig Prids – Denmark – 249.98 pts
3.
 Dean Chaouche – Great Britain – 248.93 pts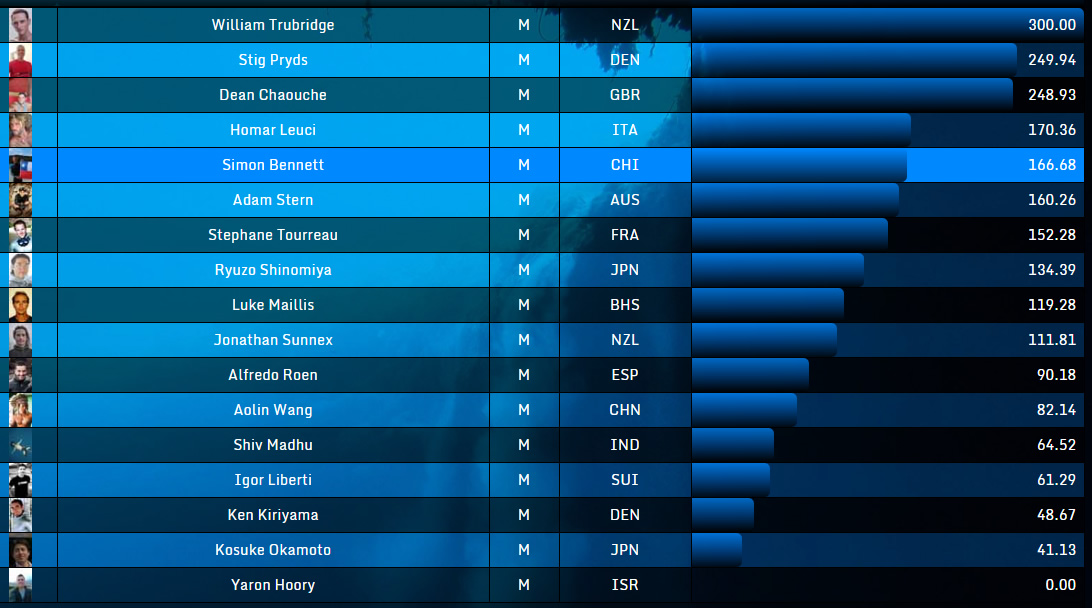 Women Winners
Day Results 
Day 9
Day 9 Vertical Blue 2016 – May 2nd (New World Record)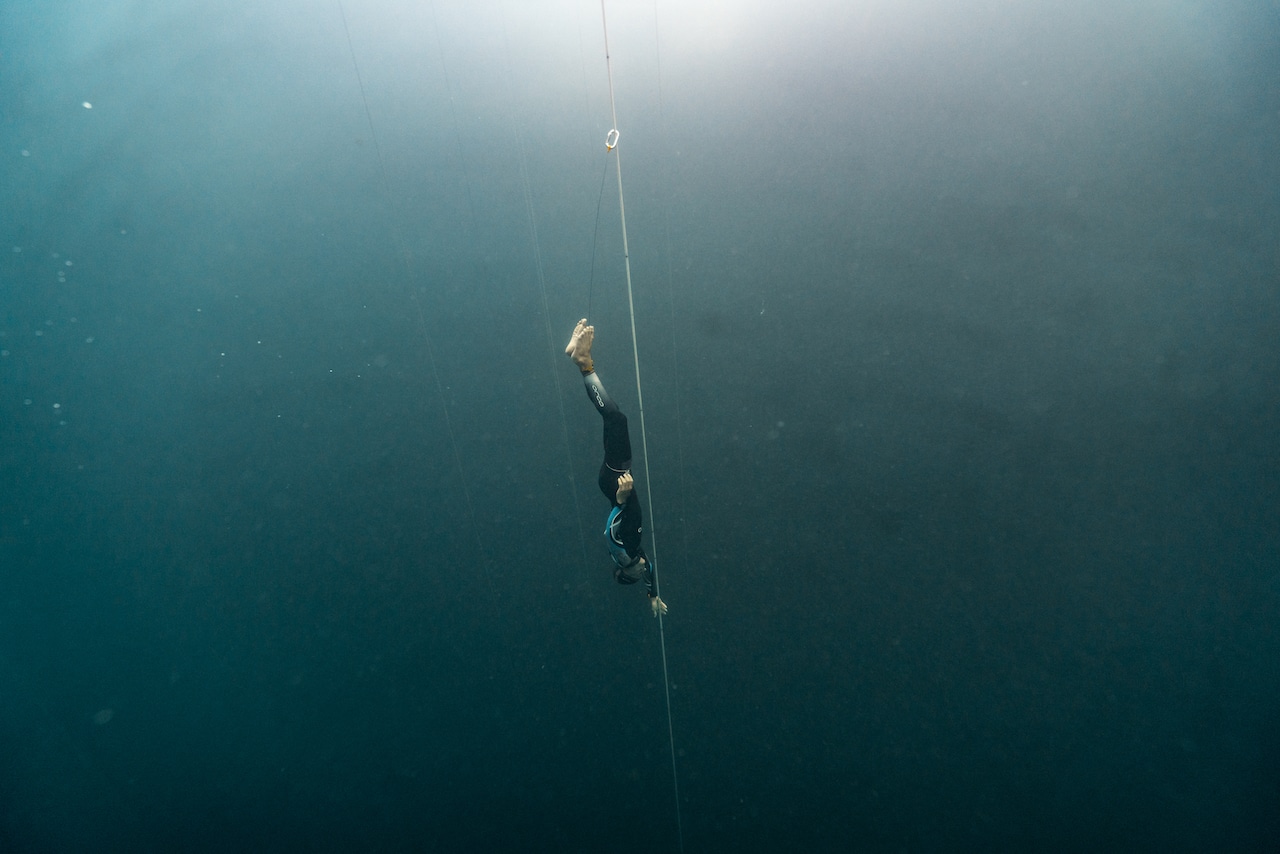 William Trubridge from New Zealand (Photo by Daan Verhoeven)
William Trubridge World Record Free Inmersion -124 meters.
Complete Results Day 9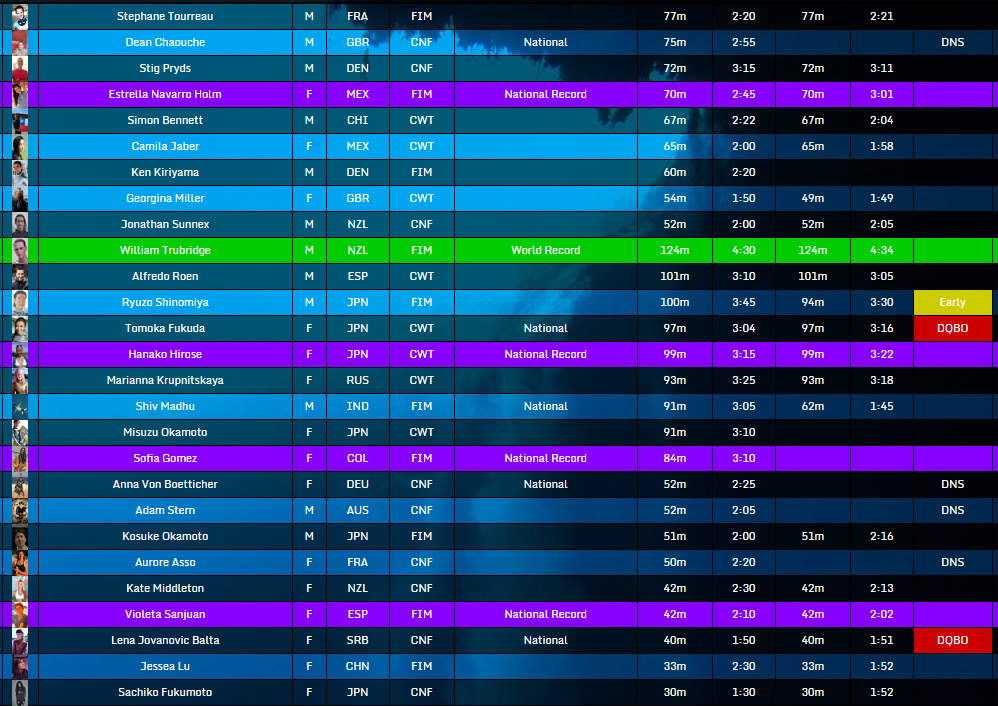 Day 8
Day 8 Vertical Blue 2016 – May 1st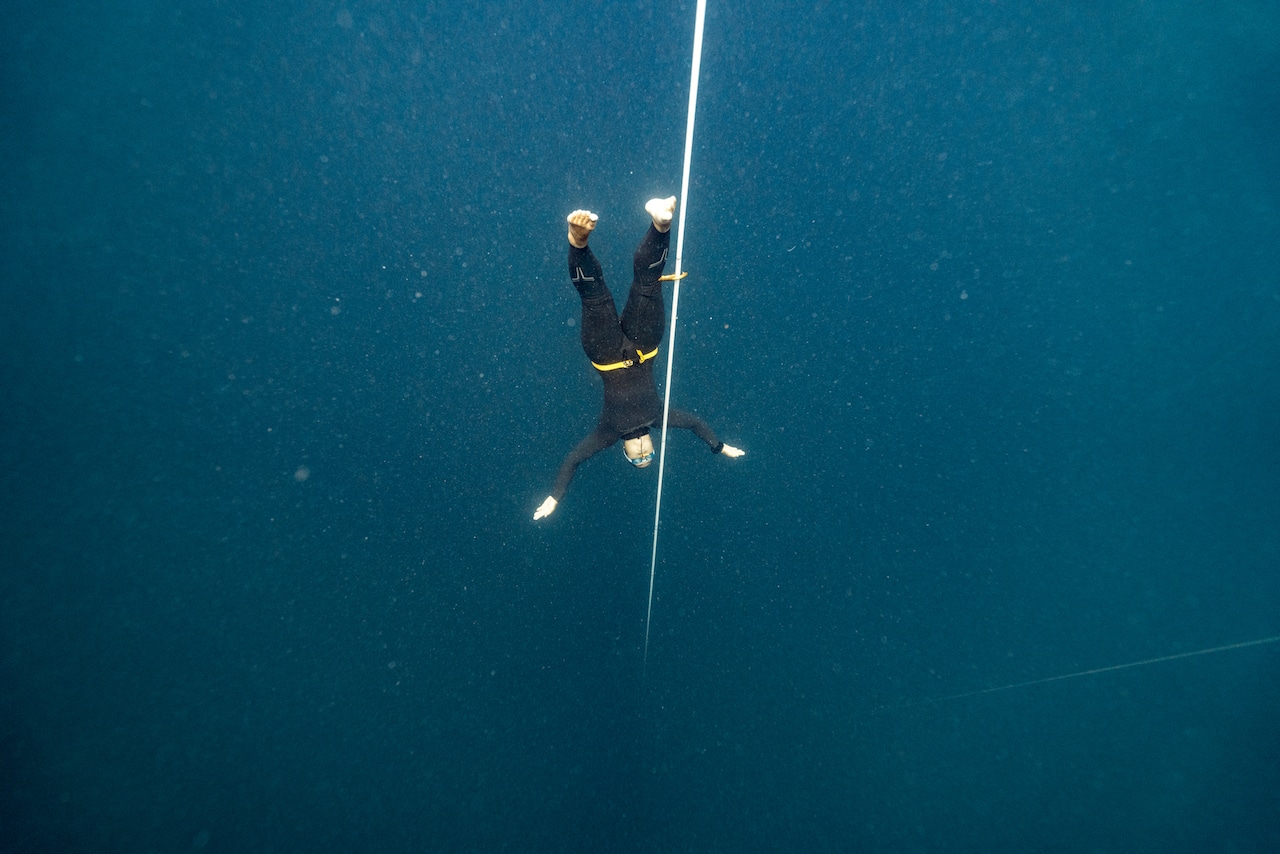 Sayuri Kinoshita from Japan (Photo by Daan Verhoeven)
Complete Results Day 8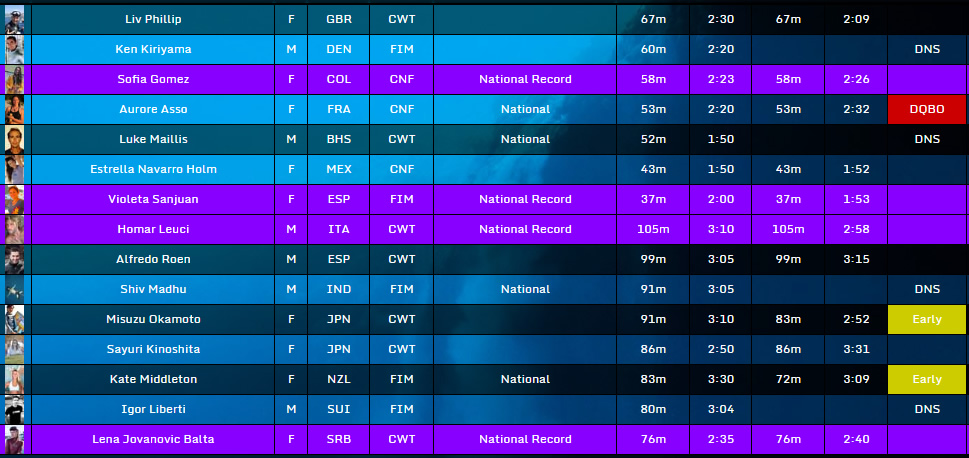 Day 7
Day 7 Vertical Blue 2016 – April 30th (New World Record)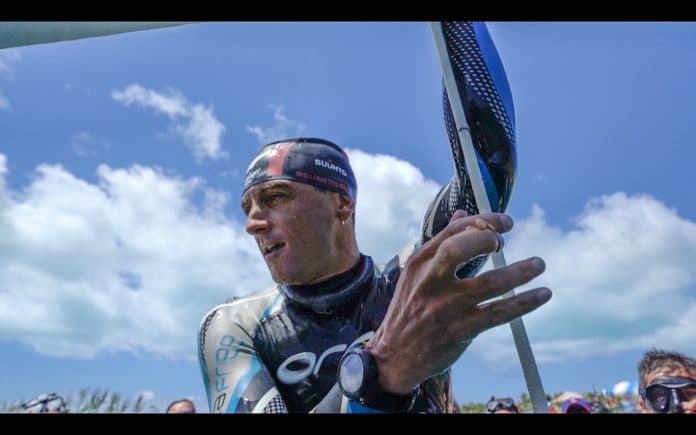 William Trubridge from New Zealand (Photo by Daan Verhoeven)
William Trubridge World Record Free Inmersion -122 meters.
Complete Results Day 7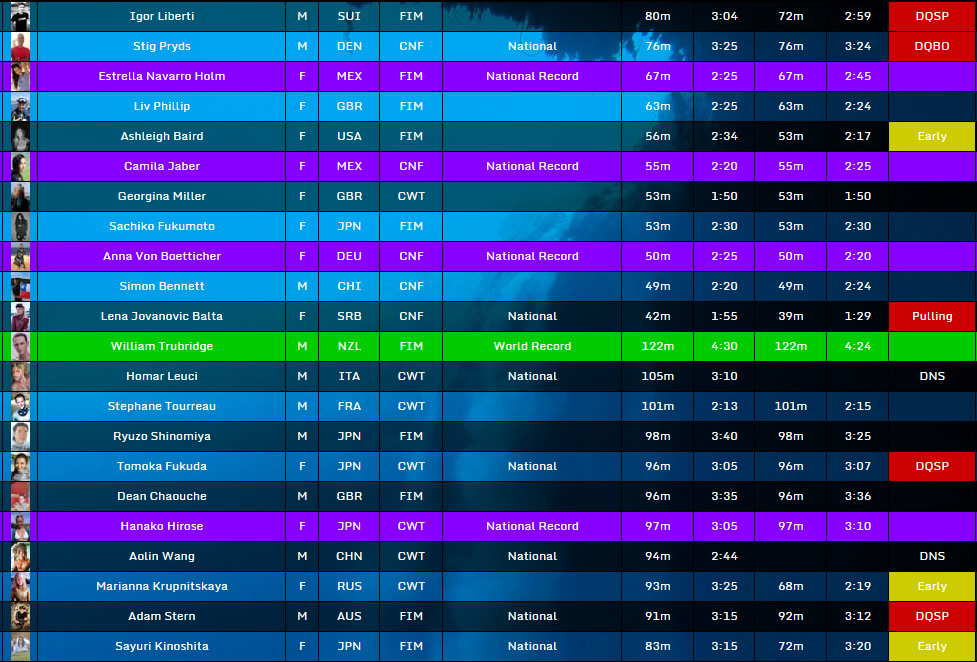 Day 6
Day 6 Vertical Blue 2016 – April 28th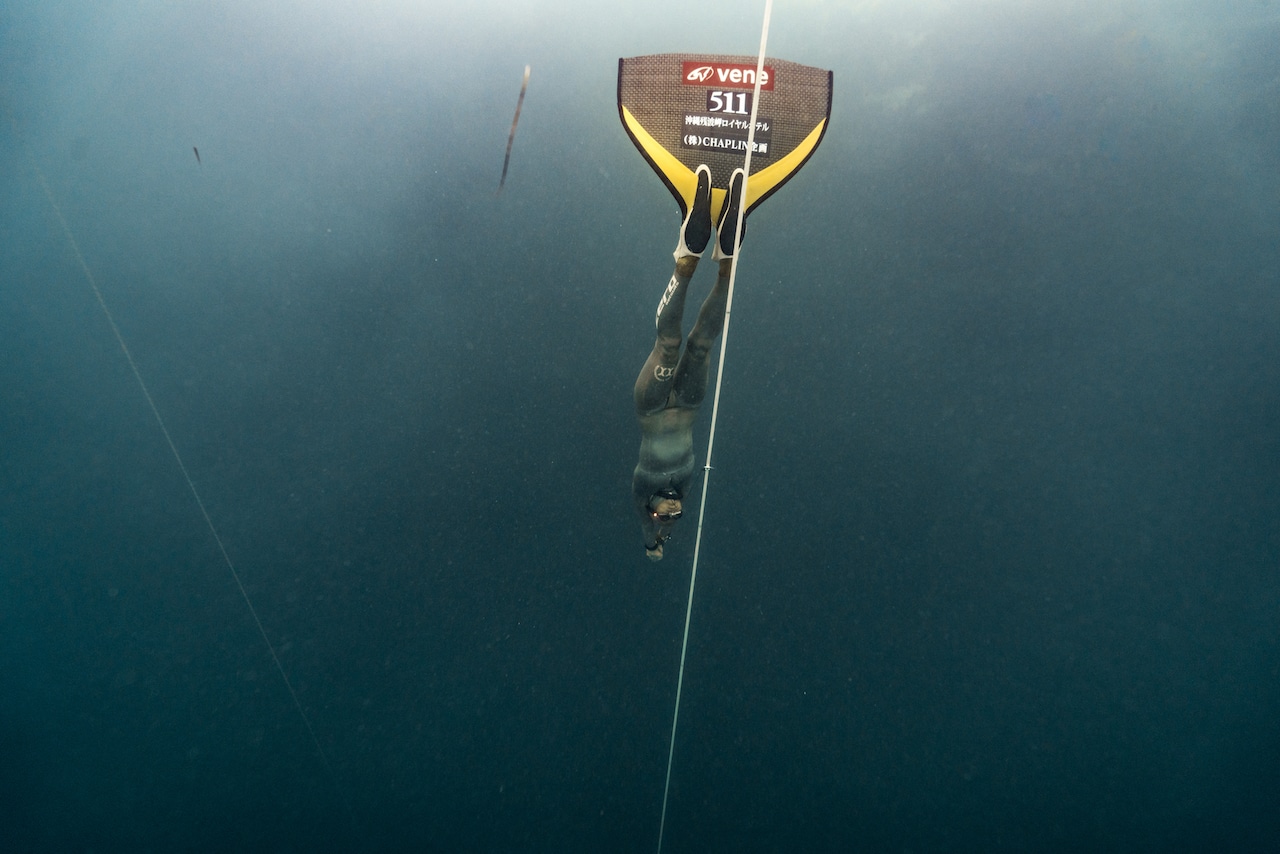 Tomoka Fukuda fromJapan (Photo by Daan Verhoeven)
Complete Results Day 6
Day 5
Day 5 Vertical Blue 2016 – April 27th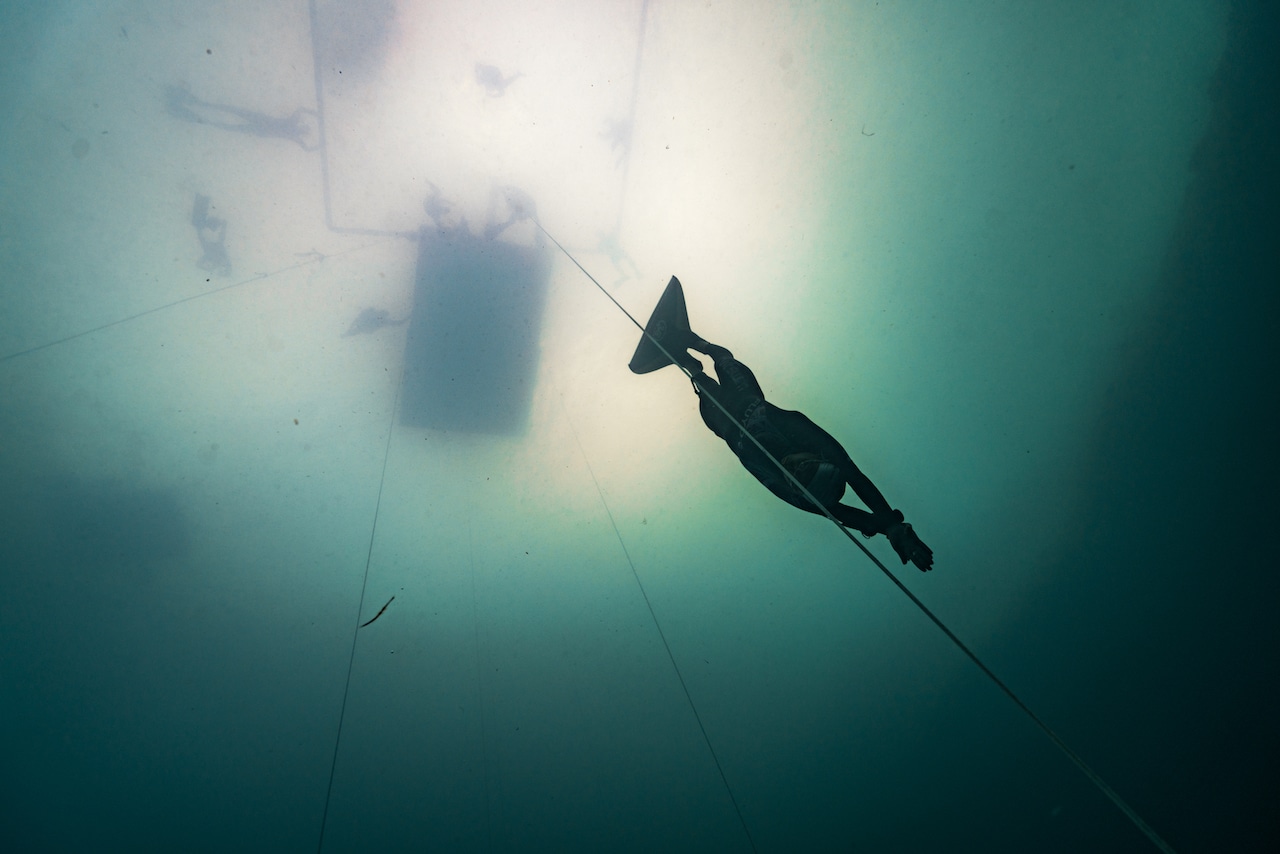 Hanako Irose from Japan (Photo by Daan Verhoeven)
 Complete Results Day 5
Day 4
Day 4 Vertical Blue 2016 – April 26th – New World Record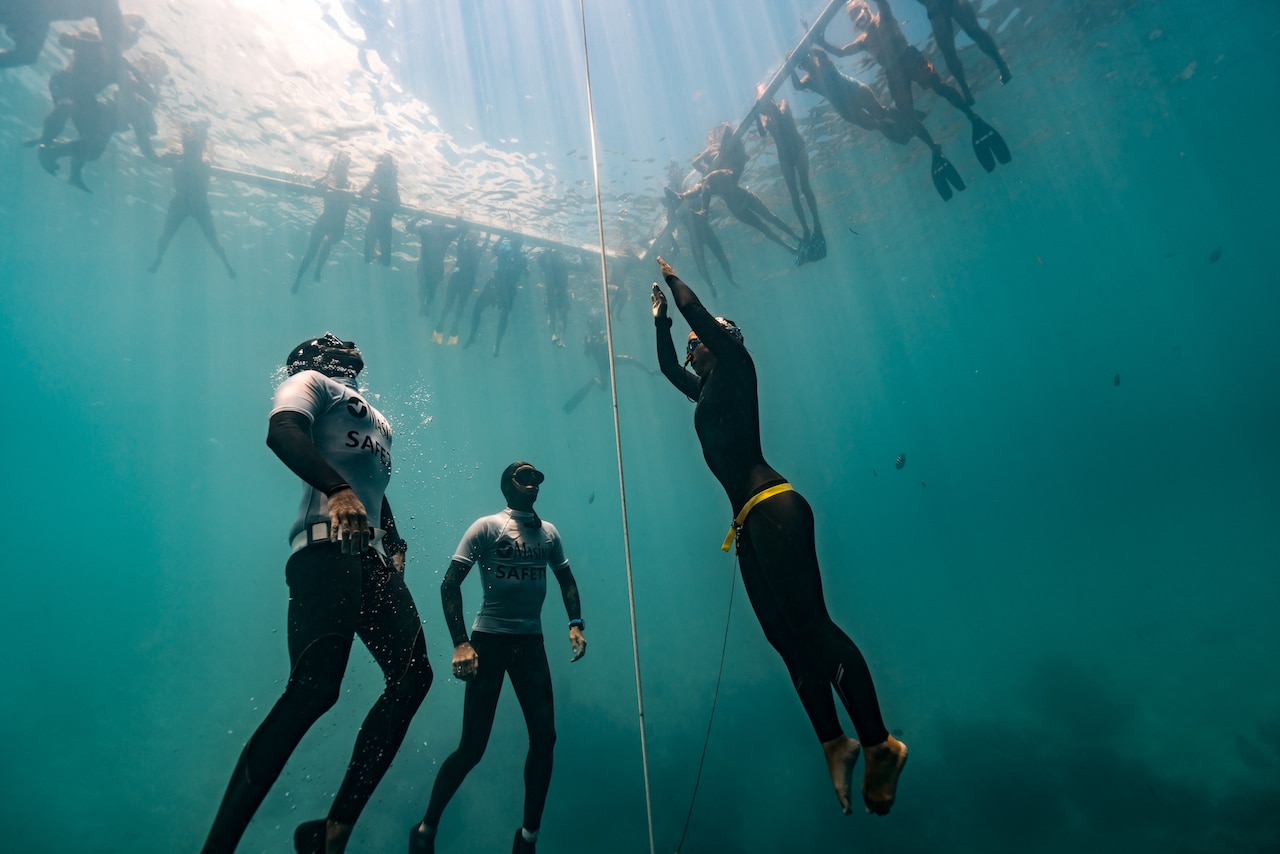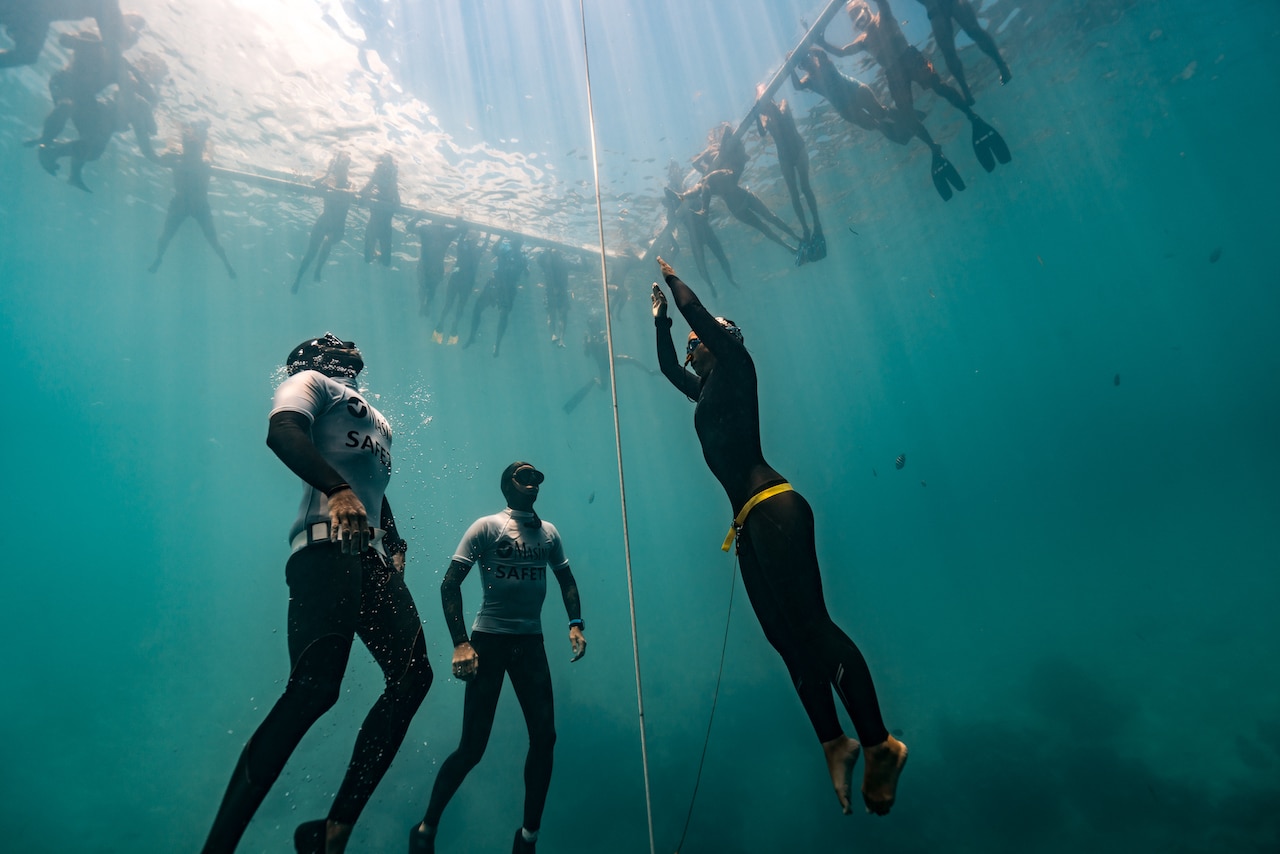 Sayuri Kinoshita from Japan (Photo by: Daan Verhoeven)
Sayuri Kinoshita from Japan New World Record Free inmersion -72 mts. Previous Record -70 mts from Natalia Molchanova from Rusia from may 2014.
Complete Results Day 4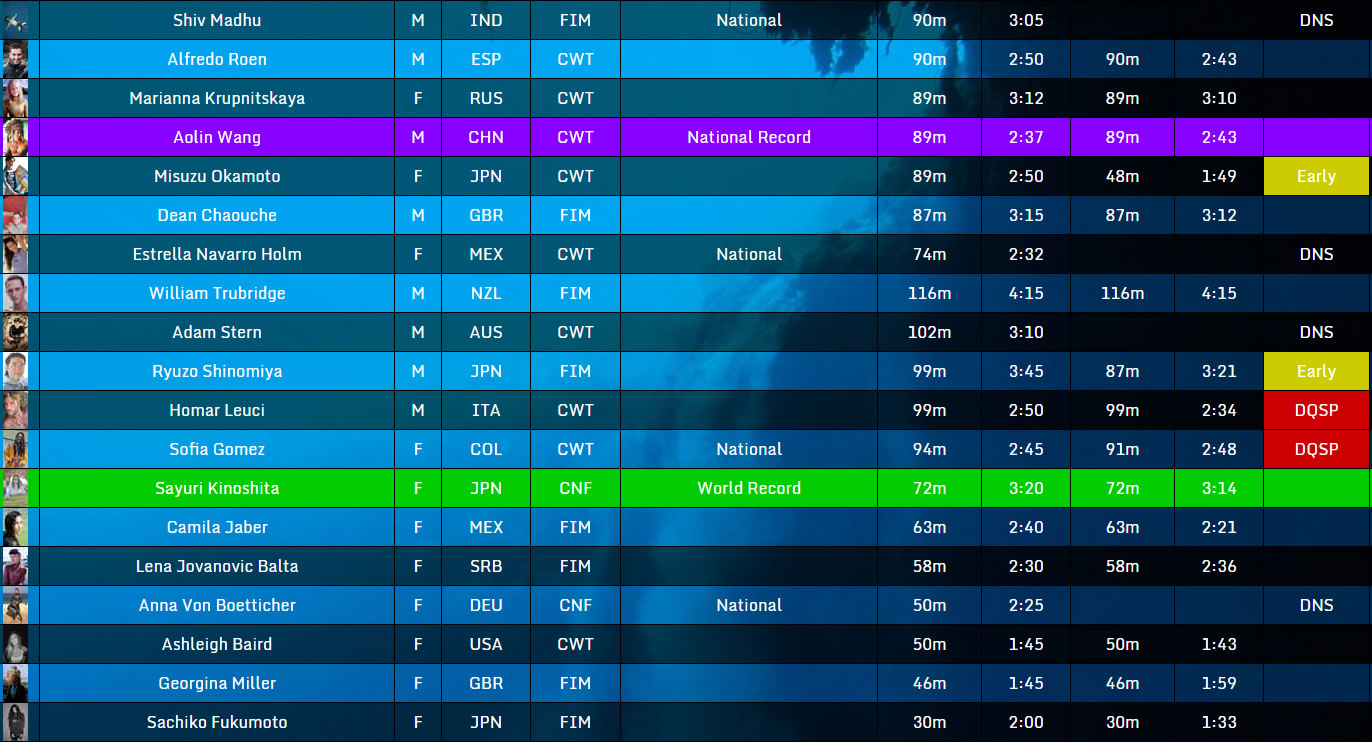 Day 3
Day 3 Vertical Blue 2016 – April 24th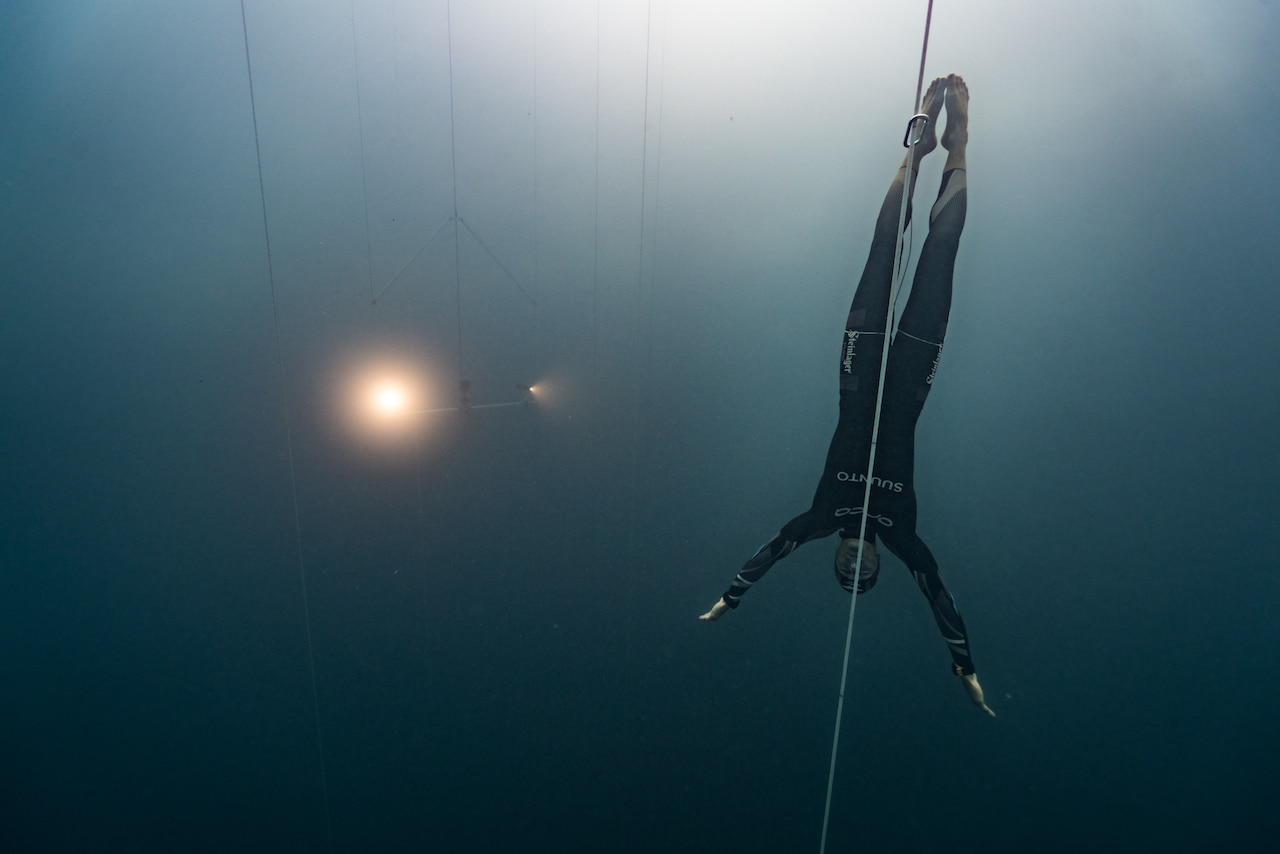 William trubridge (Photo by Daan Verhoeven)
Complete Results Day 3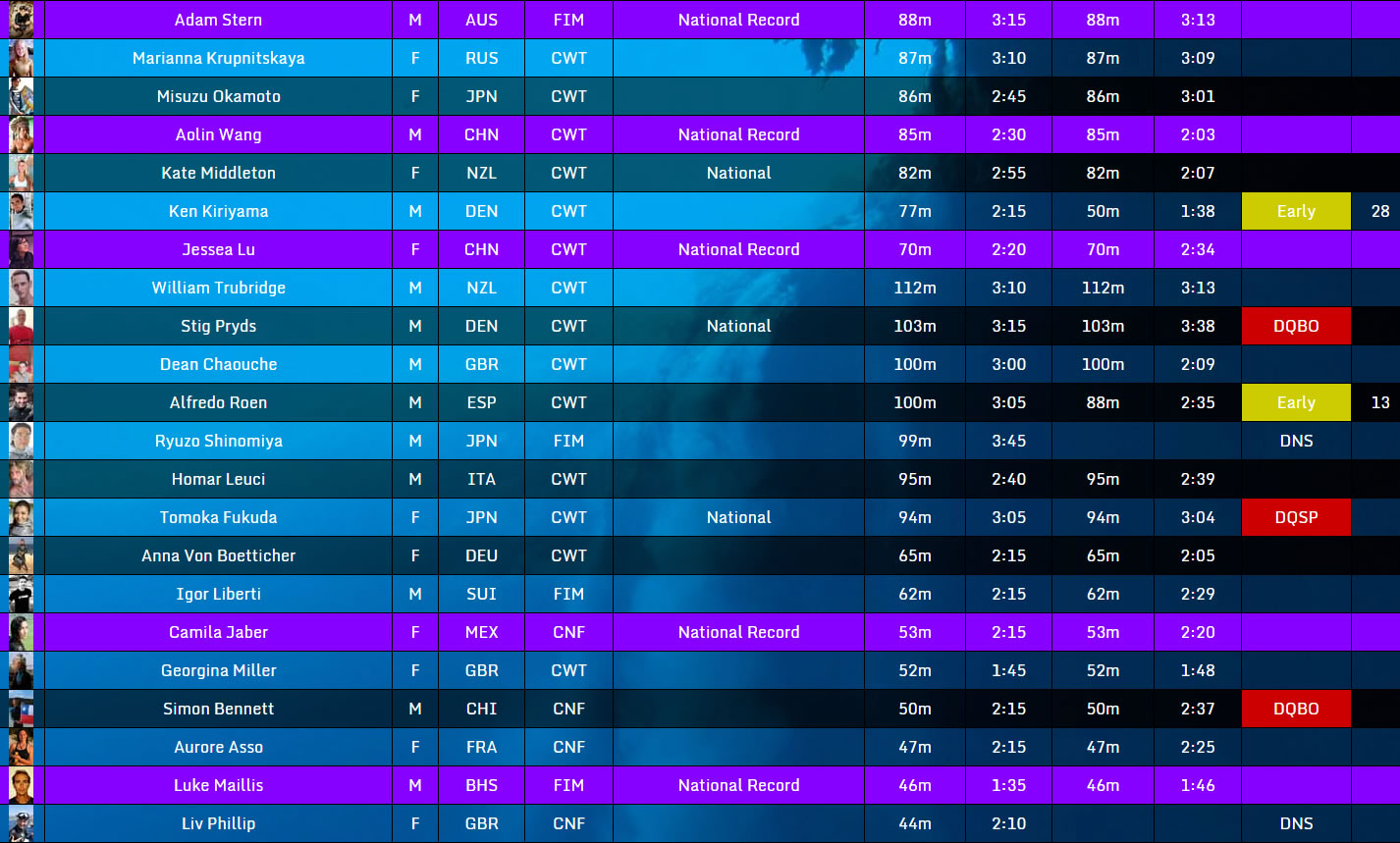 Day 2
Day 2 Vertical Blue 2016 – April 23th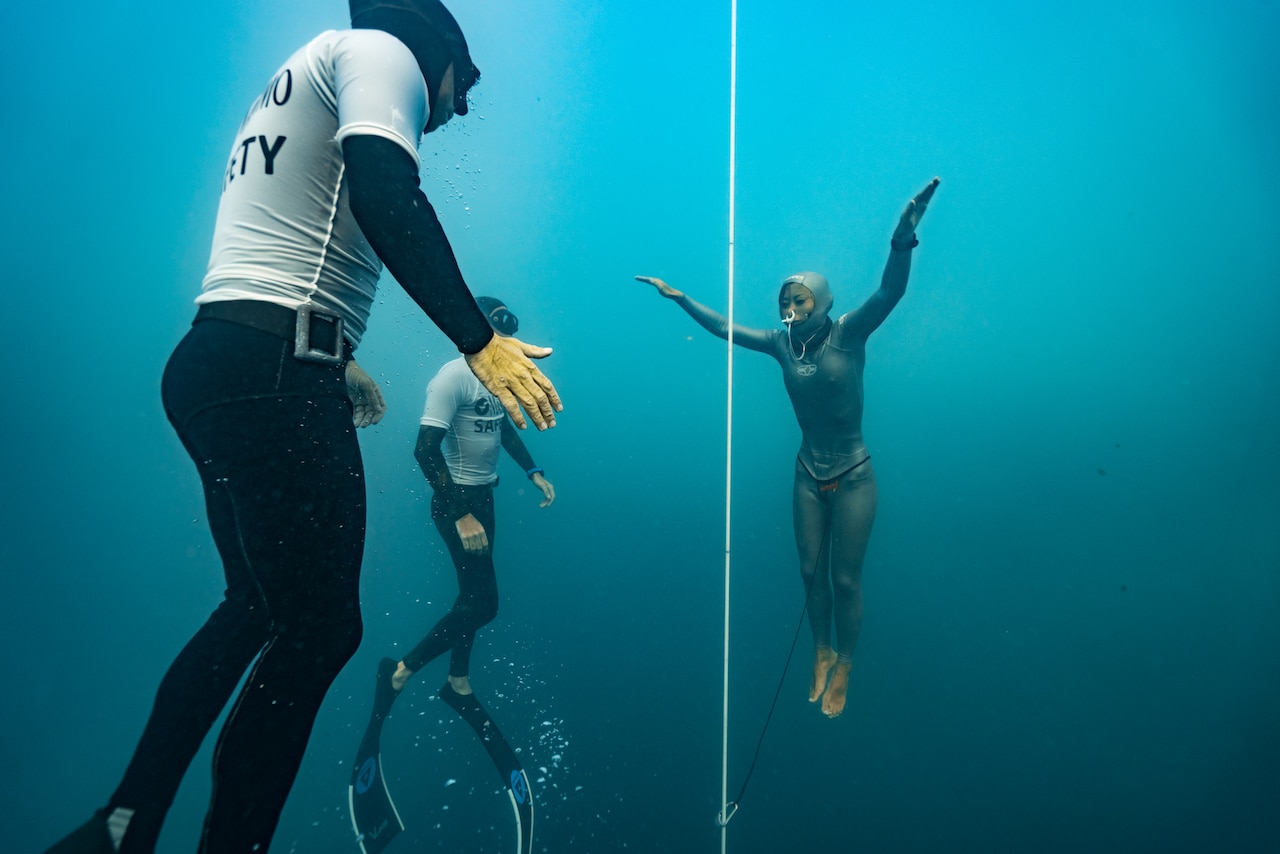 Jessea Lu from China (Photo by Daan Verhoeven)
Today the wind died down a bit, on Long Island in the Bahamas. The sun was a bit warmer and the sand flies were out. But that did not prevent 14 of the #VB2016 competitors from having a white card kind of day. In fact out of 17 performances there was only one DNS, one yellow card and one tiny red card for a fixable/coachable surface-protocol infraction. Day 2 of Act One of Vertical Blue 2016 also welcomed five more record setting performances. The first record to fall was a Chinese record in constant no-fins (CNF) at 41 meters, executed one year ago by Jessea Lu in Cayman. Taking her training very seriously, Jessea put in the work and dropped her foot on the accelerator as she sailed down to 60 meters today in three minutes and :04 seconds.
"Pushing this dive as deep as I could, while maintaining a clean performance, was my goal for this year's Vertical Blue" shared Jessea, "having accomplished what I wanted to, now I can just play!"
Luke Maillas of the Bahamas continued his initiation into the world of competitive freediving with a new national title in no-fins by completing a dive to 37 meters in a quick one minute and :33 seconds. Upon surfacing Luke quipped "I need to work on my technique!" but that being said, he is one of those rare and lucky people who can actually equalize hands-free! so we suspect his progression will be prompt.
Ryuzo Shinomiya of Japan and Stephane Tourreau of France continued to demonstrate what sheer elegance in the water looks — seemingly becoming one with the water molecules as they both fluidly dove to 96 meters — in free immersion and constant weight, respectively. The next diver, Hanako Hirose, may just be this year's sleeper with another incredible and effervescent dive to 90 meters in a speedy two minutes and :52 seconds. There may be no more joyful or animated moment in this competition than when Hanako surfaces with contagious glee.
William Trubridge, the event organizer, made his first showing today with a substantial offering in no-fins, a beautiful & forceful dive to 90 meters, securing his gold medal in that category. And the technology gods smiled up Deans Blue Hole as well, with the new underwater drone, the X-Adventurer Freetracker diving in perfect unison alongside Trubridge, capturing his entire dive (video to follow!)
Sofia Gomez continued her strong run with a free immersion dive to 82 meters, securing herself both a Colombian and a continental record. Gleaming gold in her Oceaner suit, Kate Middleton overcame her nerves to receive a white card for a Kiwi record. "I was very nervous at the beginning", Kate shared, "even though I was controlling my breathing in my warm-up, my nerves had my heart rate very high. But thankfully just a few kicks into the dive I felt the "oh yeah, this feels good" I was hoping for."
Estrella Navarro Holm ended the day in abundance, with her 22nd national record for Mexico, and a new competition personal best . "Diving with the drone was nice; it felt like I had an extra safety diver down there with me, watching over me. I liked it!"
And Vertical Blue veteran and world-class photographer Igor Liberti dove for friendship. The kind-hearted & creative athlete is making all of his dives in tribute to Nic Mevoli.
"I am taking VB2016 dives slowly, I want to be in the water-column where Nic was. Today I dove to 52, I will proceed to 62 meters, and then I will finish at 72 meters – the depth Nic planned on."
Complete Results Day 2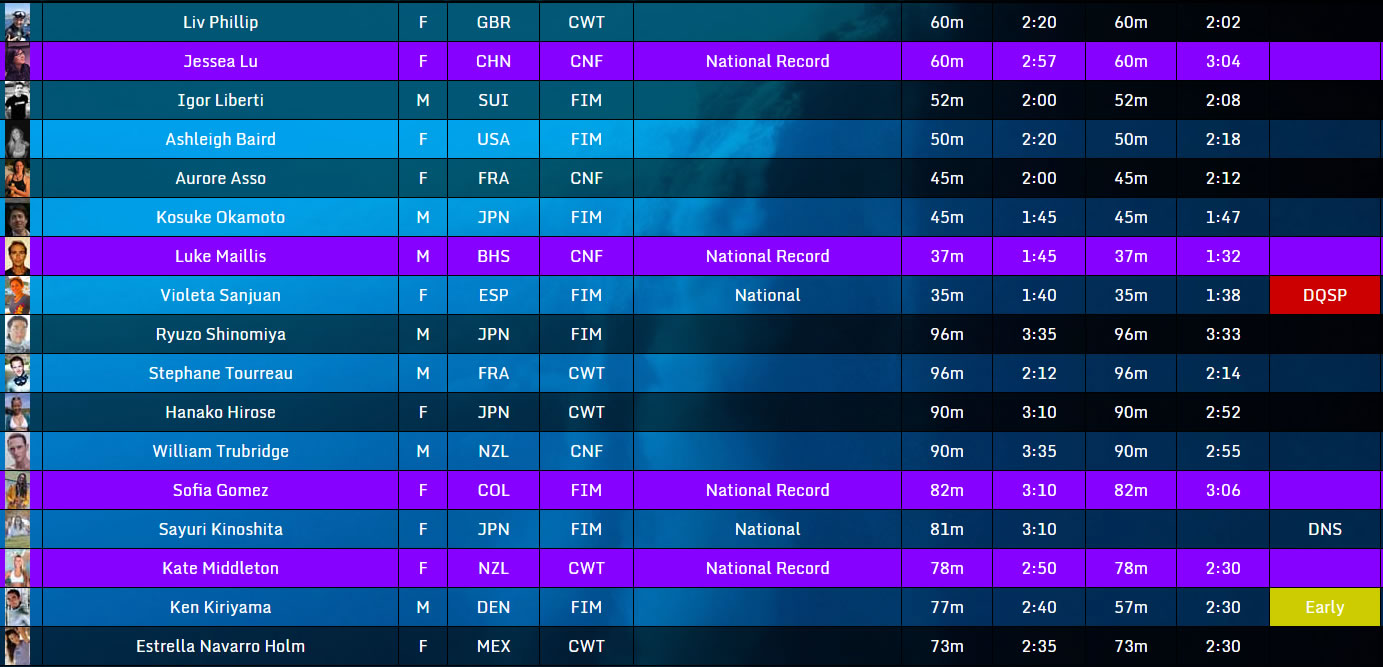 Day 1
Day 1 Vertical Blue 2016 – April 22th
On the very first day of Vertical Blue 2016 an astonishing nine national records were set, and the competition has literally only just begun. The first dive of the day was a clean and exuberant performance by Hanako Hirose, one of the petite and powerful ladies from Japan, who opened the comp on a very happy note with a personal best dive to 88 meters. Aolin Wang of China set a new record in constant weight with a super speedy dive to 80 meters in just two minutes and :20 seconds. Then Dean Chaouche of Great Britain had a break-through… with a no-fins dive to 74 meters.
"It's been a hard work to get here. There have been a lot of hiccups for me but I am glad to finally set this record" said Chaouche.
Immediately after, perhaps the mightiest of the Japanese freedivers, Sayuri Kinoshita took center stage and put an exclamation point on her ability & strength as she garnered a white card for a constant no-fins dive dive to an impressive 68 meters — improving not only her own previous national record but also surpassing the men. As Ryuzo Shinomiya said "She beat me!", albeit with great pride for his fellow country woman.
Then after a short break Adam Stern of Australia, joined what is perhaps the most elite club in freediving – the 100 meter diver kabal with a determined performance in CWT in three minutes and :06 time.
"I'd like to thank the whole freediving community for making me the diver I am and for supporting all of my efforts."
Stig Pryds decided it was a good day for a personal best, and with ease and grace he delivered a white card dive to an incredible 98 meters in free immersion, also notably ahead of schedule. Furthermore, the ecstatic Pryds gleefully shared:
"Now every time I have a new PB I will have a new national record too!"
First-time VB attendee Italian Homar Leuci, (who is normally competing with CMAS), punctuated his inaugural event at Deans Blue Hole with a definitive new national record for AIDA in free immersion 95m CWT in three minutes and :07 seconds.
Colombian Sofia Gomez Uribe proved again why she is one to watch with a commandingly deep dive to an astounding 93 meters in a fast two minutes and :44 seconds, and a new national record to show for it. "I am so happy!" exclaimed Sofia "I felt so good in my dive".
Fan favorite, Tomoka Fukuda also made a 93 meter attempt, but sadly having completed the dive she was foiled by the pesky surface protocol. Camila Jaber decided it was time for her first national record in no-fins and took the Mexican title in two minutes and :15 seconds. "My dive was super bueno!" Camila beamed.
Next up for a no-fins national title was Anna Von Boetticher, who set a record with an easy (for her) dive to 47 meters, although contractions began quite early for her, as shallow 20 meters, so thankfully the German diver could rely on her experience to persevere. "Why does anyone do this?!" she joked, "but seriously, I am happy to be back!"
Among the nine was Luke Maillis who set the first-ever freediving record for his home country (and the host country of #VB2016), the Bahamas. A constant weight dive to 46 meters in bi-fins has Luke on the books.
Pre
Vertical Blue 2016 Starts Friday!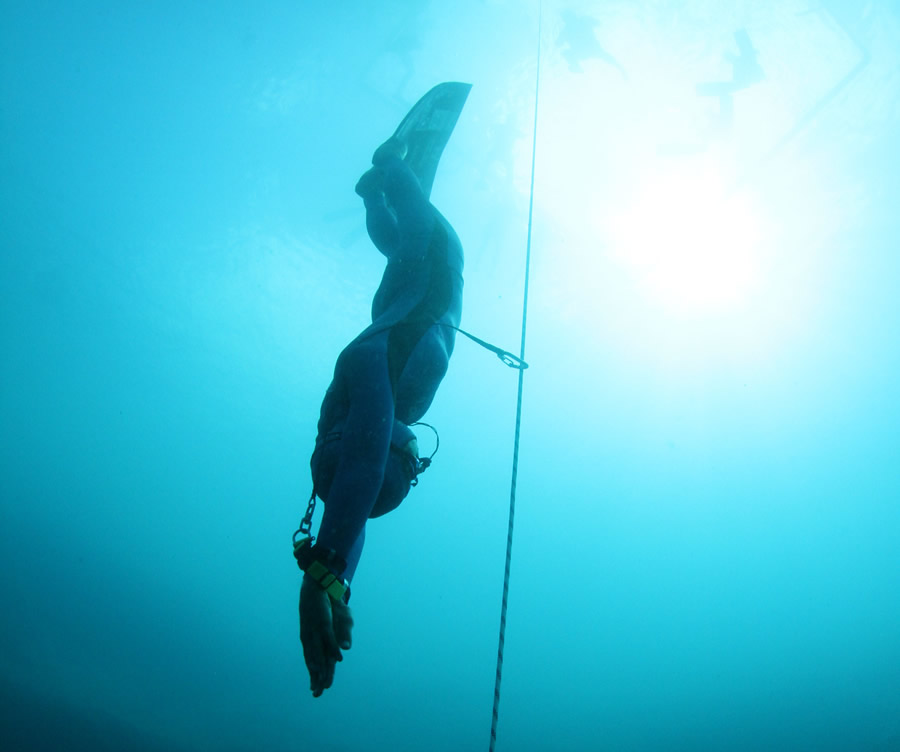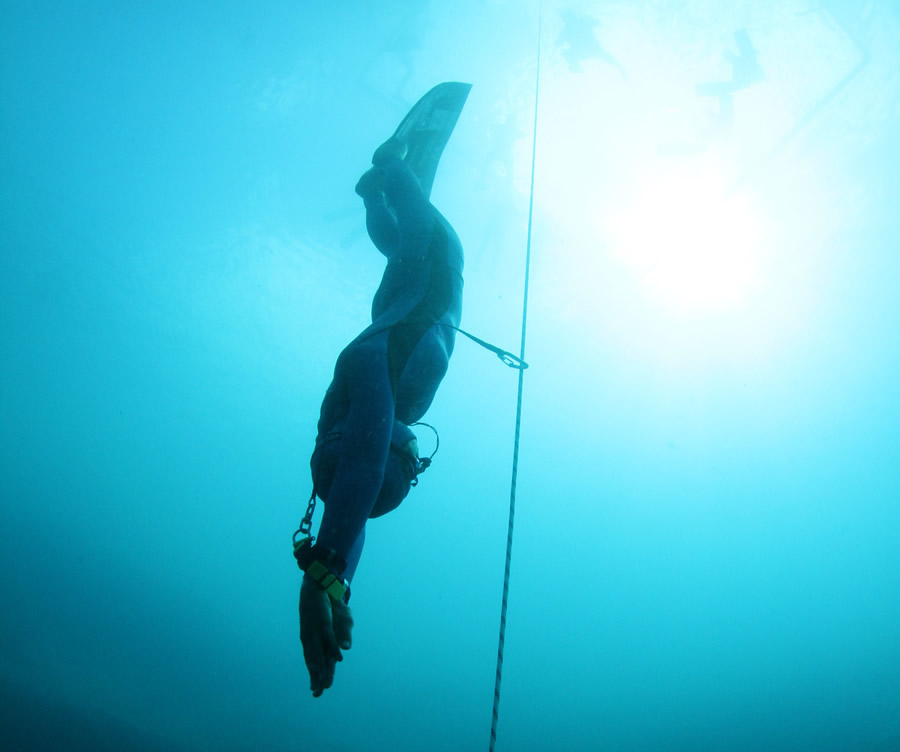 This week on April 22nd, 2016, 36 world-class athletes from 20 different countries will join dual World Record holder, William Trubridge, to compete in the 2016 Vertical Blue Freedive Challenge at Dean's Blue Hole, Bahamas.
This freediving depth-competition is "the" sporting event of the year for elite competitive freedivers – the "Wimbledon of Freediving", as dubbed by the NY Times."VB 2016 looks like it will be our biggest year yet, with the top athletes in the world registered.  We have capped the number and invited all the top-ranked athletes from the previous calendar year, so that Vertical Blue maintains its standard as the most elite competition in freediving" exclaimed Trubridge.
Now in its ninth incarnation Vertical Blue also provides, a spectator-friendly competition zone, so fans can watch the record-breaking battles among the world's most talented athletes, who are literally pushing the limits on what was once thought impossible for the human body to do.
Comprised of three depth disciplines: Constant Weight, Constant No-Fins and Free Immersion (CWT, CNF, FIM respectively) this AIDA judged competition offers competitors six official dives to challenge themselves and their rivals to obtain the coveted Vertical Blue Championship title. Performances will be filmed on the surface and at depth using GoPro cameras to give the viewer a first-hand perspective on how deep these dives really are, amazingly all on breath-hold. Vertical Blue's organizer William Trubridge has an exciting innovation in video technology to add even more perspective and drama at VB2016.
"It's been a dream for a while to be able to follow VB dives from start to finish with high-definition video. This year we aim to put that in practice with the X-Adventurer Freetracker which will provide HD footage of the entire length of the dive, and next year we hope to have those videos steaming live to the Internet." offered Trubridge, who will be the first person to ever incorporate this audience expanding technology. Another first for VB2016 will be athletes in the roster from China, among the many accomplished record-holders in attendance. Pursuing his own goals, Trubridge (who currently holds the world record at 101 meter in what most say is the purest form of freediving, constant no-fins) may also reveal a World Record attempt.
Additionally, a giant in the field of freediving will be making his inaugural appearance at Vertical Blue, Umberto Pelizzari. Trubridge had this to say about his mentor… "Our special guest this year will be Italian legend Umberto Pelizzari. This is his first visit to Long Island which has been highly anticipated as I've been asking him to come (for years!) to see Deans Blue Hole. It will be an honor to have Pelo open the VB2016 event."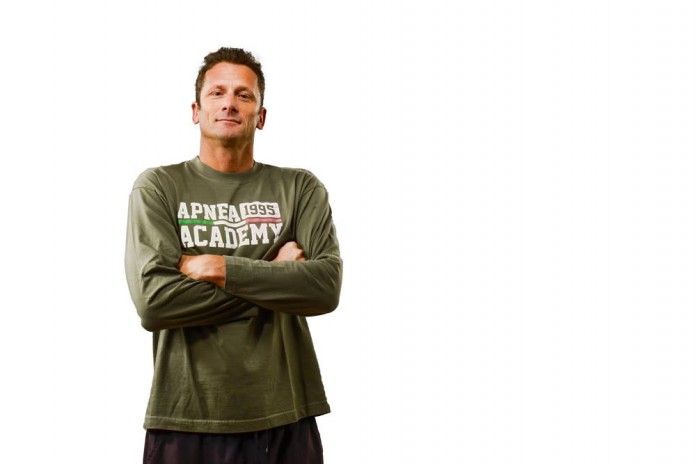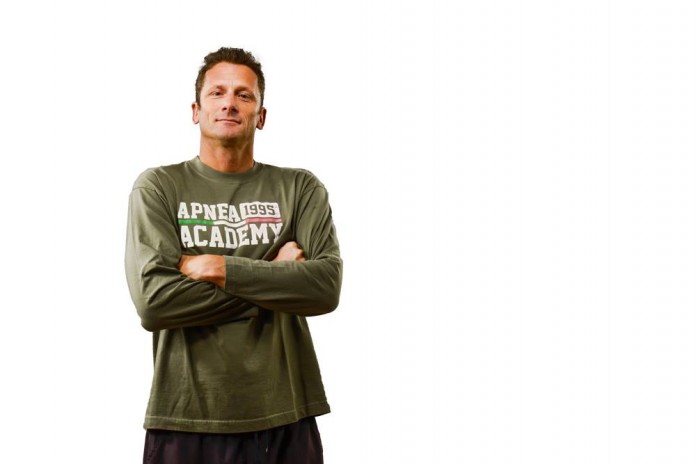 Freedive enthusiasts from across the globe can tune into the Vertical Blue Facebook page, the VB event website, VB Instagram, the VB Youtube Channel, Trubridge's Twitter feed as well as the Vertical Blue twitter handle & hashtag #VB2016 for all the up-to-date news, videos and results.
For high-resolution underwater photos, video or interviews please contact Francesca Koe at Francesca.koe@gmail.com and see a complete roster of competitors and dive days here below: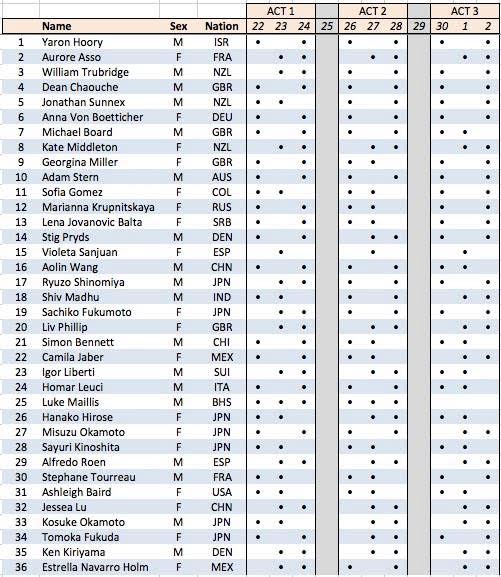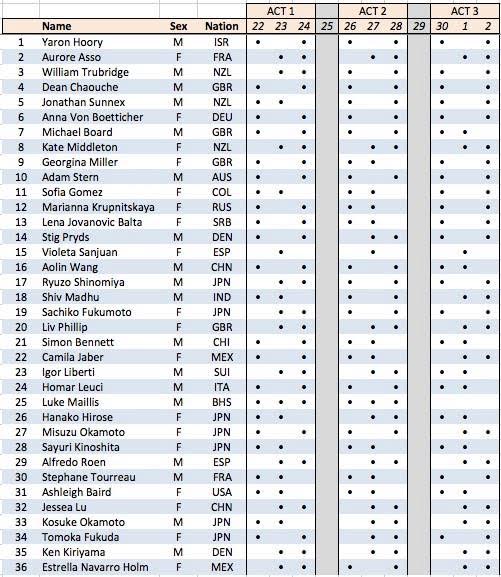 Francesca Koe
Media Officer, Vertical Blue
415-640-1876

skype: kelpprincess
twitter: @free_dive
Insta: @kelpprincess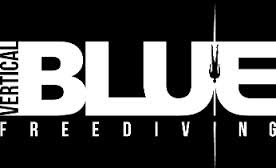 Official Website: http://2016.verticalblue.net/
Social Links: Facebook: VerticalBlue / Twitter: @vertical_blue / Youtube: VBFreediving / Instagram: vertical_blue
The 9th edition of the biggest annual freediving event, in the world's deepest blue hole. Dean's Blue Hole, Bahamas. April 22th – May 2th 2016.