🇦🇿 Finswimming. Exhibition Sport in the 1st European Games Baku 2015 + Videos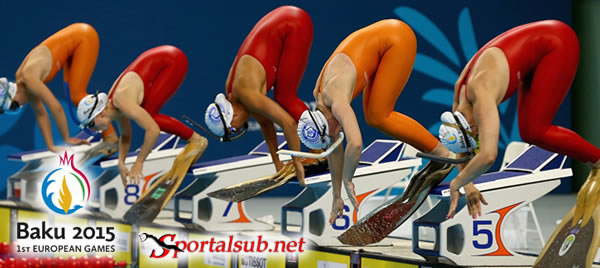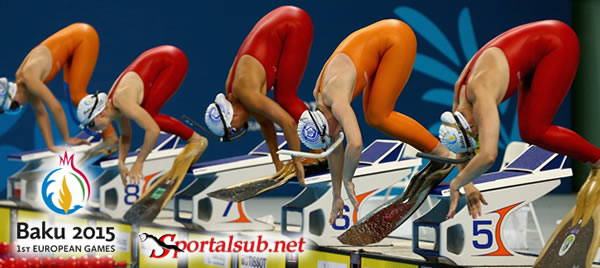 (Sportalsub.net / CMAS / Baku 2015 / Finswimmer.com / All Finswimming) – Leer en español
European Games Finswimming sumary, results and videos – All Finswimming
It's been very short, but still a great event. Finswimming was in démo at the European Games 2015. Only 4 races were scheduled but it was a great show.
The first race was the 100 IM Women. The Russian Vera Iliyushina was the strongest and won the race in 36″52. This is better than the European record (36″86 by Camille Heitz) but all the athletes used non homologated polyurethane finsuits (we wonder a little bit why). Also it was surprising to see that Iliyushina has not been disqualified as it was obvious she hit the wall with her bottle. Being her, Camille Heitz from France got the second place in 37″39 and Sophia Ktena got the third one in 39″01.
Full results 100 IM Women:
1 – Vera Iliyushina – RUS – 36″51
2 – Camille Heitz – FRA – 37″39
3 – Sofia Ktena – GRE – 39″01
4 – Erica BArbon – ITA – 40″34
5 – Lisa Kohnert – GER – 40″82
6 – Alina Markovtcova – POL – 41″19
7 – Morgane Barucci – FRA – 41″85
8 – Zuzana Christovova – POL – 42″69
Video of the race:
https://www.facebook.com/sportalsub/videos/vb.72773737064/10153434260147065/
On 100 SF Men, Aleksey Kazantsev (RUS) won the race in 34″85. Alexandre Noir with a bad lane managed to get second in 34″92. Loukas Karetzopoulos completed the podium in 35″32.
Full results 100 SF Men:
1 – Aleksey Kazantsev – RUS – 34″85
2 – Alexandre Noir – FRA – 34″92
3 – Loukas Karetzopoulos – GRE – 35″32
4 – Malte Striegler – GER – 35″33
5 – Stefano Figini – ITA – 35″57
6 – Roman Giniyatulin – RUS – 36″25
7 – Aleksander Drozdov – RUS – 36″45
8 – Martin Mazac – CZE – 38″13
Video of the race:
https://www.facebook.com/sportalsub/videos/vb.72773737064/10153434287137065
On 50 SF Women, Anna Ber did not let any chance to the other finswimmers. She won the race in 17″48 (Europen record in 17″74!) when Ksenia Belomestinova and Anastasiia Antoniak tied for the second place in 18″00. Maëlle Lecoeur from France finished 5th in 18″59.
Full results 50SF Women:
1 – Anna Ber – RUS – 17″48
2 – Ksenia Belomestinova – EST – 18″00
2 – Anastasiia Antoniak – UKR – 18″00
4 – Elizaveta Andrienko – RUS – 18″17
5 – Maëlle Lecoeur – FRA – 18″59
6 – Sofia Ktena – GRE – 18″92
7 – Lisa Konhert – GER – 19″03
8 – Zuzana Christovova – SVK – 19″44
Video of the race:
https://www.facebook.com/sportalsub/videos/10153434287982065/
Last race was 50 AP men. Pavel Kabanov easily dominated the race and got as official time 14″60. However the Russian swam faster but hit the wall the first time under the timing plate. His real time would have been something like 13″8. Anyway his advance was that big he managed to touch the plate after and still won the race. Aleksey Kazantsev got the silver medal in 14″85 and Max Poschart the bronze in 14″91.
Full results 50 AP Men:
1 – Pavel Kabanov – RUS – 14″60
2 – Aleksey Kazantsev – RUS – 14″85
3 – Max Poschart – GER – 14″91
4 – Martin Mazac – CZE – 15″03
5 – Aleksander Drozdov – EST – 15″06
6 – Jarolim Jakub – CZE – 15″14
7 – Loukas Karetzopoulos – GRE – 15″65
8 – Giona Cristofari – ITA – 16″03
Video of the race:
https://www.facebook.com/sportalsub/videos/10153434290237065/
The campaign to introduce finswimming into the Olympic Games has not succeeded so far, but the dream lives on as far as governing body the Underwater Sports Committee (CMAS) are concerned.
Spectators at the Baku Aquatics Centre were treated to a dramatic demonstration on Saturday as athletes competed in four events – 50m and 100m surface, underwater swimming (without bottles), and 100m scuba. Russia's Pavel Kabanov marked the occasion by setting a new world record in the men's 50m race.
The swimmers wear a monofin, and their body movement mimics that of dolphins so successfully that when swimming in this way amongst the marine mammals, they are accepted as one of the species.
"It is all about speed," explained Anna Arzhanova, president of CMAS.
"Some disciplines are with scuba bottles. You can see that diving is not just fat lazy tourists with the bottles, watching the fish, but also about speed.
"You can compare some disciplines with dolphins. We did some research in Egypt and dolphins accept a person with a monofin as one of themselves.
"Yes, we dream about the Olympic Games, but we have different events which are important and nice. And we are happy to be here in Baku."
CMAS was founded by famous marine biologist Jacques Cousteau, and originally had nothing to do with sport. However, a demand for underwater competition means that CMAS is now a sports federation.
One of the events they are planning to introduce is the biathlon, a mixture of free diving and shooting underwater.
Arzhanova added: "Shooting underwater is the oldest sport, because people from ancient times caught fish with special guns.
"We hope to be able to introduce new things and we hope to participate in different Games. We are recognised by the IOC (International Olympic Committee) and, one day, maybe we will be at the Olympics. We are working on it."
Source: Baku 2015 Website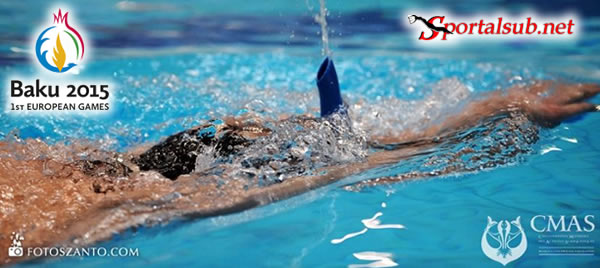 The fastest athletes in the water at the Baku 2015 European Games will not be the freestyle swimmers nor their butterfly counterparts.
With a little help from their fins, the 'mermaids' and 'mermen' from the specialist – and very speedy – underwater world of finswimming will be in action at the Baku Aquatics Centre during the swimming competition.
The sport, which dates from the 1930s, is gaining popularity and is a demonstration sport at Baku 2015. Spectators will be able to see the underwater athletes in action at the end of swimming's morning session on Saturday 27 June.
The best finswimmers in Europe will compete in four races at 50m and 100m in three of the sport's major disciplines – surface, apnoea and immersion – which will showcase their exceptional speed and 'dolphin' techniques.
Propelled by a 'monofin' into which both feet are placed, swimmers can appear almost turbo-charged.
The world record for 50m freestyle in a regular swimming race is 20.91 seconds, but the finswimming equivalent in the 50m apnoea event, in which competitors wear a monofin and mask and hold their breath under water, is an astonishing seven seconds quicker – the 13.85 recorded by Pavel KABANOV (RUS) at the 25th European Finswimming Championship in Lignano Sabbiadoro, Italy, in 2014.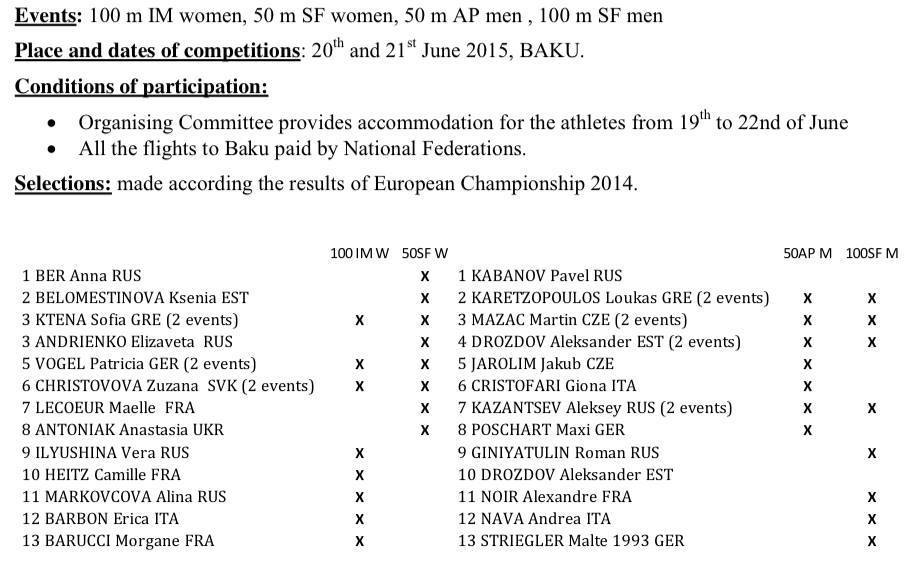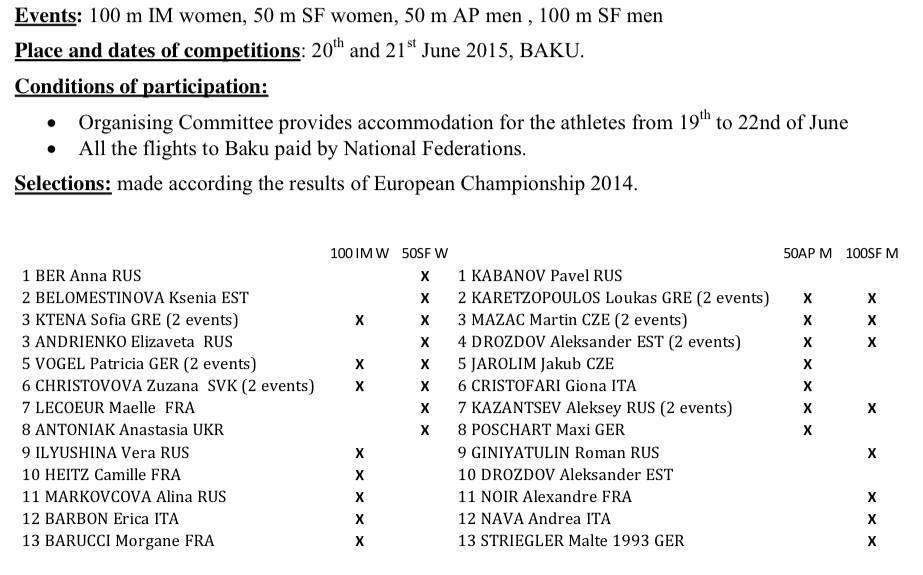 Finswimmers list: All Finswimming
This is what we can read in the CMAS web site:
Dear friends!

I have a great pleasure to inform you that the Organising committee of the First European Games – Baku 2015 (www.baku2015.com) confirms finswimming to be part of the Games as a demonstration sport.
Our events are planning  to be held 20th and 21st June – 100 m IM and 50 m SF women and 50 m AP and 100 m SF men.

Selection of athletes will be made according to the results of European Championship 2014.

President CMAS
Anna Arzhanova
More info:
CMAS / Finswimmer.com