🇧🇶 DeepSea Challenge Bonaire with Carlos Coste has ended + Photogallery & Results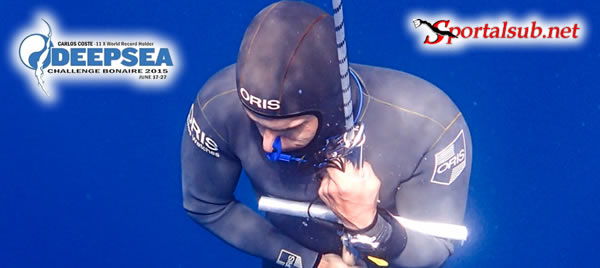 (Sportalsub.net / Carlos Coste / DeepSea Bonaire) – Leer en Español
Carlos Coste descended amazing 126 meters on Variable Weight
Text: Gaby Coste
Photos: Lorenzo Mittiga
Last Saturday, 27 of June, Deepsea Challenge 2015 ended. An Event full of energy that puts Bonaire on the map as one of the best places in the world to practice Freediving. Although Carlos Coste couldn´t reach his goal of breaking the Variable Weight world record, he showed once again that he´s a machine. Coste, with a single breath, maintaining an impressive self-control and with help of a sled, descended 126 meters depth at a speed of approximately 1.6 meters per second. He stopped and changed his technique to equalize his ears reaching at those depths 13.6 atmospheres; this means that the air volume in his body is being compressed around 14 times the volume at surface.
Coste remained several seconds at that depth, trying to inject a few millimeters of air into his ears, yet again felt a discomfort in his left ear that didn't allow him to equalize and reach his goal at 146 meters. Furthermore he didn't want to risk his security and took the decision to leave the sled at the bottom and began his journey back only using a monofin. Three minutes and a half later, Carlos reached the surface, followed on the last meters by his safety freedivers team. He arrived to the surface showing a big smile, made the surface protocol to the judges, very fresh, just as he had dove a few meters. Aquaman or the King of the Seas is some of the nicknames the media have given him. A man who has broken 11 Freediving World Records during his career. First human being passing 100m depth in unassisted Freediving discipline. Coste continues demonstrating his skills as Top athlete, even if he couldn't break the World Record.
On the other hand, during the international competition that was taking place in parallel during ten days, 8 other freedivers from all over the world were challenging in other disciplines. Several national records on Constant weight and Constant weight without fins were realized by Honduras representative (Edgardo Andrade) and Chile representative (Sebastian Lira).
The event was in charge of Gaby Contreras (VEN) who also participated as a judge in the competition. She let her heart and her soul to create this fabulous event that now put the island on the international view for futures Championships. Others three AIDA International judges coming to the island from Finland, Belgium and Canada to recognize the competition and Record Attempts. Bonaire´s Deepsea Freediving School, was the host of this wonderful event, together with Plaza Beach Resort Bonaire. Other Sponsors and collaborators have made this event possible: the Tourism Coorporation of Bonaire TCB, Budget Marine, ORIS Swiss Watches, Raymarine, Maduro Curiel's Bank, GAIA Pro, Van Den Tweel, Cressi, Oceana, Reef Surfer, Red Cross Bonaire, Ferregraphics, Stinapa, Dive Medical Bonaire, Fundashon Mariadal, South Caribbean Sailing Bonaire, Goby Divers.
We had the media coverage in situ from Fox Sport program De Gira, amazing photographies from Light and Motion and Dan Burton Photography.
The organization has confirmed another Deepsea Challenge reload for next year in the month of September 2016. We wait for you!
For further information visit the webpage: www.deepseabonaire.com; www.carloscoste.com
Competition Final Results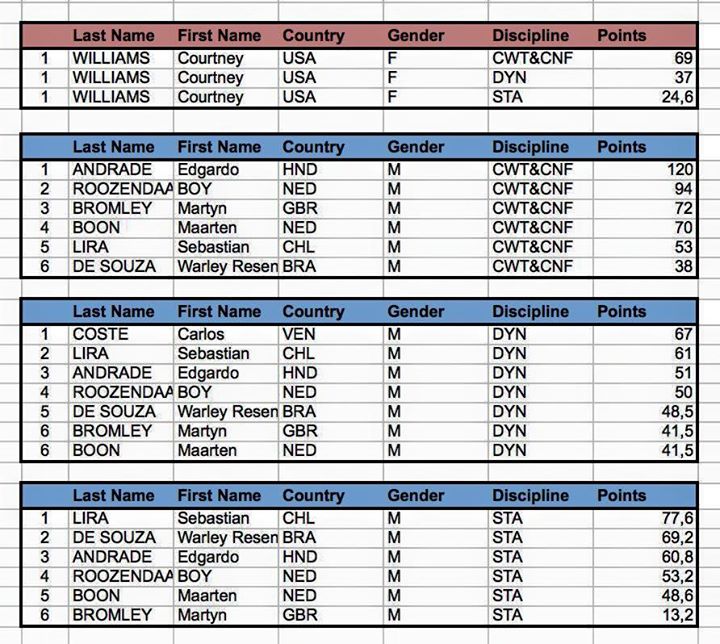 Day 7 Results – Sáturday June 27th

Day 6 Results – Friday June 26th

Day 5 Results – Wednesday June 24th

Day 4 Results – Tuesday June 23th

Day 3 Results – Sunday June 21th

Day 2 Results – Saturday June 20th

Day 1 Results – Friday June 19th