🇻🇪 Learn Freediving with the Venezuelan Carlos Coste in Bonaire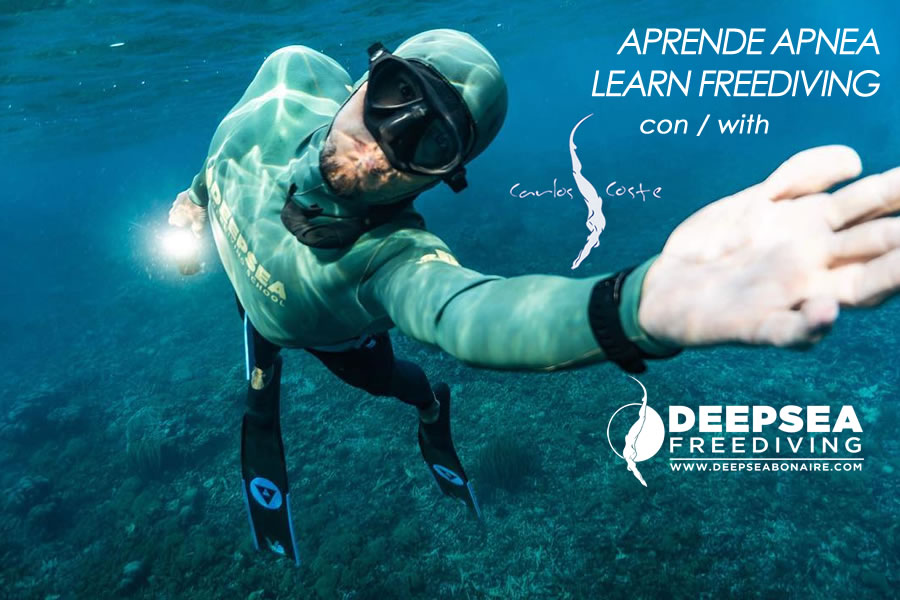 (Sportalsub.net / Carlos Coste / Deepsea Bonaire) – Leer en Español
The renowned freediver, instructor, multiple record holder and freediving world champion, the Venezuelan Carlos Coste presents his new series of videos "Freediving Tips" on the YouTube channel of his school Deepsea Bonaire.
Through these videos, Carlos invites you to learn more about freediving and the techniques that will help you improve your performance in this underwater sport.
Sportsub & Sportalsub.net is pleased to present this new section, which we will be updating with new videos of Carlos Coste every time they are published. "Learn Apnea with Carlos Coste", learn to #beunderwater
Hi everyone! From now on we will be publishing fundamental tips to everyone interested in Freediving
Video 1: How to perform a Duck Dive?.
In this video we show you how to perform a duck dive which is essentially the initial step to perform a good dive. We have broken it down in four steps!
1) Breath and Pre-equalise
2) Kick one cycle forward + Stretch your arms
3)Push torso to form a 90 degree angle
4) Stretch Your legs + push down with arm stroke + prepare for first equalisation
That's it! Watch the video multiple times and put it to practice.
If you have any questions or difficulties you can always leave us a comment.
Like & Subscribe if you liked this video.
You can check out or socials here:
https://facebook.com/deepseabonaire/
https://instagram.com/deepseabonaire/
https://instagram.com/carloscoste1/
For bookings and info: https://deepseabonaire.com/