🇹🇷 Results – 6th CMAS Freediving Indoor European Championship – Istambul, Turkey 2019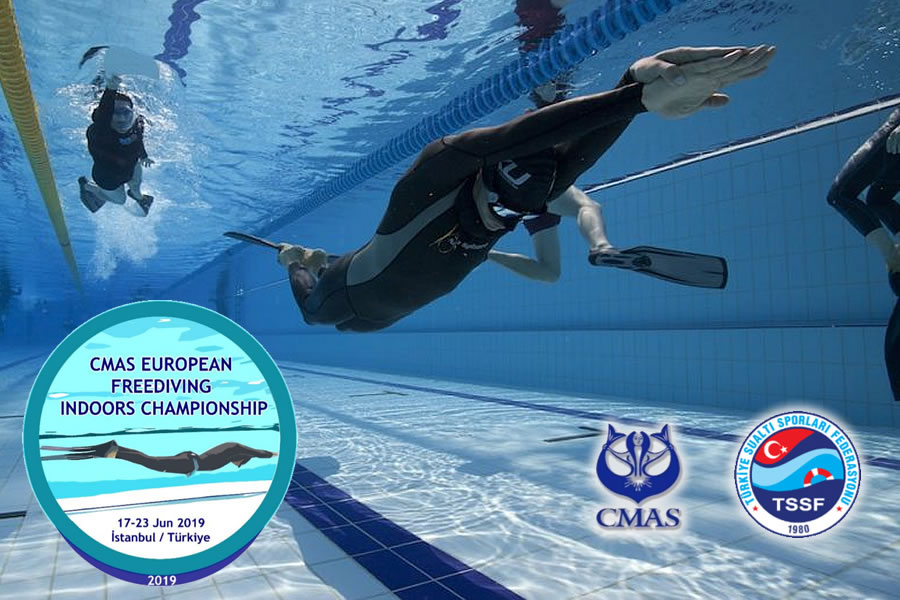 (Sportalsub.net / CMAS / TSSF) – Leer en Español
The 6th CMAS Freediving indoor European Championship will take place in Istanbul, Turkey, from 17th to 23h June.
CMAS has entrusted to the Turkish Underwater Sports Federation (hereafter TSSF) the organisation of the 6th edition of the Freediving Indoor Open European Championship. The Championship will be staged with the supervision of CMAS in Istanbul, in the Maltepe University Swimming Pool, from 17 to 23 June 2019.
The Championship shall be comprised of seven specialities: Dynamic (DYN), Dynamic with Bi-Fins (DYN BF), Dynamic without Fins (DNF), Static (STA), Speed 100 m. Endurance 8×50 m. and Endurance 16×50 m. Only the Final stage will take place for each of the planned specialities.
CMAS Freediving Pool European Championship will be broadcast live on TSSF page on youtube: TSSF Youtube channel
Info and Results Facebook: 2019cmasfreediving
Competition Schedule, Results and Videos
---
Day 1 – 19 June Wednesday
09:00-11:00 DYNAMIC APNEA WITHOUT FINS (DNF)
DNF MEN MEDALS
1. 🇫🇷 FRA – GUILLAUME BOURDILA – 236,00 – WORLD RECORD
2. 🇵🇱 POL – MATEUSZ MALINA – 234,29
3. 🇭🇷 CRO – VANJA PELES – 222,28
DNF WOMEN MEDALS
1. 🇵🇱 POL – JULIA KOZERSKA – 196,95 – WORLD RECORD
2. 🇮🇹 ITA – ALESSIA ZECCHINI – 179,32
3. 🇫🇷 FRA – FREDERIQUE CORDIER – 166,52
Results DNF Men – Results DNF Women – Video
12:30-15:30 ENDURANCE APNEA 16X50
16X50 MEN MEDALS
1. 🇩🇪 GER – MAX POSCHART – 09:10.030
2. 🇹🇷 TUR – DERIN TOPARLAK – 09:27.400
3. 🇮🇹 ITA  – ANGELO SCIACCA – 09:49.040
16X50 WOMEN MEDALS
1. 🇺🇦 UKR – YULIIA CHUMAK – 10:58.990 – WORLD RECORD
2. 🇷🇺 RUS – EVGENIA KOZYREVA – 11:00.400
3. 🇩🇪 GER – ELENA POSCHART – 11:33.220
Results 16X50 Men – Results 16X50 Women – Video
---
Day 2 – 20 June Thursday
08:30-12:30 STATIC APNEA (STA)
STA MEN MEDALS
1. 🇷🇸 SRB – BRANKO PETROVIC – 09:07.280
2. 🇫🇷 FRA – ERIC MARCHAL – 09:01.990
3. 🇵🇱 POL – MATEUSZ MALINA – 08:50.790
STA WOMEN MEDALS
1. 🇷🇺 RUS – YUZHNEYA GORELIK  – 07:26.140
2. 🇫🇷 FRA – SYLVIE GILSON – 07:10.920
3. 🇫🇷 FRA – BEATRICE DEL NEGRO – 06:59.680
Results STA Men – Results STA Women – Video
---
Day 3 – 21 June Friday
08:30-13:00 DYNAMIC APNEA WITH BI-FINS (DYN-BF)
DYN-BF MEN MEDALS
1. 🇷🇺 RUS – MIKHAIL BRIANTCEV  – 241.59
2. 🇮🇹 ITA  – MAURO GENERALI – 239.28
3. 🇭🇷 CRO – BORIS MILOSIC – 228.71
DYN-BF WOMEN MEDALS
1. 🇮🇹 ITA – ALESSIA ZECCHINI – 228.15 – WORLD RECORD
2. 🇫🇷 FRA – MAGALIE SITERRE – 226.92
3. 🇮🇹 ITA – LIVIA BREGONZIO – 221.65
Results DYN-BF Men – Results DYN-BF Women – Video1 – Video 2
14:00-15:30 SPEED APNEA
SPEED MEN MEDALS
1. 🇩🇪 GER – MAX POSCHART – 31.370
2. 🇷🇺 RUS – ALEKSEY KAZANTSEV – 31.390
3. 🇷🇺 RUS – DENIS ARSHANOV – 31.730
SPEED WOMEN MEDALS
1. 🇮🇹 ITA – ERICA BARBON – 38.080
2. 🇺🇦 UKR – ANASTASIIA MALIAVINA – 38.230
3. 🇷🇺 RUS – VERA IAROVITSKAIA – 39.460
Results Speed Men – Results Speed Women – Video
---
Day 4 – 22 June Saturday
08:30-13:00 DYNAMIC APNEA (DYN)
DYN MEN MEDALS
1. 🇵🇱 POL – MATEUSZ MALINA – 316.53 -WORLD RECORD
2. 🇫🇷 FRA – GUILLAUME BOURDILA – 284.85
3. 🇮🇹 ITA  – MAURO GENERALI – 276.10
DYN WOMEN MEDALS
1. 🇮🇹 ITA – ALESSIA ZECCHINI – 253.00 – WORLD RECORD
2. 🇮🇹 ITA – LIVIA BREGONZIO – 250.00
3. 🇵🇱 POL – JULIA KOZERSKA – 236.20
Results DYN Men – Results DYN Women – Video
14:30-16:30 ENDURANCE APNEA 8x50m
ENDURANCE MEN MEDALS
1. 🇷🇺 RUS – MIKHAIL BRIANTCEV – 03:25.720 -WORLD RECORD
2. 🇷🇺 RUS – DENIS ARSHANOV – 03:33.120
3. 🇷🇺 RUS – EVGENII SAUROV – 03:39.230
ENDURANCE WOMEN MEDALS
1. 🇮🇹 ITA – MARTINA MONGIARDINO – 04:32.280 – WORLD RECORD
2. 🇷🇺 RUS – ANASTASYA ZHATKINA  – 04:33.090
3. 🇷🇺 RUS – EVGENIA KOZYREVA – 04:40.130
Results Endurance Men – Results Endurance Women – Video
---
MEDALS
| | | | | |
| --- | --- | --- | --- | --- |
| NATION | GOLD (14) | SILVER (14) | BRONZE (14) | TOTAL (42) |
| 🇮🇹 ITALY | 4 | 3 | 3 | 10 |
| 🇷🇺 RUSSIA | 3 | 4 | 4 | 11 |
| 🇵🇱 POLAND | 2 | 1 | 2 | 5 |
| 🇩🇪 GERMANY | 2 | 0 | 1 | 3 |
| 🇫🇷 FRANCE | 1 | 4 | 2 | 7 |
| 🇺🇦 UKRAINE | 1 | 1 | 0 | 2 |
| 🇷🇸 SERBIA | 1 | 0 | 0 | 1 |
| 🇹🇷 TURKEY | 0 | 1 | 0 | 1 |
| 🇭🇷 CROATIA | 0 | 0 | 2 | 2 |