🇨🇱 Results – VII CMAS Freediving Pan American Championship Indoor. Santiago de Chile June 2019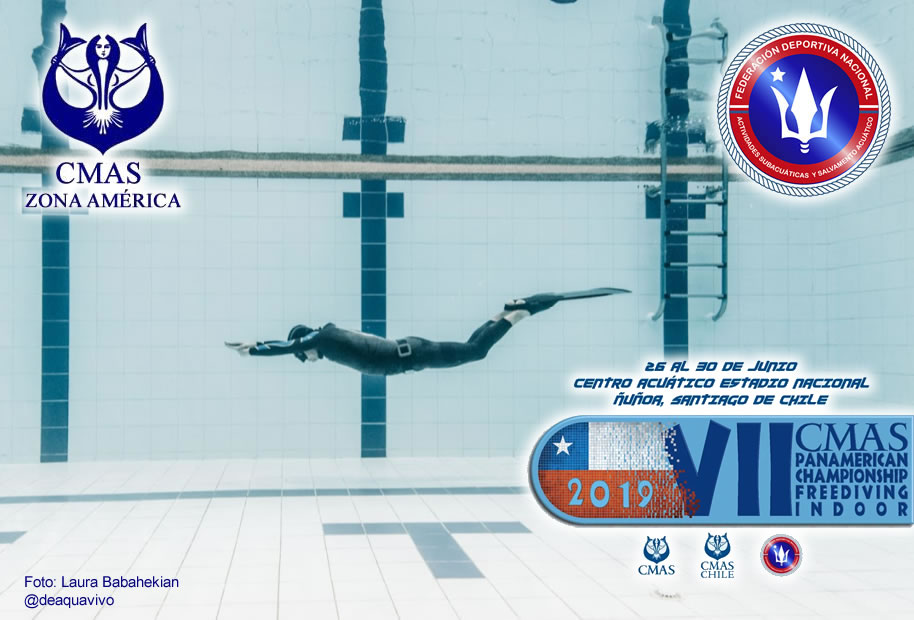 (Sportalsub.net / CMAS / CMAS Zona América / FEDESUB) – Leer en Español
The 7th Pan American Championship of Indoor Apnea of ​​the World Underwater Federation (CMAS)  in Santiago de Chile from June 26 to 30, 2019 organized by the National Sports Federation of Underwater Activities and Aquatic Rescue FEDESUB-CMAS Chile
Event completed, final results published
Live coverage CMAS Chile: Facebook / Website / Facebook ProfinsChile
FINAL MEDALS
NATION
🥇
🥈
🥉
TOTAL
1
 CHILE
7
2
5
14
2
 ECUADOR
3
5
5
13
3
 COLOMBIA
3
3
0
6
4
A

RGENTINA

1
1
1
3
5
BRASIL
0
2
1
3
6
 MEXICO
0
1
1
2
7
PERU
0
0
1
1
---
RESULTS DYNAMIC NO FINS – THURSDAY JUNE 27TH
WOMEN
REBECCA BIRKETT FERAUD – ECUADOR – 115.7
AMBAR PERALTA TAPIA – CHILE – 105.3
ANNETTE BIRKETT FERAUD – ECUADOR – 104.6
MEN
JAVIER NACIF HARTLEY – CHILE – 145.0
JORGE ERNAN PALACIO POSADA – COLOMBIA – 128.5
RICARDO MONTANS – ARGENTINA – 117.5
---
RESULTS STATIC – FRIDAY JUNE 28TH
WOMEN
DANIELA MAGNASCO MELLA – CHILE – 05:26.625
ANNETTE BIRKETT FERAUD – ECUADOR – 04:20.833
ALEJANDRA ULLOA MELITA – CHILE – 04:17.410
MEN
 JOSE ENJUTO AGUILAR – ARGENTINA – 06:23.965
RICARDO DA GAMA BAHIA – BRASIL – 06:08.846
RENE EMPARAN – CHILE – 05:49.035
RESULTS STA (PDF)
---
RESULTS SPEED 2X50 – FRIDAY JUNE 28TH
WOMEN
 JAVIERA PINTO MORALES – CHILE – 00:55.448
 ARIANNA PAULA GARCIA VERA – ECUADOR – 00:56.521
 REBECCA BIRKETT FERAUD – ECUADOR – 01:05.088
MEN
 MATEO RODAS BENTANCUR – COLOMBIA – 00:35.650
 JUAN DAVID DUQUE JIMENEZ-COLOMBIA – 00:35.680
 RODRIGO PICHUN INAL – CHILE – 00:39.166
---
RESULTS DYNAMIC WITH BIFINS – SATURDAY JUNE 29TH
WOMEN
 CAROL CARRASCO NAVAS – CHILE – 142.1
KARINA BARRERA RODRIGUEZ – MEXICO  – 131.3
ANNETTE BIRKETT FERAUD – ECUADOR – 126.15
MEN
SEBASTIAN LIRA MIQUEL – CHILE – 172.2
RICARDO DA GAMA BAHIA – BRASIL – 151.0
 FABRIZIO AUGUSTO PETTINARI VARGAS PRADA – PERU – 137.0
---
RESULTS ENDURANCE 8X50 –SATURDAY JUNE 29TH
WOMEN
YINETH LEON HOYOS – COLOMBIA – 06:35.840
 DIANA LORENA OTALORA RODRIGUEZ – COLOMBIA – 06:47.050
ARIANNA PAULA GARCIA VERA – ECUADOR – 06:54.540
MEN
RODRIGO PICHUN INAL – CHILE – 04:30.920
JUAN LEONARDO ROLDAN MORENO – ECUADOR – 04:53.170
MARCELO FABIAN MORA SIMARRA – ECUADOR – 05:17.880
---
RESULTS DYNAMIC WITH MONOFIN – SUNDAY JUNE 30TH
WOMEN
GILDA KARINA RIVADENEIRA MONTALVO – ECUADOR – 164.29
CAROL CARRASCO NAVAS – CHILE – 157.61
AMBAR PERALTA TAPIA – CHILE – 156.81
MEN
JUAN LEONARDO ROLDAN MORENO – ECUADOR – 180.75
RICARDO MONTANS – ARGENTINA – 179.6
RICARDO DA GAMA BAHIA – BRASIL – 172.4
---
RESULTS ENDURANCE 16X50 – SUNDAY JUNE 30TH
WOMEN
YINETH LEON HOYOS – COLOMBIA – 14:09.150
ARIANNA PAULA GARCIA VERA – ECUADOR – 14:28.420
LUZ VIGUERAS GOMEZ – MEXICO  – 16:10.250
MEN
RODRIGO PICHUN INAL – CHILE – 11:41.030
JUAN LEONARDO ROLDAN MORENO – ECUADOR – 11:54.170
RENE EMPARAN – CHILE – 12:08.170
---
PROGRAM
THURSDAY JUNE 27TH 2019
15:00 DYNAMIC NO FINS (DNF) – Start-List-DNF
FRIDAY JUNE 28TH 2019
09:00 STATIC (STA) – Start-List-STA
15:00 SPEED 2 X 50 –  Start-List-SPEED
SATURDAY JUNE 29TH 2019
09:00 DYNAMIC WITH BIFINS (DYN BF) – Start List-DYN-BF
15:00 ENDURANCE 8 X 50 – Start-List-8×50
SUNDAY JUNE 30TH 2019
09:00 DYNAMIC WITH MONOFIN (DYN) – Start List DYN
15:00 ENDURANCE 16 X 50 Start List 16×50
---
This was confirmed by FEDESUB and CMAS Zona América. The event is approved of the CMAS Executive Committee BOD and published in official CMAS Calendar.
Chile has shown great growth in the development of apnea in recent years with a high organizational level in the national events of this modality, as well as an important presence in World Championships, as well as in the training and accreditation of Instructors and Judges CMAS of Apnea, reason why a great sporting event is expected in the aquatic complex of the national stadium in the Chilean capital.

OFFICIAL INVITATION (in spanish) – published on March 8th 2019


ANNEXES– (in spanish) – published on April 25th 2019
Source: CMAS Zona América
Soon more information.