🌎 Monopoly on CMAS Competition Finswimming Suits?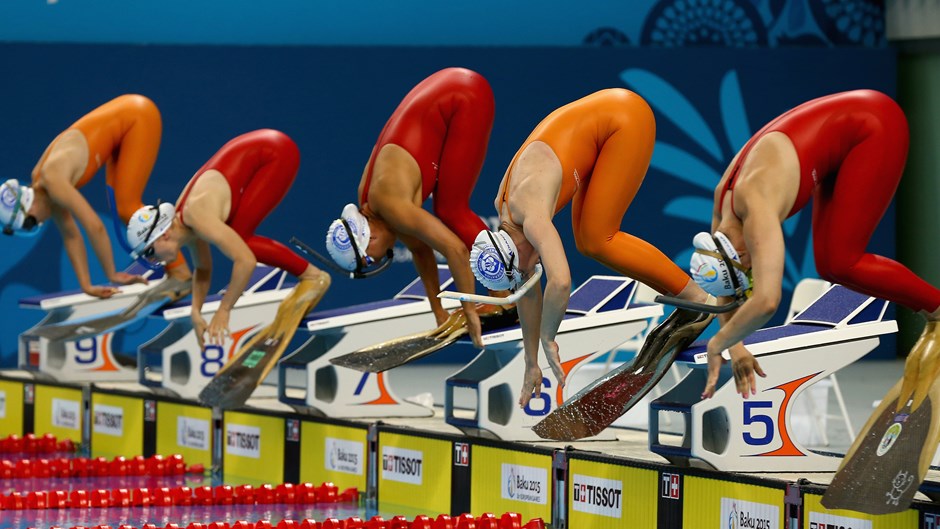 (Sportalsub.net / Change.org / Photo: Baku 2015) – Leer en Español
In recent days, a group of members of the international underwater community (trainers, coaches and athletes) led by Riccardo Galli and Albert Batalla launched a campaign to "Ban totalbody swimsuites from finswimming" in which they denounce several irregularities in the marketing and distribution of swim suits competition approved by the World Underwater Federation (CMAS) the governing body of finswimming around the world.
The promoters of the petition says:
"In recent years in finswimming has spread also the use of more performant swimsuits, as in swimming, which improve the performance of athletes. Just a few years ago these swimsuits were purchasable in all sport-store, like any other swimsuit. Today it is no longer possible since any company that wants to sell their swimsuits to finswimmers (we're talking about big companies such as Arena, Diana, Jaked, etc …) have to do it through a reseller assigned by the CMAS: a single dealer for each brand.
This clearly is a monopoly position since there is only one possible seller to buy the product thus eliminating all competition on price. Furthermore, virtually all of these brands have been assigned to a single vendor so there's even no price competition between brands. In addition, in 2016 CMAS has introduced the use of an ultra-technological swimsuit which guarantee a plus in the performance with respect to all other products.
These swimsuits are only sold by a single reseller (always the same dealer) eliminating once more any competition in terms of pricing. This swimsuit creates obvious differences between swimmers who can afford it and those who do not: first and second class athletes, simply based on the economic power of each regional federation, team or athlete."
This request seeks to go CMAS using these swimsuits or at least go these forms of monopoly that only lead to inequalities.
The request, made under the change.org platform requires 500 signatures to be sent to CMAS
Here you can see the arguments by which this request is made and who agree can sign it at the following link:
https://www.change.org/p/cmas-prohibir-el-monopolio-en-la-venta-de-ba%C3%B1adores-de-competici%C3%B3n-en-cmas
Do they agree that there is this monopoly?