🇫🇷 Regional Championship of Finswimming in pool. Guadeloupe, France – Results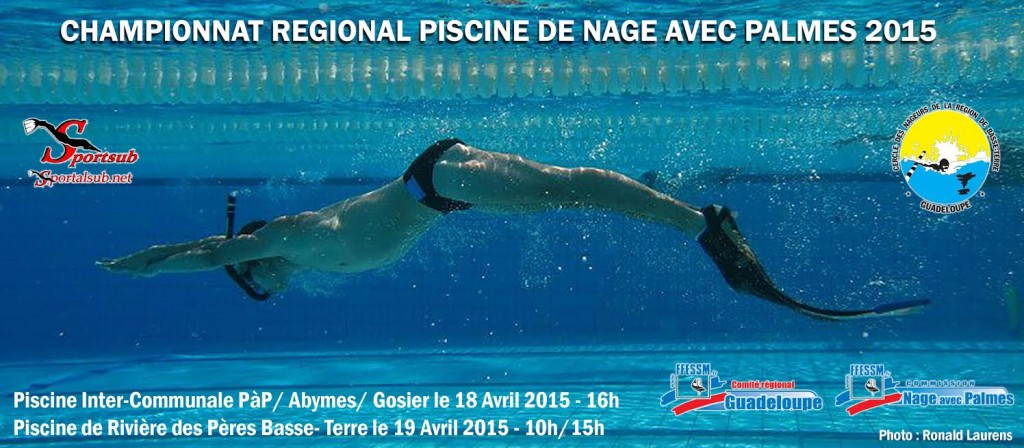 (Sportalsub.net / Karukéra Palmes) – Leer en Español
On 18 and 19 April 2015 was held in Guadeloupe (France) Regional Championship finswimming pool.
50 Bifins Women Video
Guadeloupe (/ɡwɑːdəˈluːp/; French pronunciation: ​[ɡwadəlup]; Antillean Creole: Gwadloup) is an overseas region of France, consisting of a single overseas department, located in the Leeward Islands, part of the Lesser Antilles in the Caribbean. It has a land area of 1,628 square kilometres (629 sq. mi) and a population of 405,739 (January 2013).
Guadeloupe's two main islands are Basse-Terre to the west and Grande-Terre to the east, which are separated by a narrow strait that is crossed with bridges, and which are often referred to as a single island. The department also includes the Dependencies of Guadeloupe which include the smaller islands of Marie-Galante and La Désirade, and the Îles des Saintes.
Guadeloupe, like the other overseas departments, is an integral part of France. It is thus part of the European Union and the Eurozone; hence, as for all Eurozone countries, its currency is the euro. However, as an overseas department, Guadeloupe is not part of the Schengen Area. The prefecture (regional capital) of Guadeloupe is the city of Basse-Terre, which lies on the island of the same name. The official language is French, and virtually the entire population also speak Antillean Creole (Créole Guadeloupéen).
Official Invitation (in french)
More info: Karukéra Palmes / Nage Avec Palmes Coregua / presidencecrnpgua@gmail.com / http://coregua.free.fr/