🇨🇴 Canceled – Underwater Sports will be at I Central American and Caribbean Beach Games Santa Marta, Colombia 2022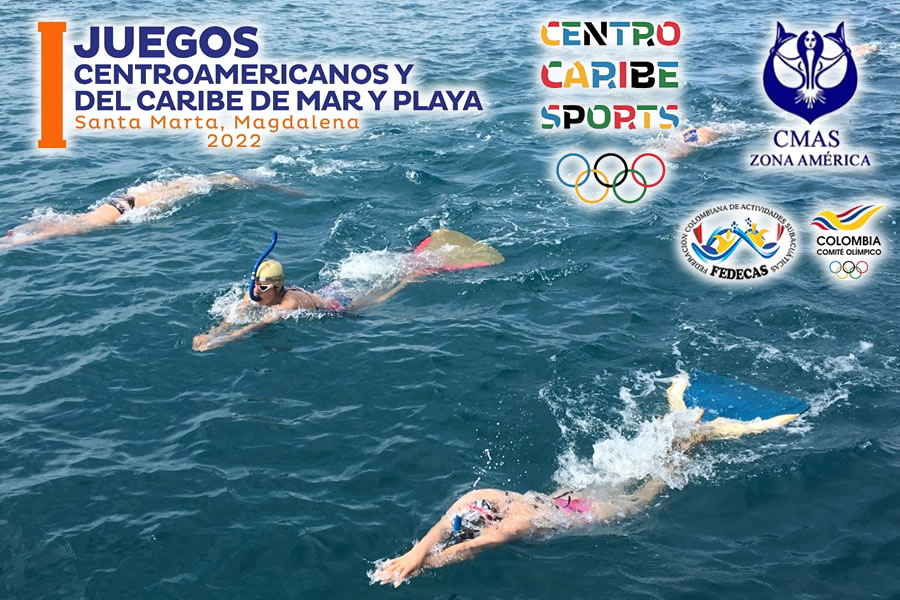 (Sportalsub.net / CMAS Zona América) – Leer en Español
The Underwater Sports, in the modality Finswiming Open Water (surface with monofin and bifins events) have been included in the program of the First Central American and Caribbean Sea and Beach Games, scheduled to take place in the city of Santa Marta, Colombia from 19 to 25 november 2022.
However, once the nominal registration for the 1st Central American and Caribbean Sea and Beach Games, Santa Marta 2022, was concluded, the Organizing Committee was forced to cancel the events of this modality, for only having three countries registered.
Finswimming Competitions: 20, 21, 22 november
Official Web Site of the Games
This was reported on October 15, 2020 to CMAS Zona América by Mr. Ciro Solano, Vice President of the Central American and Caribbean Sports Organization CENTRO CARIBE SPORTS and general secretary of the Colombian Olympic Committee.
William Peña, President of the Colombian Federation of Underwater Activities (FEDECAS) and of the World Underwater Federation Zone America (CMAS America) has reported that from both instances the work was carried out to incorporate underwater activities into the games.
The multisport event, in which more than 30 countries in Central America and the Caribbean would participate, among which are Colombia, Mexico and Venezuela, active members of the CMAS.
Source: CMAS Zona América