🇲🇽 Suspended – XIBALBA 2020 – AIDA International Freediving Competition in Yucatan, Mexico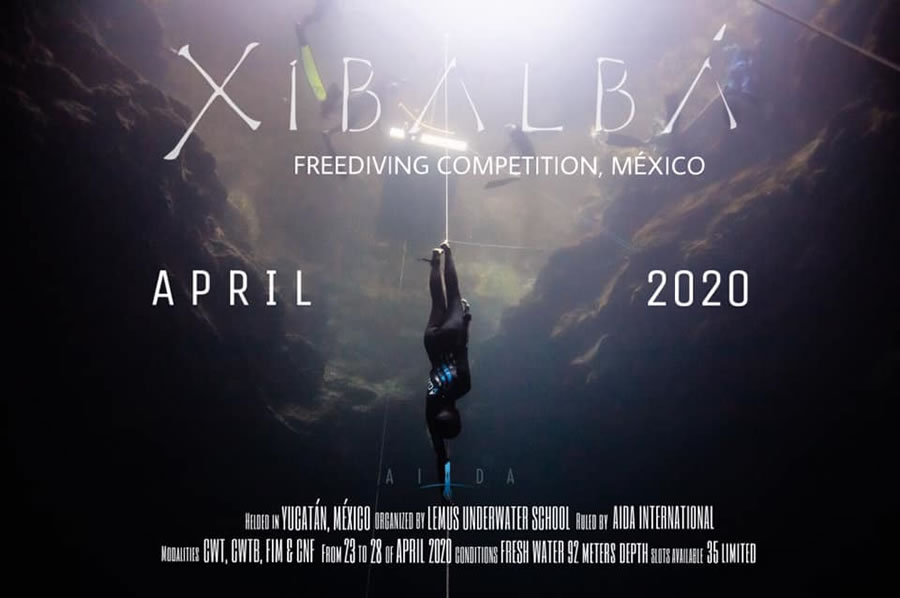 (Sportalsub.net / Xibalba 2020) – Read in English
AIDA Freediving competition in Yucatan, México. April 23th to 28th 2020
SUSPENDED UNTIL NEW DATE BY COVID-19
The Xibalba Freediving Competition hosted by Lemus Underwater School, will be in Ucil Cenote, in Yucatan, Mexico and will take place from April 23th to 28th, 2020.
– Five competition days with international ranking: CWT, CWTB, FIM & CNF.
– Platform training, per day or per week.
– Training available from one month prior.

Xibalba 2020 is a great opportunity to improve your skills in amazing & ideal conditions within our wonderful Mexican landscape.
This competition will be in fresh water, there is no waves or currents, or cancellations due to bad weather. The conditions of the site allow satisfactory dives for athletes (Max Depth 92m).
The water is crystal clear with more than 50 meters of visibility and the temperature is pleasant 25 degrees, no thermocline. An international AIDA judge will be presiding and all the safety logistics for the competition (platform, counterbalance system, o2 and medical platform with all the life support equipment) will be provided along with live video on the line.
It will be an honor to receive you, representing your country and also showing you our wonderful Mexican culture.
More info:  Website – Facebook – Instagram – Youtube