🌎 4 Tips for Overcoming Underwater Worry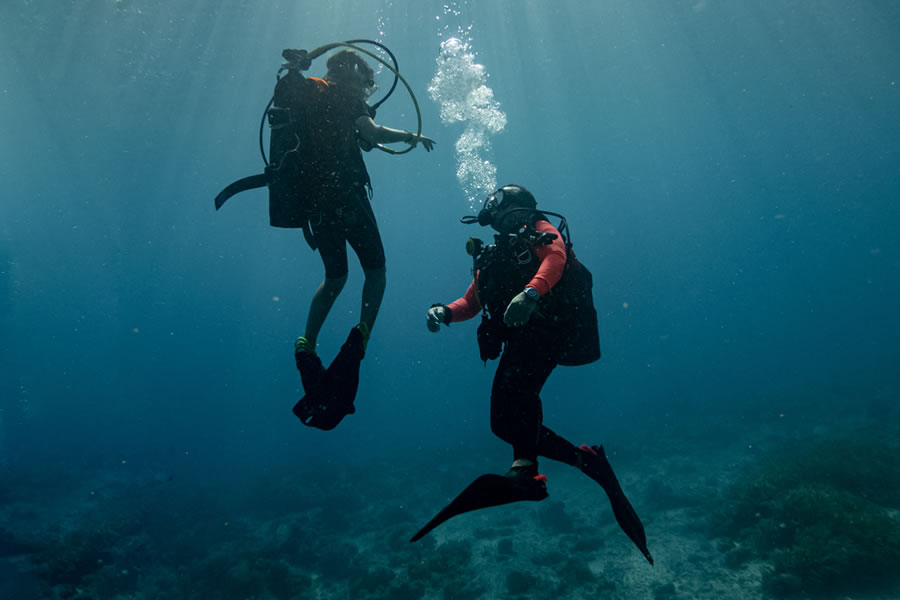 This article was developed via a partnership with BetterHelp.
For many people, swimmers and nonswimmers alike, participating in underwater activities can be daunting. Whether you stress about your neighborhood sharks or drowning, it is important to overcome underwater worry in order to protect yourself and others. Many people experience stress about the ocean, swimming, diving, water, sea creatures, etc. While it is common to be wary of all things underwater, there are many accessible tips for overcoming your underwater worry! By learning how to overcome it, you can learn to conquer all your fears!
Overcoming Underwater Worry
Be aware of Your Capabilities
You must recognize your skill level if you want to overcome your anxiety. If you are a novice swimmer or scuba diver, you should not attempt stunts beyond your skillset. For example, diving to a depth with someone you do not know well is not recommended for those who have underwater anxiety. 
By understanding your limitations, you can better practice for more challenging activities. For instance, you can practice with instructors in a comfortable setting, such as the shallow end of a swimming pool. Once you become aware of your capabilities, you are less likely to be nervous. Dive and swim in areas that you are capable of and prepared for. 
Talk to a Professional 
If worry is left untreated, it can cause mental health concerns and disorders. For example, anxiety, depression, insomnia, chronic pain, etc. In these cases, our worry and anxiety become too much to handle. You may need to find someone to talk to, preferably a licensed counselor or therapist. A professional can help you understand your worry and help overcome your anxiety. 
With the proper help, you can implement vital coping techniques that allow you to participate in your favorite underwater activities! For example, you may learn valuable breathing exercises, the benefits of meditation, and the importance of visualization. 
Prepare for Upsetting Situations
If you try to ignore the things that worry you, you will probably panic underwater; which can threaten your safety. For instance, those who are anxious about meeting an underwater creature should not ignore their fear. They should research their swimming site and learn more about the local sea life. This can help you understand which creatures can and cannot do you harm. 
In other cases, you may be afraid of free-diving for the first time. You can better prepare for free-diving by practicing various breathing techniques and calming techniques. Preparing for upsetting situations can build your confidence and lower your anxiety. 
Find a Support System You Trust
Lastly and arguably most importantly, finding a support system you trust is key to overcoming underwater worry. Every dive shop and a swimming instructor will be different. Therefore, you should always work with someone you trust. If you do not feel comfortable with someone, you should speak up! Be honest about your worries and fears. 
It is more important to communicate your anxiety than it is to be put in an uncomfortable situation. Finding a trustworthy dive buddy or swimming instructor is exactly what every anxious swimmer needs.