🇨🇴 Results – Nirvana Oceanquest 2018. Freediving International Competition In San Andrés, Colombia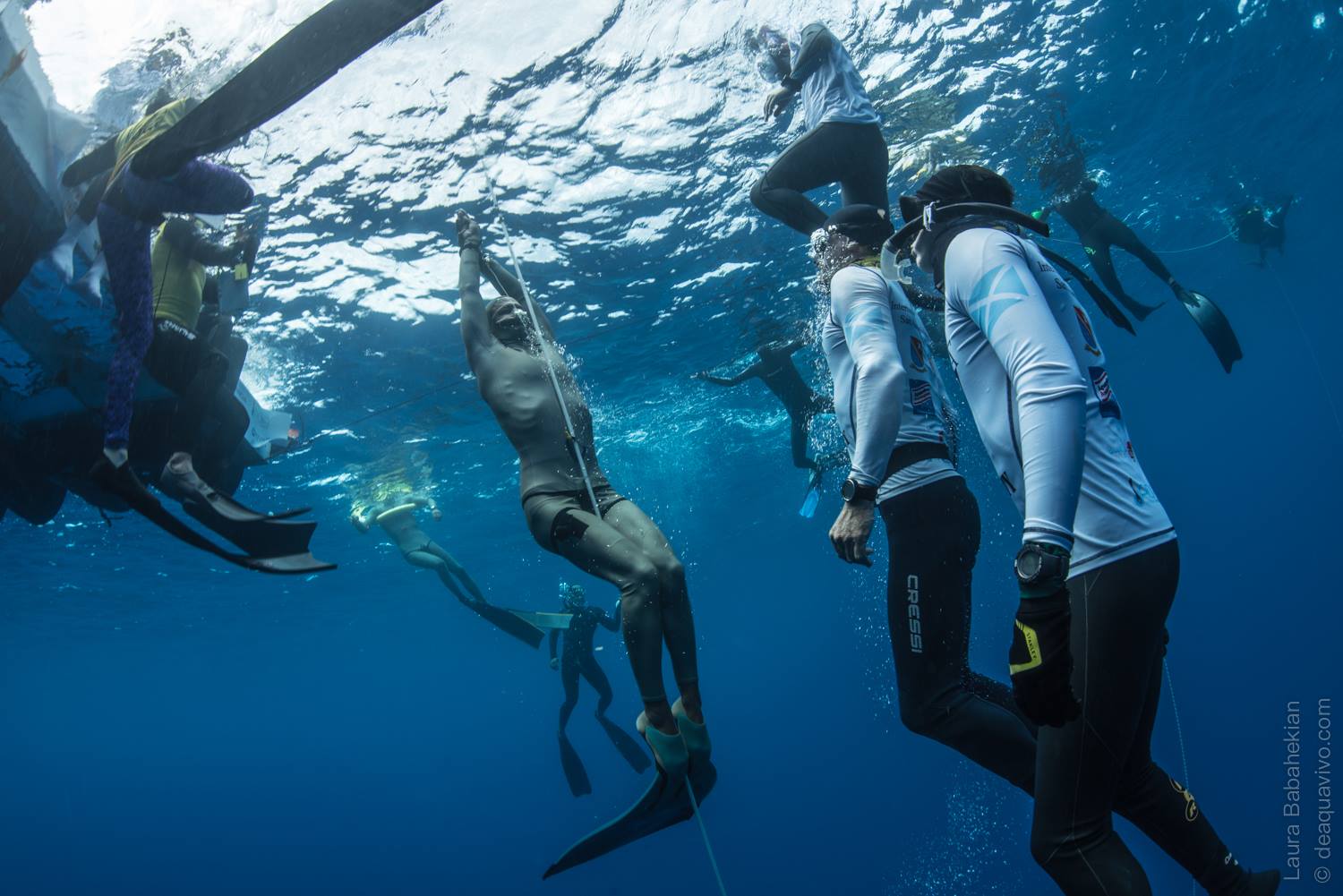 (Sportalsub.net / Nirvana Oceanquest 2018) Photo: Laura Babahekian @deaquavivo.com – Leer en Español
On the Island of San Andrés, Colombia, some of the best freedivers of the continent and the world gathered from May 3 to 9 in an event in which a new world record was established
WORLD RECORD – Alessia Zecchini (ItalY) -105 meters Constant Weight
RESULTADOS
Day 1
| Athlete | Country | Discipline | AP | DP | RP | ADT | NR | Card | Penalties |
| --- | --- | --- | --- | --- | --- | --- | --- | --- | --- |
| Taylor Samuels | USA | FIM | 25m | 1:29 | 25m | 1:38 | – | | |
| Francis Batista | URY | FIM | 35m | 1:29 | 31m | 1:45 | – | | ET, NO TAG |
| Lin Lan Lien | TWN | CNF | 40m | 2:25 | 40m | 2:30 | NR | | |
| John Muñoz | COL | FIM | 51m | 1:54 | 51m | 2:10 | – | | |
| Carlos Sevillano | COL | FIM | 51m | 1:54 | 51m | 2:10 | – | | |
| Alex Alvarado | PUR | FIM | 55m | 1:24 | 34m | 2:20 | – | | ET, NO TAG |
| Ming Chun Huang | TWN | CNF | 63m | – | 63m | 2:20 | – | | DQ, BO |
| Walid Boudhiaf | TUN | CWT | 110m | 4:00 | 109m | 3:45 | – | | DQ, BO |
| Alessia Zecchini | ITA | CWT | 103m | 3:40 | 103m | 3:30 | – | | |
| Alejandro Lemus | MEX | FIM | 92m | 3:45 | 74m | 3:35 | – | | ET, NO TAG |
| Alfredo Rosado | ECU | CWT | 84m | – | – | 2:40 | – | | DNS |
| Ricardo Montans | ARG | CWT | 76m | 2:10 | 76m | 2:30 | NR | | |
| Rodrigo Pichún | CHI | FIM | 75m | 2:22 | 75m | 2:20 | – | | |
| Jens Stoetzner | GER | CNF | 71m | 2:55 | 71m | 2:55 | – | | DQ, AIR WAYS |
Day 2
Athlete
Country
Discipline
AP
DP
RP
ADT
NR
Card
Penalties
Taylor Samuels
USA
FIM
30m
–
30m
1:45
–
Francis Batista
URY
FIM
35m
–
35m
1:45
NR
Lin Lan Lien
TWN
CWT
53m
–
53m
2:15
NR
Carlos Sevillano
COL
FIM
55m
–
55m
2:10
–
Alex Alvarado
PUR
FIM
55m
–
53m
2:10
–
ET, NO TAG
Alfredo Rosado
ECU
CNF
60m
–
60m
3:00
NR
Alejandro Lemus
MEX
FIM
90m
–
90m
3:50
–
Ricardo Montans
ARG
FIM
87m
–
67m
3:15
–
ET, NO TAG
Rodrigo Pichún
CHI
CWT
78m
–
78m
2:10
–
Jens Stoetzner
GER
CNF
71m
–
71m
2:55
–
NO TAG
John Muñoz
COL
FIM
68m
–
68m
2:40
–
Day 3
Athlete
Country
Discipline
AP
DP
RP
ADT
NR
Card
Penalties
Taylor Samuels
USA
FIM
33m
–
33m
1:45
–
Alex Alvarado
PUR
CNF
34m
–
34m
1:30
NR
Francis Batista
URY
FIM
40m
–
38m
1:45
–
ET, NO TAG
Lin Lan Lien
TWN
CWT
55m
–
55m
2:20
NR
Carlos Sevillano
COL
FIM
60m
–
60m
2:10
–
John Muñoz
COL
FIM
71m
–
54m
2:43
–
DQ, BO
Rodrigo Pichún
ECU
FIM
77m
–
77m
2:25
–
Alessia Zecchini
ITA
CWT
105m
–
105m
3:40
WR
Walid Boudhiaf
TUN
CWT
110m
–
–
–
–
DNS
Alejandro Lemus
MEX
CWT
94m
–
94m
3:50
–
Ming Chun Huang
TWN
FIM
88m
–
–
–
–
DNS
Ricardo Montans
ARG
FIM
87m
–
87m
3:15
NR
Alfredo Rosado
ECU
FIM
85m
85m
2:40
NR
Day 4
| Athlete | Country | Discipline | AP | DP | RP | ADT | NR | Card | Penalties |
| --- | --- | --- | --- | --- | --- | --- | --- | --- | --- |
| Taylor Samuels | USA | FIM | 36m | – | 36m | 1:45 | – | | NO TAG |
| Augusto Pessio | URY | CWT | 40m | – | 40m | 1:45 | NR | | |
| Francis Batista | URY | FIM | 40m | – | 36m | 1:45 | – | | ET, NO TAG |
| Carlos Sevillano | PUR | CWT | 50m | – | 50m | 1:50 | – | | DQ, PULL |
| Lin Lan Lien | TWN | FIM | 52m | – | 52m | 2:30 | NR | | |
| Alex Alvarado | PUR | FIM | 55m | – | 45m | 2:30 | – | | ET, NO TAG |
| Alessia Zecchini | ITA | FIM | 70m | – | 70m | 3:00 | – | | |
| Walid Boudhiaf | TUN | CWT | 110m | – | 110m | 3:45 | NR | | |
| Alejandro Lemus | MEX | CWT | 98m | – | 83m | 3:00 | – | | ET, NO TAG |
| Ricardo Montans | ARG | FIM | 93m | – | – | 3:30 | – | | DNS |
| Ming Chun Huang | TWN | FIM | 88m | – | 88m | 3:15 | NR | | |
| Rodrigo Pichún | CHI | CWT | 81m | – | 81m | 2:45 | – | | DQ, PULL |
| Jens Stoetzner | GER | CNF | 73m | – | 73m | 3:05 | – | | DQ, SP |
| John Muñoz | COL | FIM | 70m | – | 70m | 2:31 | – | | DQ, BO |
Day 6
Athlete
Country
Discipline
AP
DP
RP
ADT
NR
Card
Penalties
Paola Ramirez
COL
FIM
25m
–
25m
0:50
–
OPENER
Taylor Samuels
USA
FIM
40m
40m
1:45
–
Francis Batista
URY
FIM
40m
–
37m
1:50
–
ET, NO TAG
Augusto Pessio
URY
CWT
50m
–
50m
2:00
NR
John Muñoz
COL
FIM
50m
–
50m
2:10
–
Lin Lan Lien
TWN
FIM
55m
–
55m
2:40
NR
Alex Alvarado
PUR
FIM
58m
–
52m
2:30
–
ET, NO TAG
Walid Boudhiaf
TUN
CNF
78m
–
78m
3:28
NR
Alessia Zecchini
ITA
CWT
100m
–
100m
3:30
–
Ming Chun Huang
TWN
CWT
97m
–
97m
3:15
NR
Ricardo Montans
ARG
FIM
91m
–
91m
3:20
–
DQ, AIR WAYS
Alfredo Rosado
ECU
FIM
89m
–
89m
3:00
NR
Rodrigo Pichún
CHI
FIM
84m
–
84m
2:05
–
Jens Stoetzner
GER
CNF
73m
–
73m
3:05
–
DQ, SP
Alejandro Lemus
MEX
CNF
67m
–
67m
3:25
–
DQ, BO
Carlos Sevillano
COL
FIM
63m
–
63m
2:15
–
Facebook: https://www.facebook.com/nirvanaoceanquest/
Web: http://freedivingcolombia.com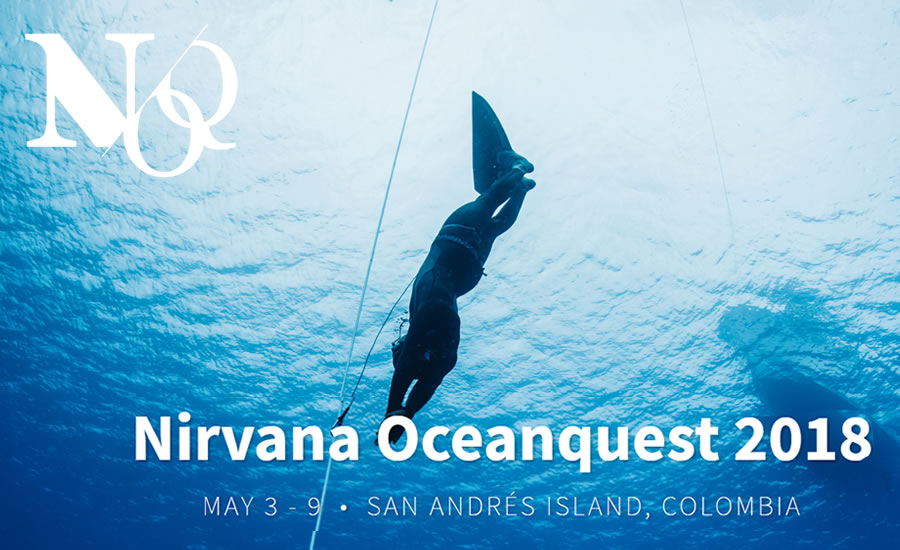 After last year's success, InnerSea is organizing the 2018 edition of its annual international freediving contest. Athletes from the 5 continents will gather again around a unique spot in Colombian Caribbean waters: Nirvana drop off, on the west side of San Andrés Island. An easy access to depth, combined with warm waters (29ºC), no current and an amazing visibility, allow for deep and enjoyable dives. Over the course of 6 competition days, athletes will get the opportunity to attempt personal, national or world records in a relaxed and friendly atmosphere. This contest aims at providing a safe and intimate environment for a reduced group of freedivers to train and perform at their own pace. This is a very good moment to come to Colombia, as the currency change makes it much more affordable to come and train for a relatively low cost of living.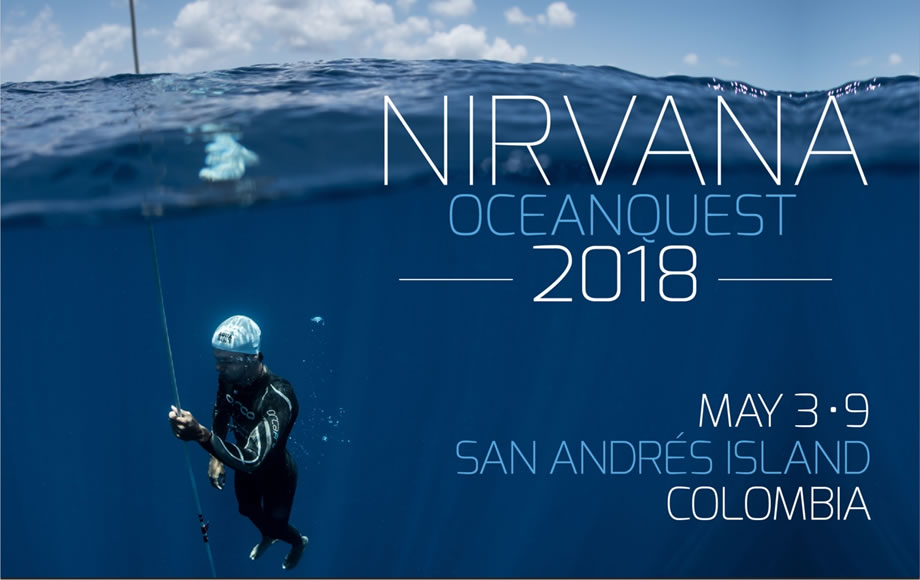 Last events concluded with a nice record of zero black outs in 2 consecutive years, and a smooth organization, backed up by the local coast guards, Colombian Red Cross and Navy. A beach and sea floor cleaning day was organized in conjunction with local scubadiving schools. Several national records were achieved and the deepest dive was performed by organizer Walid Boudhiaf, with a national record of -113m in the free immersion category.  The competition implements all the new safety procedures and the organizer's own medical equipment (AED, portable suction machine, O2, advanced airways…), available at all time on the platform during both the competition and previous official trainings. Fast boat and ambulance on stand-by are part of the emergency evacuation plan, to take a victim to the close-by hospital (15min) equipped with a hyperbaric chamber.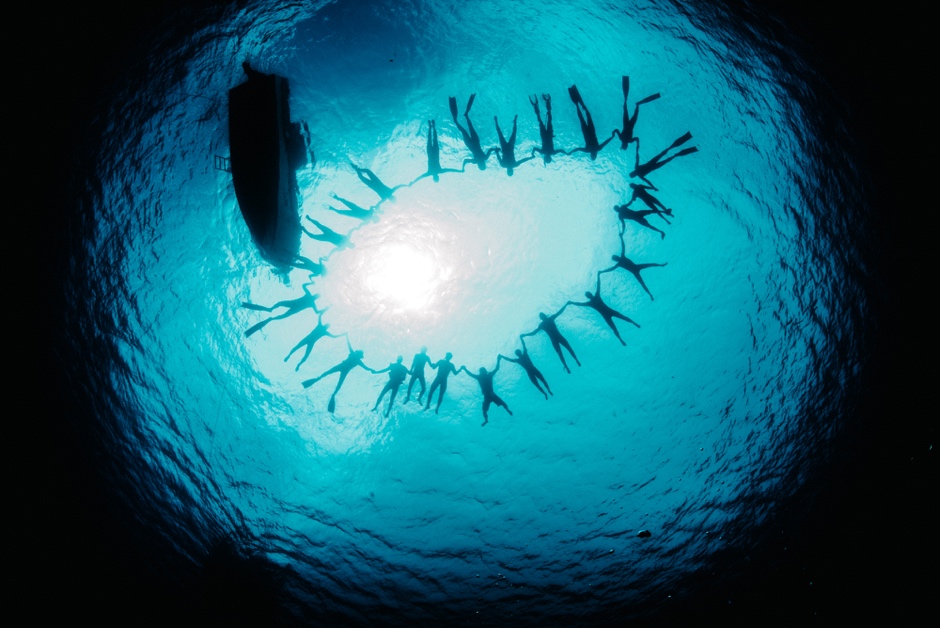 One of the biggest advantages of our spot, is that we have 200m deep and sheltered waters within a swimming distance from the shore and all the logistic needed for safe and deep dives, with a brand new platform equipped with deep sonar, counterballast and VHF radio, 12mm dyneema rope and our own transportation boat. The medic on duty is Jose Blanco, experienced MD in the field of emergency medical services, well versed in barotraumas handling and resuscitations. We also have a highly experienced and skilled safety team, leaded by chief safety Christopher James McKay.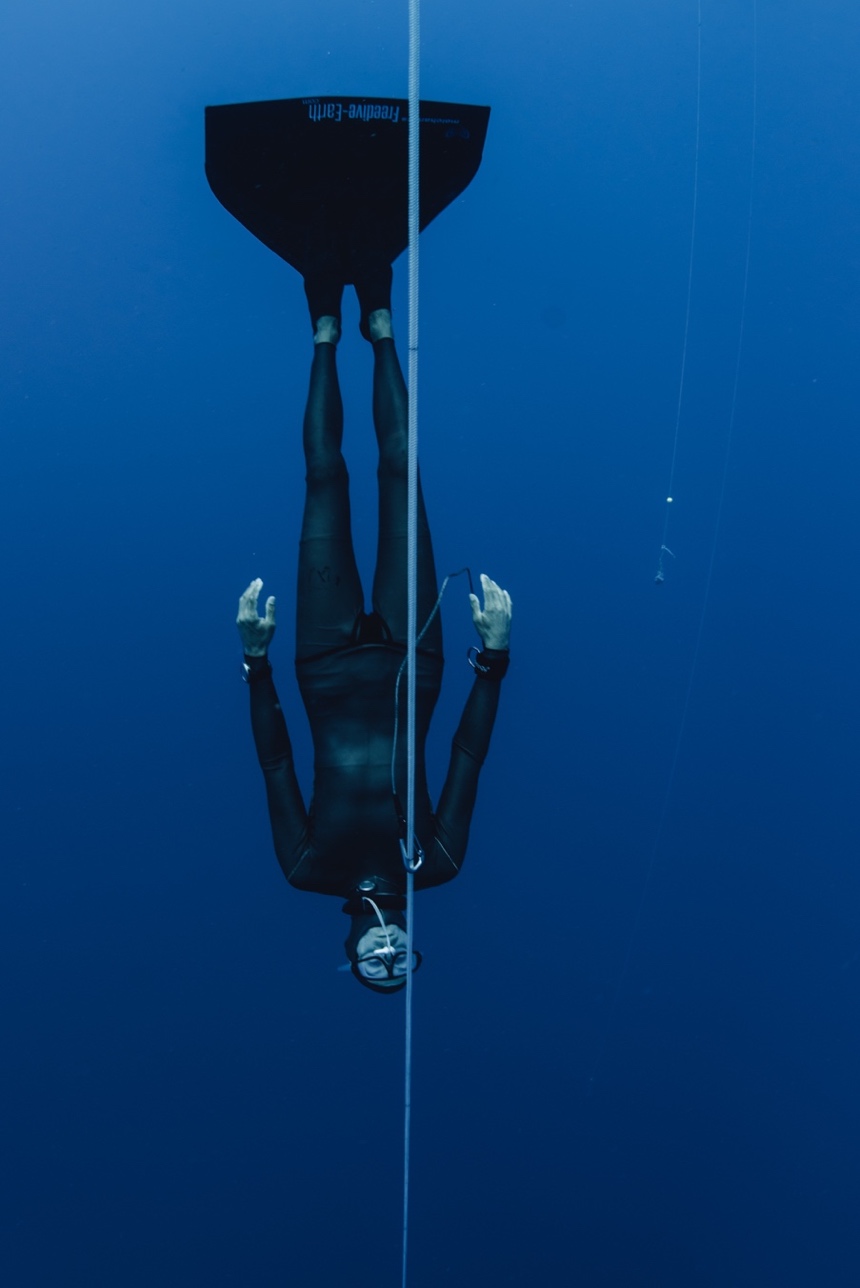 For media and videos, we are currently considering the implementation of a deep drone to film the dives and/or the participation of a professional team for the video making/edition. Photography will be in charge of talented Laura Babahekian whose amazing pictures can be seen on the facebook and Instagram accounts of the competition.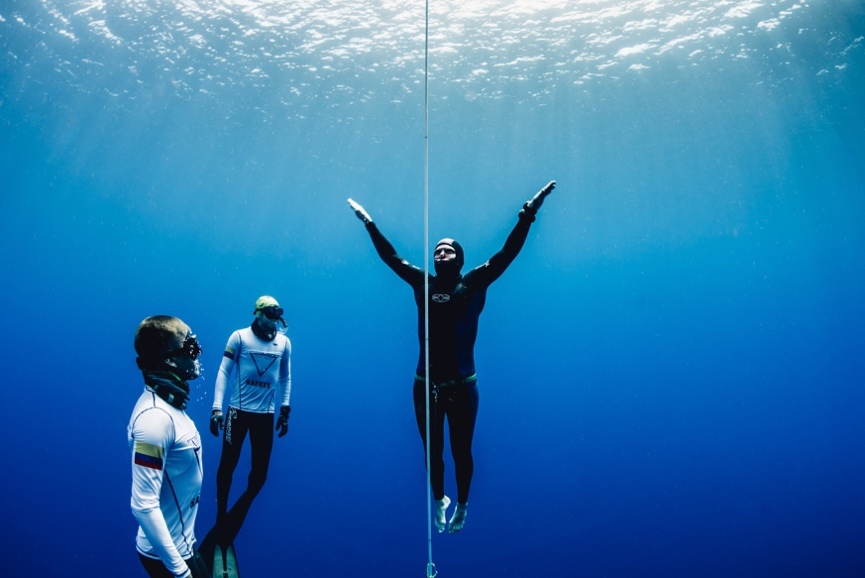 Trainings prior to the event:
Training will be available two months before the start of the contest and a Training Camp is organized in March and April in order to help athletes from all levels achieve their goals in a safer way. The safety crew will be on site watching and monitoring all the athletes 2-3 weeks before the start of the event, to insure a gradual progression and O2 will be freely available for deep dives and / or barotraumas.
We are expecting the participation of at least 20 athletes from Australia, Brazil, Chile, Colombia, Italy, Peru, Taiwan, Tunisia and the USA, so far. World record holder Alessia Zecchini has already confirmed her participation, so we expect some interesting dives during the competition!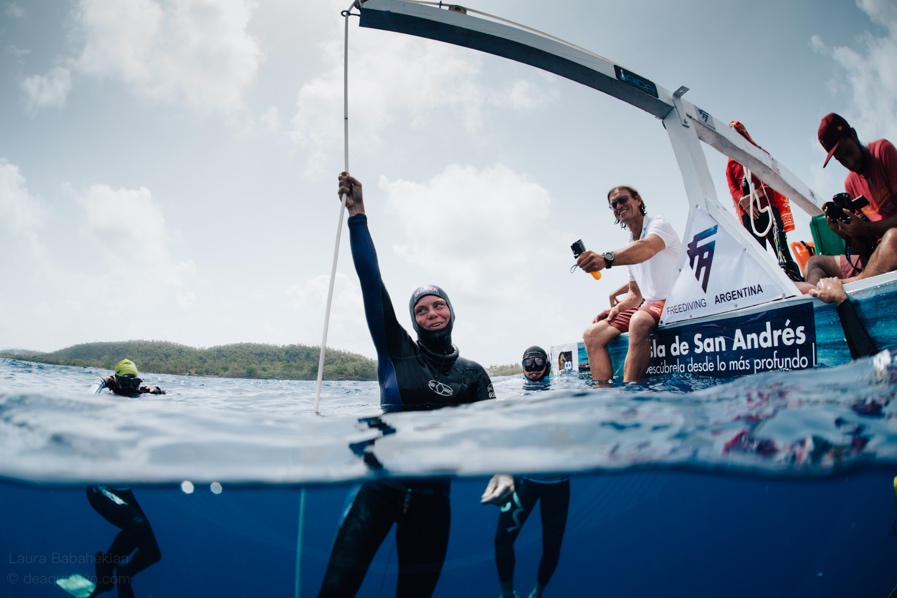 Web page and registration:
To see last year's videos:
https://www.youtube.com/watch?v=Md5BeXnygcA&t=24s
https://www.youtube.com/watch?v=A_1FX6v0lec
https://www.youtube.com/watch?v=7owCsrh0s_4
and 2016's videos:
https://www.youtube.com/watch?v=ULHIjgM8heM
https://www.youtube.com/watch?v=sSYqcdE57Qg
https://www.youtube.com/watch?v=UjQcKcvjGJA
https://www.youtube.com/watch?v=I781BP_HYyk
https://www.youtube.com/watch?v=Xk9rWsm2_Fk
https://www.youtube.com/watch?v=AhhyJ-4pFbU
And the event's photos: