🇸🇮 Alenka Artnik and 🇫🇷 Arnaud Jerald set new freediving world records CMAS in constant weight bifins in Greece 🇬🇷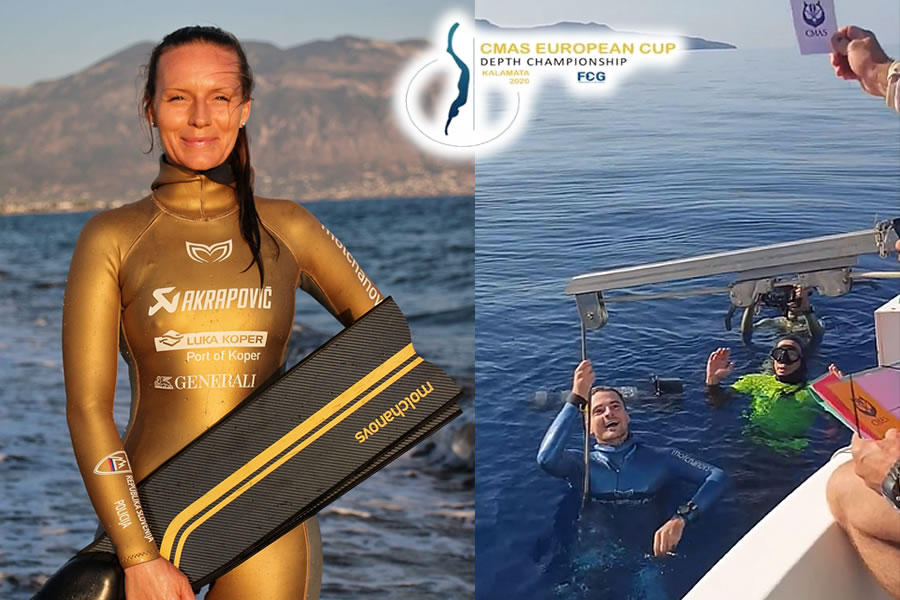 (Sportalsub.net / CMAS / FCG) – Leer en Español
This Tuesday, September 15, 2020, freedivers Alenka Artnik from Slovenia 🇸🇮 and Arnaud Jerald from France set two new world records in the constant weight freediving modality with bifins, on the 3rd day of competitions of the CMAS European Cup of Apnea which takes place in Kalamata, Greece from September 12-16.
In the first place, the French Jerald, descended to -112 meters, surpassing the record of -111 meters made by the Russian Alexey Molchanov, last Saturday, September 12, 2020 at the International Adriatic Freediving Trophy Competition in Croatia.
For her part, the Slovenian Artnik submerged to a depth of -94 meters, improving by one meter the mark of -93 meters that the Ukrainian Nataliia Zharkova had since August 2019 at the World Championship in Roatan, Honduras
World Records Master
Two new CMAS Masters world records (for over 55s) were also recorded at the event
– Marc Lenoir (France) -57 meters Free Immersion
– Xavier Daru (France) – 60 meters Constant weight with Bifins
The World Records are endorsed by the World Underwater Federation (CMAS).