📘 Top 7 Must-Read Freediving Books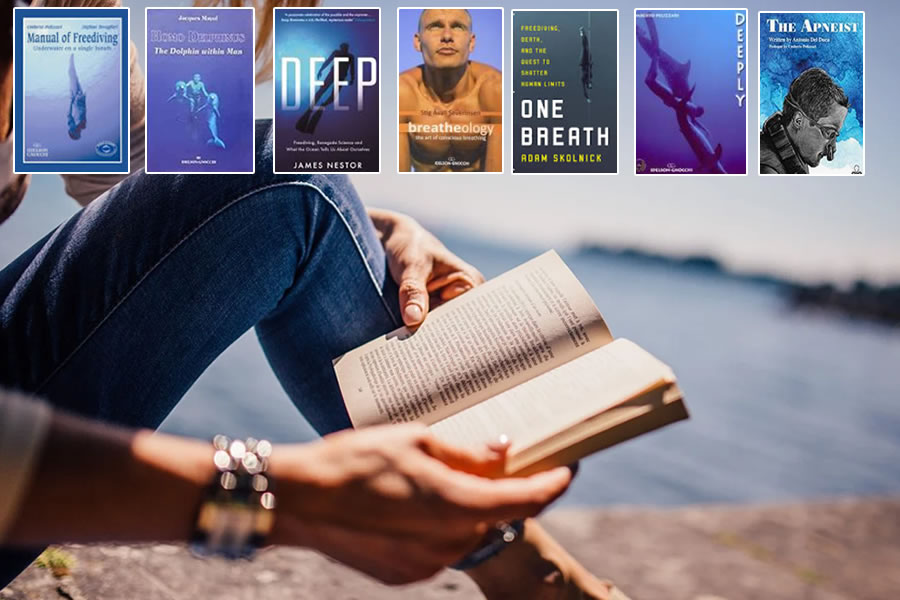 (Sportalsub.net) – Leer En Español
Freediving is a challenging and exhilarating sport. Whilst there is no replacement for official freediving courses and training, there are a number of brilliant books that can help you develop your skills, techniques and knowledge. Whether you're new to freediving or an advanced freediver already, make sure you add these top 7 must-read freediving books to your collection.
1.'Manual Of Freediving' By Umberto Pelizzari And Stefano Tovaglieri
This is a must-have book for anyone interested in freediving. Co-written by Umberto Pelizzari (widely considered one of the greatest freedivers of all time) and the Italian National freedive team director, Stefano Tovaglieri, this book is a comprehensive guide covering many aspects of freediving. Topics include breathing techniques and exercises, as well as information about diet, anatomy and equalization. Moreover, it also contains some practical training tips from the World Champion himself.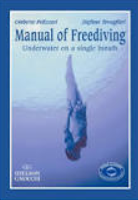 2. 'Homo Delphinus' By Jacques Mayol
Regarded by many as the grandfather of modern freediving, this book by Jacques Mayol is a classic for all freedivers. It is filled with a beautiful collection of photographs and the writing covers Mayol's life. Beginning with his love of water, alongside his interactions with a dolphin in an aquarium in Miami during the 1950s, as well as his record-breaking dives to 100m on just one breath, this is a stunning book worth reading.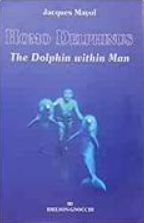 3. 'Deep: Freediving, Renegade Science, And What The Ocean Tells Us About Ourselves' By James Nestor
If you're new to freediving, then Deep is the perfect place to start. Although James Nestor already lived an adventurous life, it wasn't until a trip to Greece that he learnt about freediving. Fascinated by the sport, he decided to follow both scientists and athletes to discover more about the secrets held in the depths of the sea, as well as the amazing capabilities of the human body."Although the book drew some criticism regarding issues of accuracy when it was first published, it has nonetheless proven very popular. It even won the New York Times Book Review Editor's Choice award. The book is an inspiring read for freedivers, as well as readers who are eager to learn more about the sport, marine life and how it relates to humans," says Georgina Mosely, a journalist at Revieweal and Essay Services.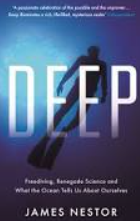 4. 'Breatheology – The Art Of Conscious Breathing' By Stig Avall Severinsen
Unlike many other freediving books, Breatheology doesn't offer explanations on how to become a freediver. Instead, World Champion freediver Severinsen provides readers with a manual on how to breathe more deeply and correctly. Of course, this is an essential skill for anyone wishing to embark upon freediving. However, the book also provides non-freedivers with valuable practical exercises (alongside theoretical explanations) on how to breathe correctly. Above all, this is an engaging and inspiring read. Multiple Freediving Champion Stig Severinsen shares his ebook "Breatheology" for free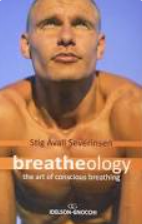 5. 'One Breath: Freediving, Death, And The Quest To Shatter Human Limits' By Adam Skolnick
One Breath tells the story of Nicholas Mevoli, the first ever US freediver to reach 100m, who tragically died whilst attempting to break a world record in the Bahamas. Yet, Skolnick also explores the sport of freediving as a whole, considering the appeal of the sport, as well as the risks athletes willingly expose themselves to in their desire to delve deeper in competitive freediving. This is a great read for non-freedivers too, offering an insight into the sport as well as being captivating from the very first page.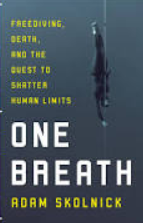 6. 'Deeply' By Umberto Pelizzari
In this autobiography, Umberto Pelizzari shares his freediving journey with his readers.
"This book offers a fantastic and unique insight into the mind, as well as the life, of one of freediving's most admired and successful athletes," says Alvin Groce, a freediving expert at Assignment Help and Dissertation Writing Services. "Pelizzari begins at the very start, sharing his beginnings in the pool, recording his training, the development of his ability, as well as the teamwork, competitions and world records which have filled his phenomenal freediving career."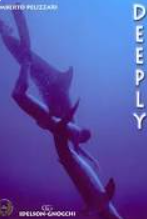 7. 'The Apneist' By Antonio del Duca
The Apneist, with prologue by Umberto Pelizzari, constitutes a vision of Antonio "Tony" Del Duca; After 14 years of training and a career as a World-Class Athlete and Instructor of this discipline. More than a sport, Del Duca considers Apnea as a lifestyle, which provides both physical and mental benefits; As well as advantageous internal and external changes to those who decide to try it for the first time or who for those who want to immerse themselves even more in this interesting world. This book is also available in spanish (este libro también está disponible en español)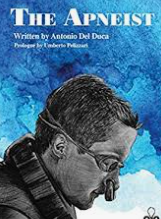 ---
Conclusion
From autobiographies which provide a unique insight into the mind and experiences of some of the world's best freedivers, to freediving manuals offering helpful tips and advice, there is a freediving book for you. Whether you're looking to improve your own technique and skills or simply curious about freediving and its appeal, make sure that you take a look at the books on this list.
---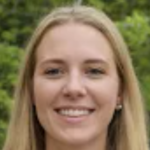 Katherine Rundell <katherine.t.rundell@gmail.com>
Katherine Rundell is a travel writer at Custom Essay and Assignment Help, where she often writes about books. She particularly enjoys providing readers with an exciting array of books to add to their collections. Katherine is also a successful manager at Best essay writing services. When not writing, Katherine enjoys spending time reading, travelling and immersing herself in the culture of the places she visits.